Sponsored Post
Donegal ETB FET Fortnight: Niall builds a new career in healthcare
Ahead of Donegal ETB's online FET Fortnight event which starts next Monday, 23 August, we're showcasing the experiences of some of the students who have recently completed courses with the ETB's FET Service. 
A Donegal man has gone from being a builder to building brighter days for nursing home residents after upskilling into healthcare.
Niall McDaid (43) recently completed a Healthcare Support traineeship with Donegal ETB's Further Education and Training (FET) Service last year. He is now employed as a Home Care Assistant with the HSE, where the days fly by as he enjoys the rewarding work of caring for others.
Niall's current work is a far cry from his first career in construction. This new start has opened up new opportunities and a new sense of achievement for the Gleneely native.
Niall had worked in construction from the age of 21. He left school early and building and plastering was all that he knew before the downturn hit. Soon after, personal circumstances changed his perspective.
"In 2014 my mum was diagnosed with a brain tumour, we looked after her at home for three months, my wife, my cousins, we all looked after her. It got me thinking, because we got a great sense of achievement knowing that mum was happy at home, and we could look after her as best we could," Niall said.
After Niall's mum sadly passed, the experience "set the seed" that caring was something he wanted to do long-term.
Niall returned to building for a number of years before finally taking the leap into Healthcare Support.
He applied for the ETB's healthcare support traineeship which was delivered in the Greencastle Centre with the knowledge that this career would be much less physically demanding than building, but a lot more mentally demanding.
"For healthcare, you have to realise what you are getting into, you need a good personality for it too," Niall learned.
"With a course like this, there's no point in going into it half-heartedly."
This 30-week traineeship is suitable for students who wish to gain a professional, accredited QQI Level 5 qualification in Healthcare Support. Students gain the training to work under supervision as healthcare assistants in long-term residential facilities, nursing homes, primary care, home care services and other services for older people. It also acts as a foundation to progress to further and or higher education and training.
Niall, who is married with three children, went into the programme with the goal of securing full-time employment. That opportunity came quickly, as Niall was offered work straight out of his work placement with Nazareth House.
"The experience was second-to-none. It was very rewarding and I made very good friends with my workmates and with the residents," he said. 
Now working in the community, Niall gains great satisfaction in his work supporting people in their homes.
Niall is keen to commend his tutor, John Conroy, who was a key player in helping his class adjust to online learning at the onset of COVID-19 last March.
"Zoom learning was a big change, but we were with a great bunch of people. I couldn't praise John enough," Niall said. "Things were in uncharted territories, but we got there and got it completed." 
The Healthcare Support traineeship for Niall was the first step in a complete career change. For others, the programme opens doors for further training to become a special needs assistant, as students have already gained first aid and MAPA training (Management of Actual or Potential Aggression).
There is also a greater need for more men to enter the sector, as just one in five healthcare support staff are male.
Niall's advice to anyone considering training as a care assistant is to "stick at it, there is work involved, but if you put in the time and effort, you're doing to get good grades and reach your end goal."
Check out Donegal ETB's FET Fortnight on their YouTube account every night over the next two weeks at 8.00pm and keep an eye on their social media accounts (Facebook, Twitter, Instagram and LinkedIn) for further details.
Donegal ETB's FET Service is now accepting applications for a wide range of courses starting in the coming weeks – apply online through their website course finder: https://www.donegaletb.ie/further-education-training/course-finder/
Traineeships are co-funded by the Government of Ireland and the European Union.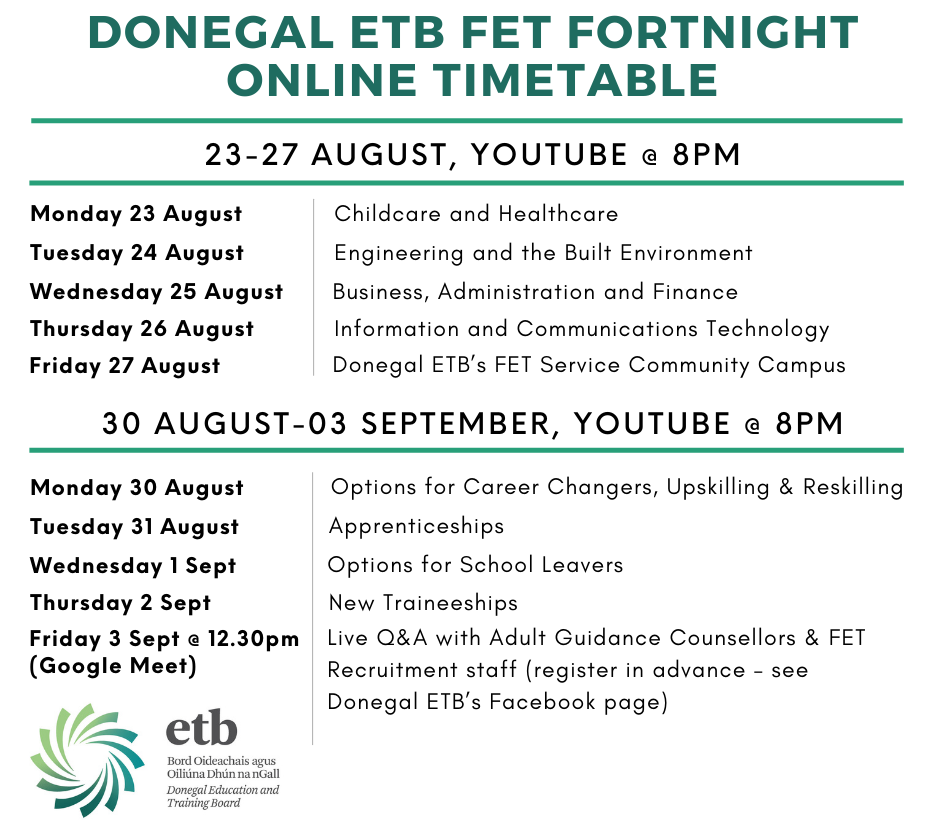 Tags: