Are you looking for a way to kick start your career in hospitality? Letterkenny Institute of Technology is offering 48 FREE places for chefs to upskill/reskill in culinary programmes at the Killybegs School of Tourism.
LYIT is enrolling for fully funded Springboard programmes in Culinary Arts at the Department of Tourism. Students can opt for a Certificate in Culinary Skills or a Higher Certificate in Arts in Culinary Arts, depending on their skill base and former experience.
Two former students who are reaping the benefits of completing the Certificate in Culinary Skills programme last year are Chefs Joseph Gallagher and Sarah Jane Browne.
When lockdown struck, they enrolled to grow and diversify their skills.
Food was always part of Sarah's family story. Her mum was a pastry chef, her dad is a dairy farmer and her grandmother was a great baker.
Sarah started working in hospitality at the age of 16 and now, at the age of 24, she is the Chef/Manager of Time & Tide Cafe in Annagry. Soon she will move to Galway to start at Chef JP McMahon's Cava Bodega in Galway. Next year, she plans to study Botanical Cuisine. These are just some of the opportunities that she has gained from her studies so far. 
Sarah was also selected as one of only five young chefs on the BIM Young Chef Ambassador Programme. She is taking on her own Taste the Atlantic Seafood Journey alongside Mulroy Bay Mussels. 
"I wouldn't have gotten involved in that if I hadn't gone to Killybegs. Through that I got my new job in Galway and I'll be able to consolidate all the learning I've done," Sarah said.
Sarah said she learned a huge amount from her LYIT programme. "I can't say enough about it, it was a great experience and it opened a huge amount of doors for me."
She added: "A lot of chefs learn by exposure to the industry, but this is a great way to round it all off. It's a practical course and a lot of the time you are learning without realising it because you're not sitting reading books."
The two free courses are taught on a part-time basis, with students attending the Killybegs campus just two days per week. The Certificate in Culinary Skills is suitable for those with no, or minimal amount of culinary experience, whereas the Higher Certificate is for those who have either some experience of working as a chef in a kitchen, or someone who already has completed 60 credits in a culinary programme, such as the Culinary Skills programme at LYIT.
Joseph Gallagher uses the skills he gained at LYIT almost every day of his life. He is a sous chef at Teach Jack's Gaoth Dobhair and he enrolled with LYIT last year to get an official qualification.
Joseph praises the good student-teacher relationships, the locality and the good reputation of the Killybegs Department of Tourism. During his time at the college, Joseph benefited from study support for Dyslexia and ADHD.
"With Springboard I felt more comfortable going back to academic learning. LYIT is a good college and I found the lecturers to be exactly what I needed to push me forward. I'm still friends with a good few of them now," he said.
Joseph is keen to recommend upskilling programmes for people in hospitality today. "People should have a broad range of skills. You need a back-up plan, who knows what would happen next."
The jobs are there for the taking, he says.
Sarah too finds that opportunities can grow from studying and training. "In the middle of the pandemic, our industry was decimated, but things are starting to get back to normal and there's light at the end of the tunnel."
To find out more about this FREE programme contact Head of Department of Tourism, Nicola.Dunnion@lyit.ie or find out more at: 
Higher Certificate in Arts in Culinary Arts: https://springboardcourses.ie/details/9355 
Certificate in Culinary Skills: https://springboardcourses.ie/details/9060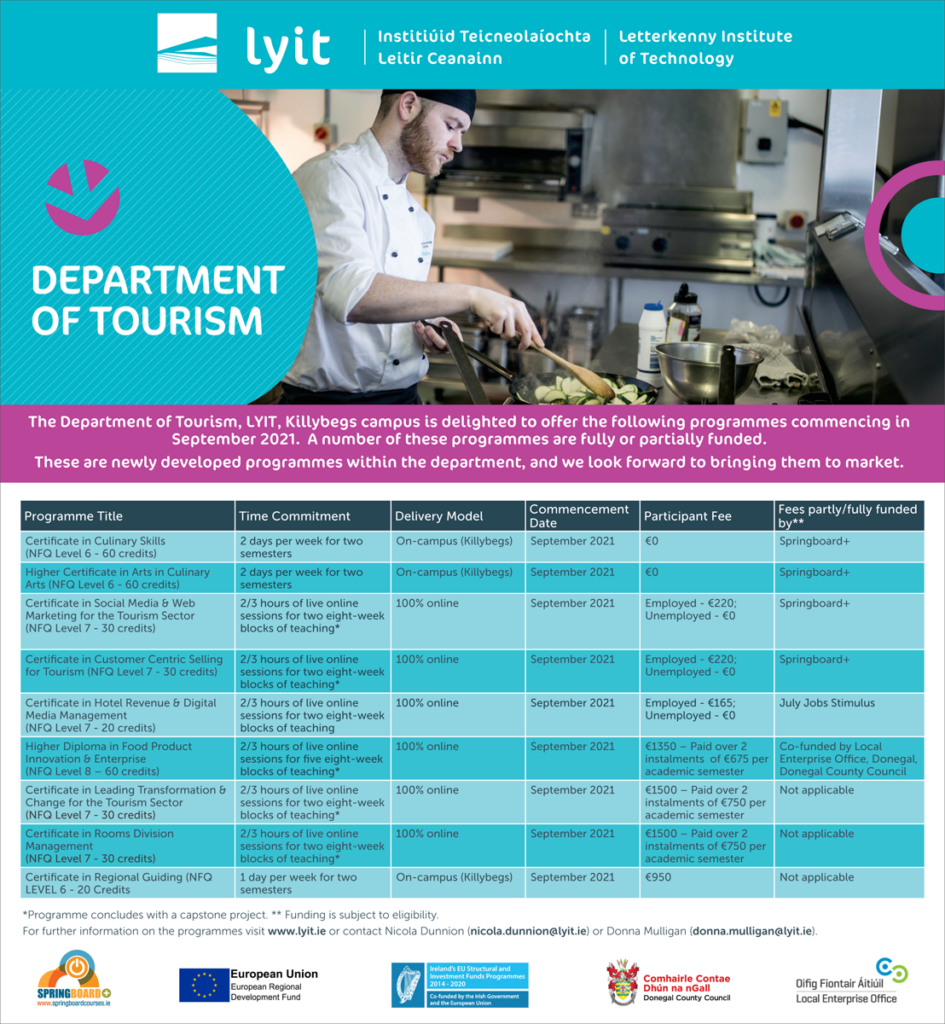 Tags: