Sponsored Post
Ahead of Donegal ETB's online FET Fortnight event which starts next Monday, 23 August, we're showcasing the experiences of some of the students who have recently completed courses with the ETB's FET Service. 
Stuart Cunningham is considering his next steps after completing an Engineering Operations traineeship with Donegal ETB's Further Education and Training (FET) Service.
And the possibilities for him now are endless.
The 22-year-old from Convoy gained a broader perspective on the world of engineering last year.
Now he is expanding his IT skills with Donegal ETB's ECDL programme. 
Stuart's ultimate dream is to open his own motorbike mechanic shop. He gained a great insight into manufacturing and mechanics during his traineeship last year and is confident that he can build on his skills and business knowledge through more ETB courses in the years to come.
Donegal ETB was the ideal option for Stuart in his search for full-time employment.
"I was on Jobseekers Allowance and I wanted to do some further education, but I wasn't sure about the idea of a three-year university course.
"I always knew I wanted to do something with Engineering and the ETB's Adult Guidance service helped me find the best course."
The Engineering Operations traineeship was perfect for Stuart. He gained an understanding of theory, skills in welding, bench fitting and manufacturing, as well as essential training in PPE, Safe Pass and manual handling.
The pandemic limited the work experience element of the programme, but Stuart said the facilities in Donegal ETB's Letterkenny Training Centre were second-to-none.
"Even though we didn't get work experience, we got to see what it would be like in a working environment because of the standard of the workshop. They have great machines, to me, the place was state-of-the-art," Stuart said.
Once the course was completed, Stuart's fellow classmates set out to get jobs, apprenticeships or upskill.
"I now have more confidence and feel more prepared to apply for a job in this sector," he adds.
There is great variety for those who want to upskill through Donegal ETB, Stuart says, "I'll definitely be going back to the ETB, there is a variety of courses for a variety of people. They do a brilliant pipe welding course too," Stuart said.
Stuart also found that the approachable tutors and Adult Guidance team were encouraging and supportive throughout his journey.
"What you put in is what you get out. It's a short course so I had to give it 110%. Our tutor James helped us use our own initiative and gave us all the guidance we needed. I liked that I could work to my own schedule and there's great camaraderie around it," Stuart said.
"I learned so much more on that course than I did through working in garages. I have a good understanding of what's to come."
Check out Donegal ETB's FET Fortnight on their YouTube account every night over the next two weeks at 8.00pm and keep an eye on their social media accounts (Facebook, Twitter, Instagram and LinkedIn) for further details.
Donegal ETB's FET Service is now accepting applications for a wide range of courses starting in the coming weeks – apply online through their website course finder: https://www.donegaletb.ie/further-education-training/course-finder/
Traineeships are co-funded by the Government of Ireland and the European Union.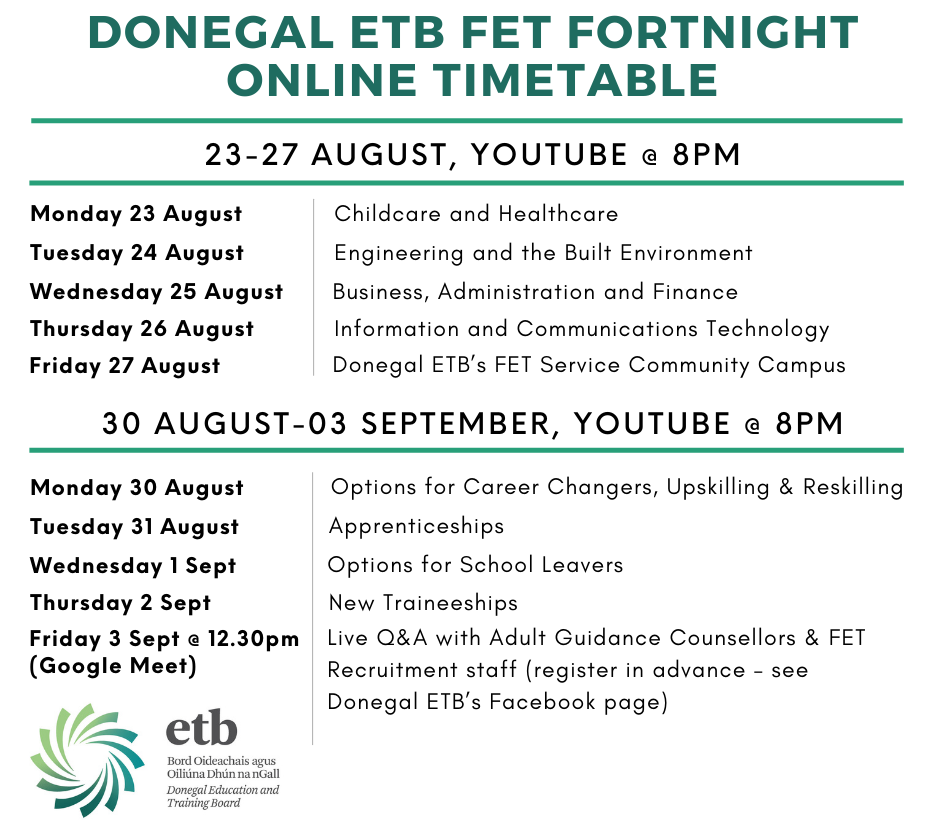 Tags: