Sponsored Post
Ahead of Donegal ETB's online FET Fortnight event which starts next Monday, 23 August, we're showcasing the experiences of some of the students who have recently completed courses with the ETB's FET Service. 
Vanessa Aiken never knew that her talents lay in software development – until she gave it a try.
Vanessa (aged 29) is currently in her final year of a BSc in Computing at LYIT. She was fast tracked into the course last year after completing a Software Developer (specific skills) course with Donegal ETB's Further Education and Training (FET) Service.
Vanessa's further education journey began after she moved home to Letterkenny after 10 years working in hospitality in England. 
"I knew I didn't want to work in restaurants all my life. I started with a Multimedia course, and I didn't have any knowledge or interest in programming. It wasn't anything I thought I could do," Vanessa said.
But, after learning the fundamentals of software development, Vanessa realised that software development was a subject she could grasp easily.
The ETB encouraged Vanessa to tap into that talent by applying for a specific Software Developer programme. This City and Guilds (C&G) course has been developed to provide the software industry and IT departments of business with personnel who are skilled as junior software developers. 
The course suits students like Vanessa, who had never coded or studied IT before. 
"We start by gaining an understanding of the basics, and then focus on coding, programming mostly in Java, we learned the basics of C#, along with software testing, DevOps and we dipped into SQL and databases," Vanessa explained.
With strong foundations in Computing, Vanessa was able to progress straight into second year of her Computing degree at LYIT. She hopes to gain employment in the sector, where there are many opportunities both locally and further afield.
Vanessa said her experience with Donegal ETB also helped her prepare for college learning.
"I wouldn't have done assignments before, and going to third level was a leap, but I was well-prepared," she said.
Donegal ETB is keen to encourage more women to think about careers in the IT industry and their software developer course certainly helps students to future proof their career.
For anyone thinking about dipping their toes into computing and seizing the opportunities out there, Vanessa recommends Donegal ETB as a good place to start.
Check out Donegal ETB's FET Fortnight on their YouTube account every night over the next two weeks at 8.00pm and keep an eye on their social media accounts (Facebook, Twitter, Instagram and LinkedIn) for further details.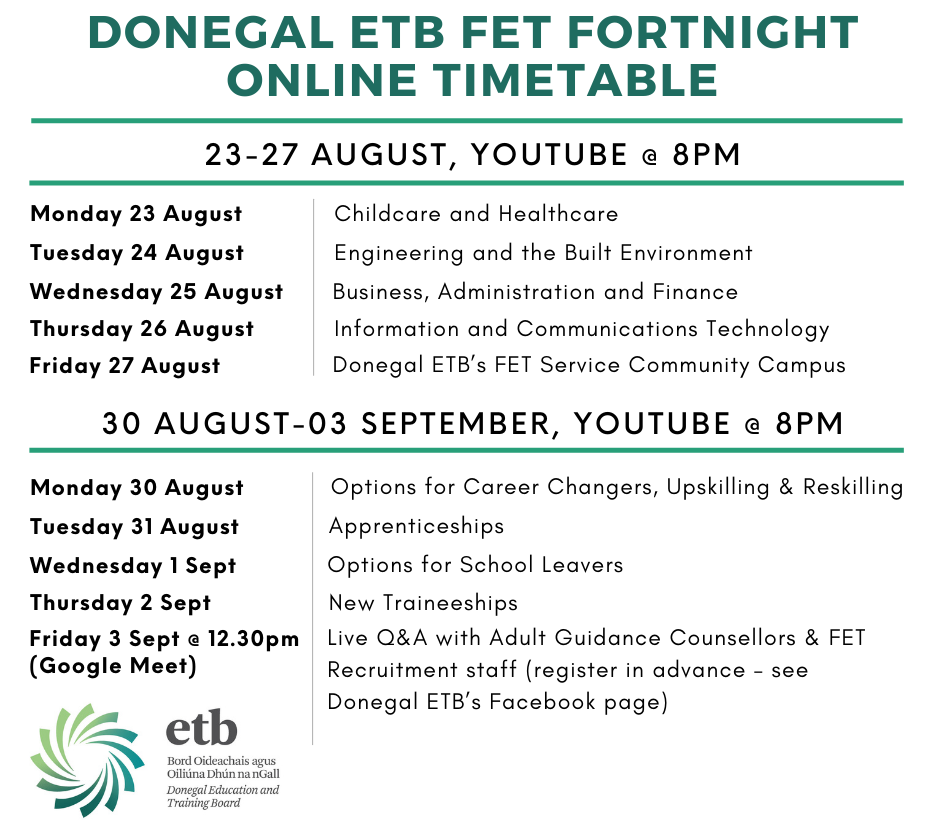 Donegal ETB's FET Service is now accepting applications for a wide range of courses starting in the coming weeks – apply online through their website course finder: https://www.donegaletb.ie/further-education-training/course-finder/
This specific skills training course was co-funded by the Government of Ireland and the European Union.
Tags: