An ambitious plan to make a Recreational Corridor between Ballybofey-Stranorlar and Donegal Town is gathering pace.
The group behind the plan have announced a public consultation on the development of the recreational corridor.
The corridor will link up the two areas through Barnesmore Gap.
The group begins their community consultation with two information events in Ballybofey-Stranorlar and Donegal town. Team members will be on hand to answer any questions but more importantly to gather suggestions & ideas on what people might like to see developed as part of a recreational corridor.
This takes place outside McElhinneys Store between 12 noon and 2pm on August 27th and  in The Diamond, Donegal Town on August 28th between noon and 2pm.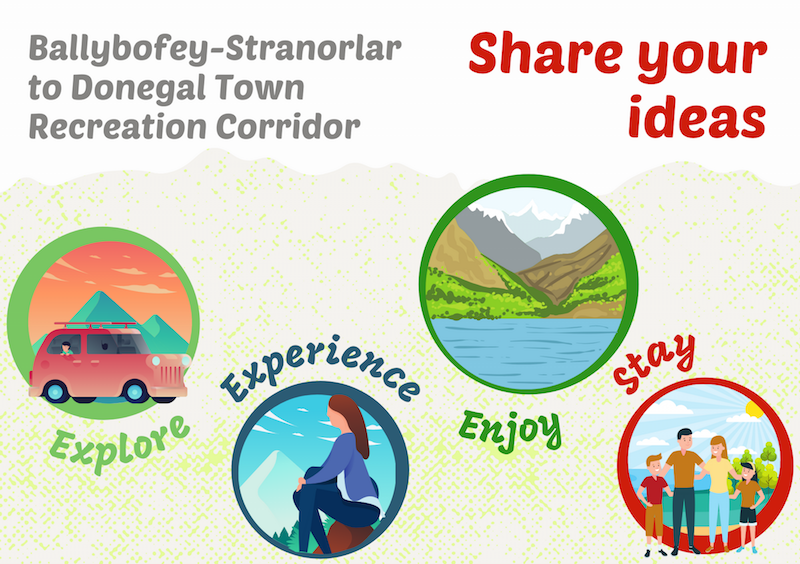 So what is a recreational Corridor?
Recreation activities can involve travel along a well-defined corridor or route. These activities can include scenic road touring, trail walking, or river-rafting. So corridors are an inherent and fundamental aspect of recreation. We describe a recreation corridor as "a ribbon of land and/or water along which people can travel for recreation purposes." It can be used to get to a particular destination, or as a recreational touring experience unto itself.
The Group is a collaboration of local organisations, businesses and individuals. The members come from the areas around Donegal Town, Ballybofey-Stranorlar and the Gap itself. The group has come together as part of the Innovating Communities Project. The project provides free training and mentoring designed to empower local people and groups to work together and overcome challenges. The areas covered are Donegal, Leitrim, Sligo, Cavan, Monaghan and Louth. Courses were developed following submissions to the Challenge Bank. These courses teach participants and community members the principles of Design Thinking and how they can be used in tackling these challenges. Find out more about Innovating Communities at www.innovating.ie.
The aim is to develop a sustainable recreation corridor between Ballybofey-Stranorlar and Donegal Town which will eventually see it become a key tourism destination in the North West of Ireland.