The mighty Moville community has been praised for stepping up to a gruelling challenge for two great causes.
The Everest Step Up Challenge took place in July in honour of John, Tomás and Amelia Mullan. Today is the first anniversary of their deaths. Dad John Mullan (49), children Tomás (14) and Amelia (6) lost their lives in a tragic car accident at Quigley's Point last August 20th 2020.
The sole survivor of the accident, mum Geraldine, inspired fitness groups of Moville to raise funds for two causes close to her heart – Laura Lynn Children's Hospice and the Ceolan Inishowen Harp Project.
With all Covid guidelines adhered to, volunteers of all ages visited Paul McGowan's gym in Moville and completed 17420 box step ups per team. This is the height of mount Everest. ( 8849m).
Despite the sore legs, the event was a true show of community spirit. 
Yesterday Geraldine revealed the grand total raised was €9,760. The beneficiaries were presented with €4,880 each on Tuesday.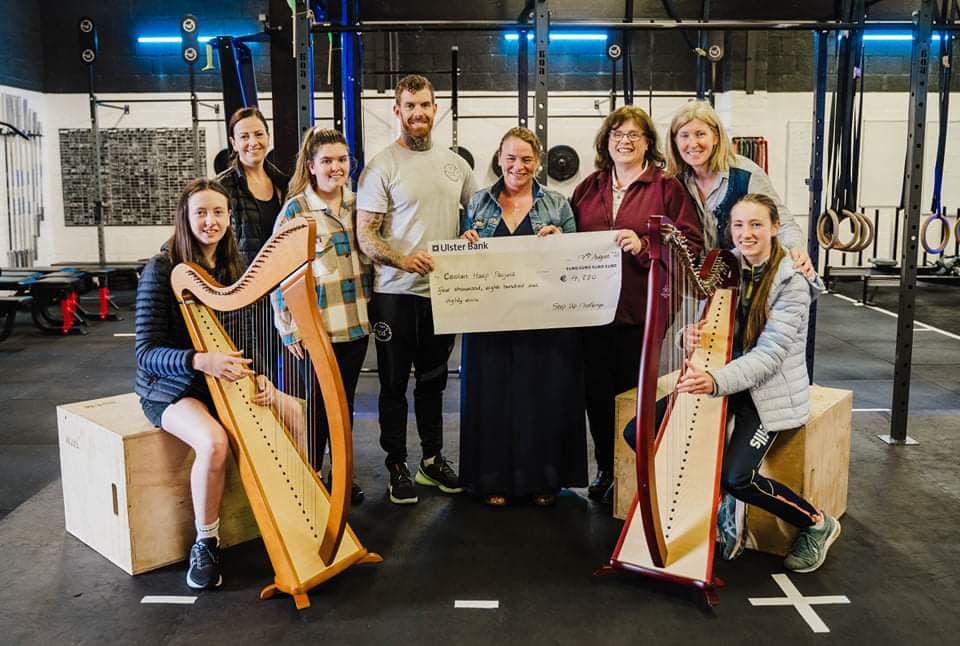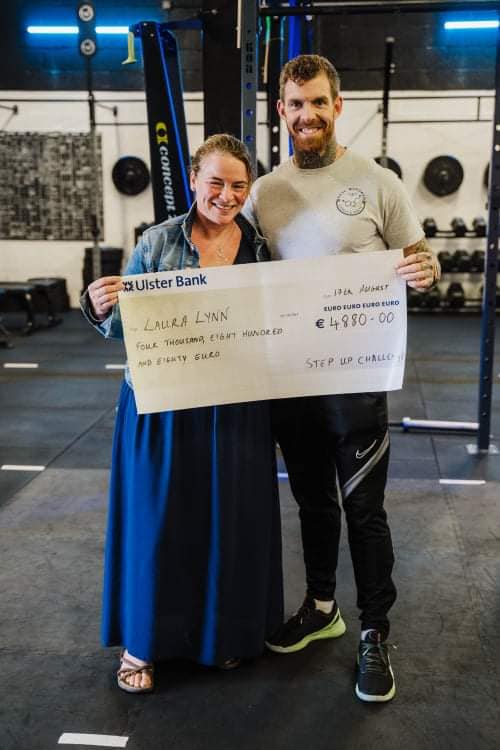 Speaking afterwards, Geraldine said she was "overwhelmed and humbled" by the generosity of everyone who donated, who participated and who made it the success it was.
"I know Laura Lynn & The Ceolan Inishowen Harp Project are extremely proud and grateful as am I," Geraldine said.
"A huge word of thanks has to go to Paul Mc Gowan, Nicola Kelly, & Elena Gill the masterminds behind this challenge. Their tireless efforts in organising and reorganising it due to Covid, cancellations, was phenomenal and they persevered to ensure it all ran smoothly on the day. To all the groups that participated, Moville GAA Club, Aine Hallin Fitness Áine Havlin Coleman , Lee Bob Gamble …. (apologies if I have forgotten any) Go raibh mile maith agat!!
She added: "I know my John Tomás and Amelia would be so proud of you all….& I can hear my darling Amelia say that it was because of her climbing Croagh Patrick in 2019 at the age of 5, that Paul got the idea & that brings a smile to my face."