Sponsored Post
Ahead of Donegal ETB's online FET Fortnight event which starts next Monday, 23 August, we're showcasing the experiences of some of the students who have recently completed courses with the ETB's FET Service. 
Donegal woman Kathleen Sweeney is enjoying her first weeks in her dream job after realising her potential in healthcare administration.
Kathleen is settling into her role as a medical secretary following a number of years upskilling with Donegal ETB's Further Education and Training (FET) Service.
After caring for her family for many years, Kathleen took the initiative to return to education and signed up for a part-time healthcare course in 2017. Her goal was always to get a permanent job in a healthcare setting.
"After completing this course which I thoroughly enjoyed, it was apparent to me that I needed to upskill and develop my IT skills. In September 2019 I started the ECDL course at the ETB's Milford FET Centre and subsequently progressed to the Manual and Computerised Accounts," Kathleen said.
"Taking up these courses was the best decision I ever made," she adds.
Kathleen gained support and direction from ETB tutors and Adult Guidance as she adjusted to learning again.
"The teaching staff and facilities are excellent in Milford and I couldn't have asked for a better environment to learn in. The manager and staff made us all feel so welcome. I met the most wonderful group of students from different parts of the world and we shared many laughs together," she said.
The Healthcare course provided training in modules including care of the elderly, health and safety, customer service skills, manual handling, and – one of the most vital skills to have now – infection prevention and control.
"From that course you could work in a nursing home as a healthcare assistant too. For me, it gave me an insight into what was expected of me to work in medical administration," said Kathleen.
In March 2020, Kathleen, like many others, was catapulted into the unknown as she had to balance her ECDL (ICDL) studies with homeschooling her four daughters.
It was daunting at first, Kathleen said, but she praised her IT teacher who went "above and beyond the call of duty" to provide every possible resource to the class.
"The good side of online learning was that I could do homeschooling in the morning, and catch up on my work in the evening."
Kathleen also benefitted from Donegal ETB's Adult Guidance and Information Service through CV writing support, mock interviews and mock Zoom interviews, as well as accessing jobs news. Kathleen was advised to engage with the Donegal Volunteer Centre during the pandemic and, after many months of applying for vacancies, she was successful in securing her dream job.
"Life is a challenge and balancing act at the best of times. The sheer joy of returning to the workplace in a global pandemic for me cannot be underestimated," she said.
For anyone considering returning to education after time out of the workplace, Kathleen would encourage them to simply go for it.
"Take the bull by the horns, just do it. It opens many doors for a lot of people. Don't be afraid, the Donegal ETB is a great resource to have."
In fact, Kathleen's own son has followed in her footsteps by taking up a Heavy Vehicle Mechanics apprenticeship, registered through Donegal ETB.
She adds: "I hope that this story will inspire, encourage and motivate school leavers and mature students to avail of Further Education in Donegal. If you work hard, stay focused you will realise your potential just as I did."
Check out Donegal ETB's FET Fortnight on their YouTube account every night over the next two weeks at 8.00pm and keep an eye on their social media accounts (Facebook, Twitter, Instagram and LinkedIn) for further details.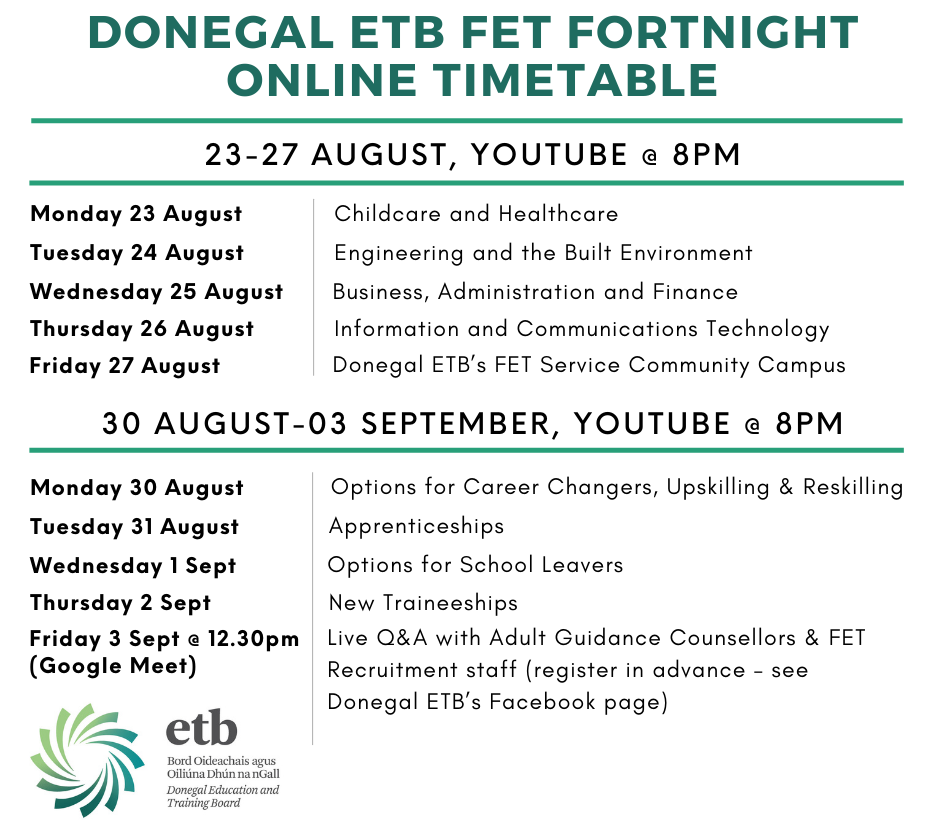 Donegal ETB's FET Service is now accepting applications for a wide range of courses starting in the coming weeks – apply online through their website course finder: https://www.donegaletb.ie/further-education-training/course-finder/
This specific skills training course was co-funded by the Government of Ireland and the European Union.
Tags: