A Ladies Open Golf classic in aid of the Little Angels Special School will be held at Letterkenny Golf Club next Thursday. 
"Little Angels are so grateful to all the sponsors who have been so generous despite struggling to get back on their feet," a spokesperson for the school's committee said.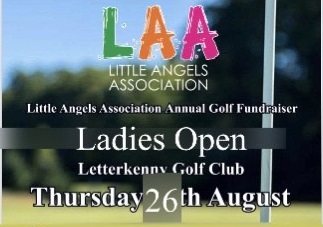 "We ask everyone to support our sponsors and look forward to a great day of golf. Thanks to Letterkenny Golf Club once again for their hosting of this fundraiser. The club has been so supportive of Little Angels for many many years. This is a huge year for Little Angels and funds, no matter how much we raise, are always gratefully received."
To book your tee time, call the club on (074) 912 1150. 
The Little Angels Association founded the Special School, and Fiona House, home to past pupils of the school, in the 1980s.
At that time, there were no facilities in Donegal for children with special needs. 
Tags: