The Inishowen Development Partnership (IDP) is continuing to offer the youth of the peninsula a second chance.
The IDP has over the years delivered a variety of youth programmes. Primarily, the core focus is supporting young people where they are at in life, listening to them and designing programmes in collaboration with young people directly.
For many young people involved there are multiple challenges in their lives. So, the work aims to address this by early intervention, prevention and personal development aiming to support them to reach their full potential. 
One such example is the recent completion of The CHANCE Project, a unique youth development programme funded by the International Fund for Ireland (IFI).
The project was a person-centred programme to facilitate young people's (aged 16-25) personal, social and emotional development through holistic youth provision delivering planned training programmes and identifying opportunities.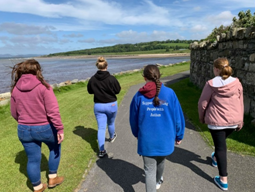 Niamh Clerkin, Youth Support Worker with IDP, says of CHANCE that "the participants were offered the opportunity to realise their potential in a safe, non-judgmental space as they navigated this period in their lives, which was equally difficult during a pandemic.  We are so proud of how participants showed resilience by staying connected with the programme online while looking forward and preparing for a different world post-pandemic. "   
The project supported young people to gain new skills, qualifications, and complete work experience. 
Participants created personal development plans unique to them and their goals, including career guidance and ongoing support throughout the programme.
Both accredited and non-accredited learning and development opportunities were offered covering a range of courses and projects suiting their needs such as Food & Nutrition Level 4, Childcare, First Aid, Computer applications/IT Courses, Digital Media, Personal effectiveness, Communications, Leadership training, Health and safety, Community Development, Internet Safety, Good Relations Training and Team building.
One participant commented that "If I hadn't taken part in the CHANCE programme, I would not be where I am today.  I have gained so much from this programme, personally speaking, it has helped me mature and get an insight into the world of work, and I am delighted to say that I am now working in a position that I applied for with the help of IDP CHANCE programme." 
Inishowen Development Partnership (IDP) is a community-led local development company with a long history of delivering youth supports and providing out-of-school community supports to disadvantaged young people in Inishowen.  
To find out more about the CHANCE programme, visit our website www.inishowen.ie
Tags: