A tractor run will be held in Inishowen next weekend to help raise funds to purchase a much needed wheelchair accessible swing.
Muff Community Development plans to install the equipment in Muff Community Park.
The tractor run will leave the park at 11am sharp on Sunday, September 26, and entry will cost €10 per vehicle.
The route will take in Burnfoot, Buncrana, Cockhill, Carndonagh, Glentogher, Quigleys Point and back to Muff.
Coffee, tea and refreshments will be available.
The playground developed in Muff in 2013 has a number of pieces of equipment which are accessible to children with disabilities, but none can facilitate use when in a wheelchair.
"We believe in inclusivity for all, and this would be a great asset for our community," a spokesperson for the group said. 
"We have secured a grant of €2,500, but need to raise a further €5,500 to meet the project costs. We are very grateful for the donations we have already received but we still have a long way to go."
To make a donation, and for further information, log on to the Muff Community Park GoFundMe page.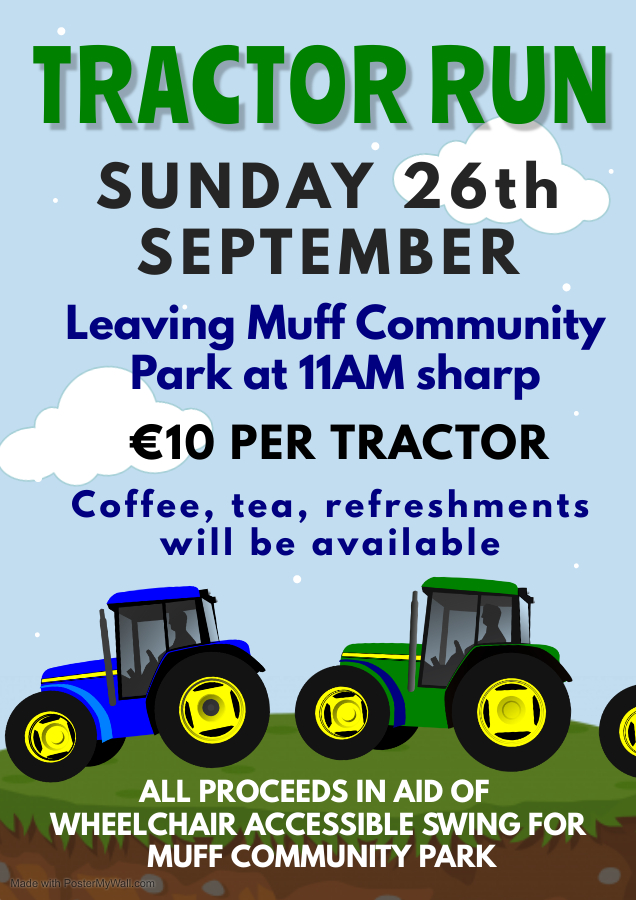 Tags: