Letterkenny Institute of Technology (LYIT) is busy preparing for several events including its first on-campus event since lockdown began in March 2020.  LYIT's Information Day will take place on campus on Friday 10 September from 9.30 am to 5 pm. 
From Friday 3 September until Friday 10 September, LYIT will host two online events and one on-campus event. The first event will take place on Friday 3 September (Leaving Certificate Results Day) where LYIT's Schools Engagement team will be on hand, via WhatsApp, Zoom and email, to answer questions and queries from prospective students, parents and teachers. 
On Tuesday 7 September (CAO Round One Offers Day) prospective students, parents, and teachers can connect with the LYIT Schools Engagement team for advice and support via WhatsApp, email or Zoom video chat from 10 am to 6 pm.
LYIT will host its first event on campus since lockdown began, on Friday 10 September, and everyone is welcome to attend.  LYIT's experienced and friendly staff will be available to offer advice on CAO and Available Places at LYIT, or information on postgraduate, part-time or Springboard+ programmes.  This event will provide prospective students with a chance to connect with LYIT's academic and student support staff on campus, ahead of the new academic year. 
Pre-registration is required to attend Information Day.  Anyone wishing to attend this on-campus event can book a time slot and then connect with the LYIT academic and student support team during the visit.  To book your attendance at this event, click on the Eventbrite link on lyit.ie/events.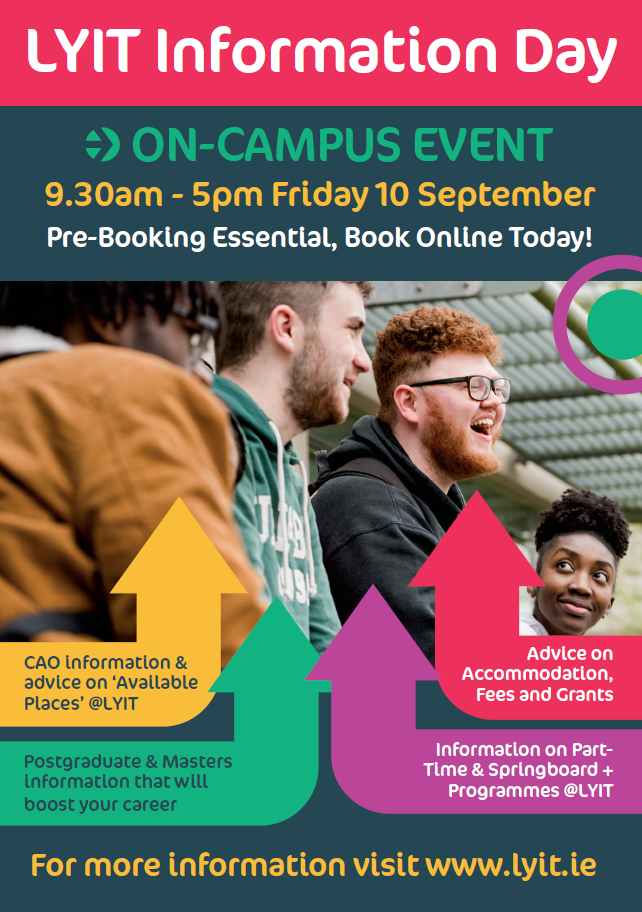 Paul Hannigan, LYIT President commented, "With the advent of the Leaving Certificate results, this can be a very stressful time for student and their families.  At LYIT we try to be as supportive as we can so that people can make informed decisions about their future.  These three events are organised with the students' interests at heart and we hope they will prove beneficial."
Fiona Kelly, LYIT Schools Engagement Officer, added, "LYIT offers an extensive range of programmes and a fantastic student experience.  Over the past year, parents, students, and teachers have had limited access to our campuses and we are delighted at the prospect of welcoming incoming students to our campuses.  These events, two virtual and one on-campus, will provide advice and support to students, teachers and parents.  The LYIT team will be available to give information on grants, accommodation, and student support services available at the Institute. 
"If a student has not made a CAO application, we will be able to provide advice on Available Places and how to make a late application to join LYIT.  We are here to help prospective students no matter what their situation is, and we encourage parents and prospective students to connect to these upcoming events." 
For further information on these events visit www.lyit.ie or contact LYIT on (074) 918 6000.
Tags: