There is an abundance of opportunity in the hospitality sector, and new developments at Letterkenny Institute of Technology are helping to answer that demand.
The Department of Tourism at Killybegs is bringing new programmes to the market to address key skills needed in the new world of hospitality and tourism. 
The sectors have been turned on their heads in the past two years. LYIT is changing its approach to get people trained or upskilled to adjust to the changes.
Nicola Dunnion took up the role of Head of Department of Tourism in January and is leading out the future vision along with the team.
The Department of Tourism has also moved under the Faculty of Business at LYIT, creating a fruitful blend of education.
Six new programmes are beginning in September with high relevance to today's industry. In January, LYIT consulted with tourism and hospitality industries in the region to find out what their skills requirements are. This semester, whether it's developing a new food product, gaining customer centric selling skills, or leading transformation and change in a tourism business, there are exciting options for all.
Nicola and staff within her Department have focused on three key developments. 
Work-based Learning
LYIT currently enjoys a reputation as one of Ireland's leading providers of work-based learning programmes (WBL). These programmes are designed and delivered in conjunction with employers.
"These are skills that are very much gained in the workplace rather than from sitting in a lecture hall," Nicola explains.
Courses such as the FREE Springboard Certificate in Culinary Skills programme provides work placements for students to develop practical skills in the workplace.
These approaches create a lasting connection with the industry.
"If there was any learning to be gained from the pandemic, it's that we recognised the need to work with industry in terms of course development. That is something we have been cognitive of throughout new programme development this year", Nicola said.
Teaching Models
The Department of Tourism at LYIT sees that the future of learning is a blend of online and in-person classes. Seven of the Department's new programmes are 100% online and delivered part-time, with busy students in mind.
Nicola said: "Online learning is something that we are really embracing. For example, we realise that it's much easier for a receptionist in the Inishowen area to log onto a two-hour evening class from home than having to undertake the drive to be there in person".
Online classes are tailored to lifelong learners who are balancing work/home life with their studies. Modules are delivered one at a time, with a mix of live online sessions and virtual workshops with guest speakers.
The Killybegs campus at LYIT, a focal point of some of Donegal's biggest tourism areas, is also being redeveloped with impressive learning space and office upgrades.
Innovative Topics 
The Department of Tourism has ramped up its activity in delivering relevant courses for people who are unemployed, employed or returning to education. As the sector changes, so too do the skills needs.
"We recognise lifelong learners in this space. People sometimes realise that they need to do a course to get to the next level in their careers."
The subjects delivered at LYIT are universal. 
"The world is your oyster when you gain tourism and hospitality skills", says Nicola.
"We say it's a passport to travel. If a young person thinks they don't know where to base themselves, no matter what town or pocket of this county or what country in the world, they will always find a business operating in travel and tourism.
"It's Ireland's largest indigenous employer. The tourism and hospitality sector support an estimated 260,000 jobs in Ireland. That is 11% of total employment. We are fortunate to have a sector that is so prevalent. Since the pandemic, employers are really stepping up to the mark and putting a strategic direction to attract employees.
"It is also a very person-facing type of sector, if you like the idea of working with people, it's very suited to certain people's skillset."
The good news for students coming out of the Department of Tourism is that the jobs are there for the taking.
"There is an abundance of opportunity, when you are passing by restaurants and hotels, people often don't realise the various positions held in those organisations, from marketing to HR to reservations management," says Nicola.
The ambitious vision of the Department of Tourism is benefitting from the support of funding partners. Springboard+, co-funded by the Government of Ireland and the European Union, provides both free and part-funded programmes. The Higher Diploma in Food Product Innovation & Enterprise programme is co-funded by the Local Enterprise Office Donegal, Donegal County Council.
The other good news is that students can join online courses from anywhere in the country. 
Nicola adds: "We could enroll someone as easily from Cork as we could from Donegal. This enhanced the learning in the virtual classroom, with participants on programmes often sharing experience from working in the industry."
After all the challenges the pandemic has thrown at tourism and hospitality, LYIT is proud to make its new vision a reality this September.
If you want to start your new journey in Tourism and Hospitality at LYIT, see the list of courses now enrolling in the poster below: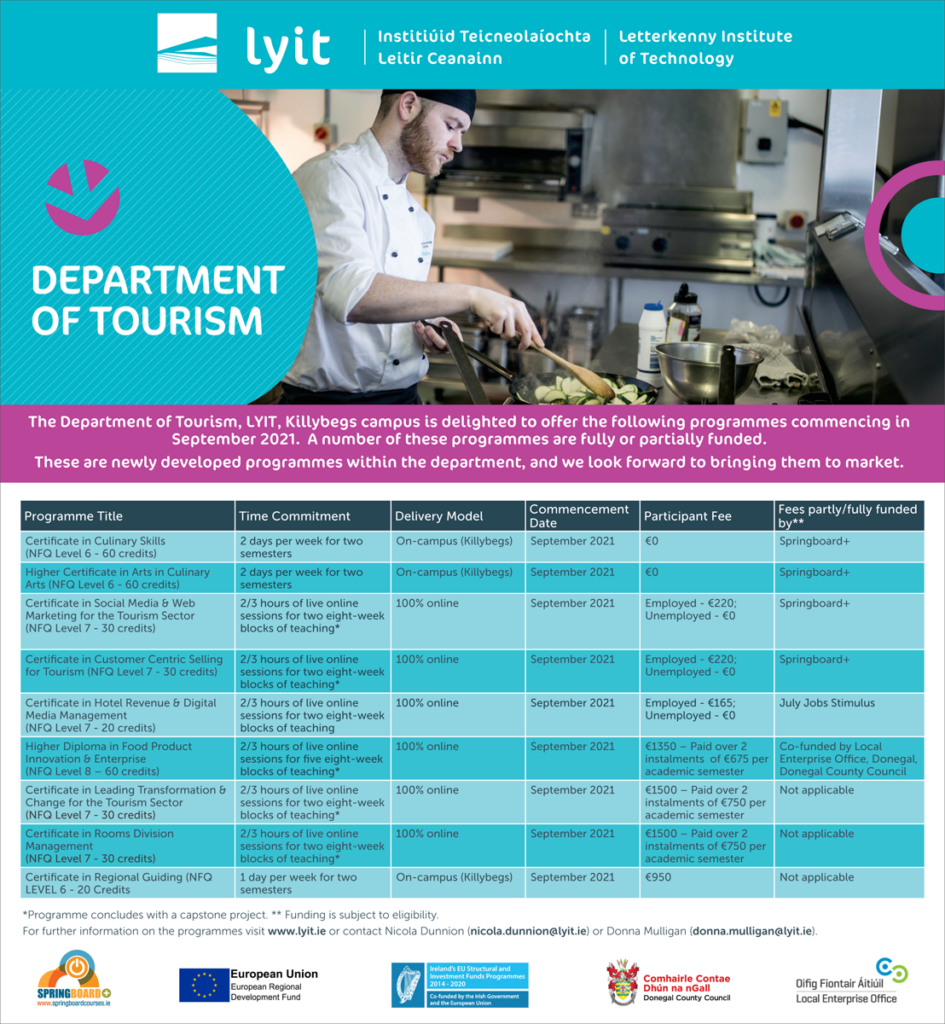 View a high quality verson of the poster here: https://donegal.ie/media/2092/lyit_circular-to-industry.pdf
If you would like to learn more about these programmes, individual brochures for each course are available by contacting Donna Mulligan at donna.mulligan@lyit.ie.
Tags: