MICA campaigners remain hopeful of agreement on a 100 per cent redress scheme.
A huge crowd gathered in Lifford for the demonstration in support of 100 redress for affected homeowners.
Some members of a working group, established following a massive summer protest in Dublin, have recently resigned their positions due to ongoing frustrations with the process.
"We could start a blame game and pointing fingers, but that's not what we're here for today," leading Mica campaigner Paddy Diver told today's protest.
"Today his about the people. We're not numbers, we're people. Real people, real lives, real mammies, grannies, children, fathers, just like me.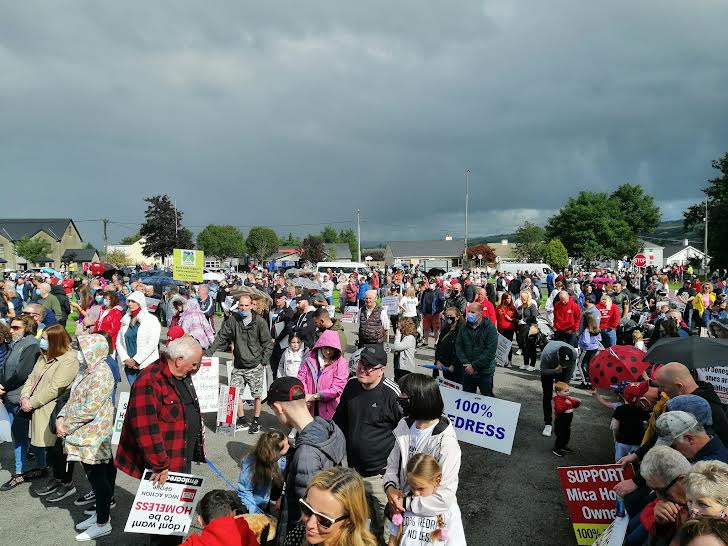 "We have strength in people."
Many homes built using defective concrete blocks have to be completely demolished and rebuilt.
Some devastated homeowners told their heartbreaking stories to the crowd today.
Mr Diver added: "The salt of the earth Irish people have done nothing wrong here. This is about every single one of you here, We have the right to feel safe in our homes with no stress and we have the right to 100 per cent redress – and no less.
"I hope this is the last time that we have to go on stage. I hope that there are no Dublin protests after this."
The crowd marched from outside the Donegal County Council headquarters Diamond to the open area at Croaghan Heights, where a stage was set up.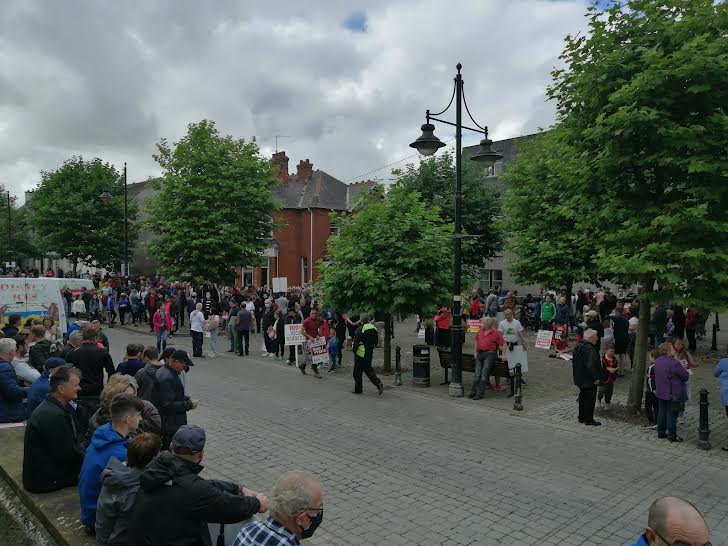 In June, thousands of Donegal people took to Dublin and marched from the Convention Centre to Leinster House demanding a 100 per cent redress scheme.
Michael Doherty of the Mica Action Group urged those in attendance to keep the pressure on the relevant people.
Mr Doherty said that September was now a 'massive, massive month' for their hopes.
He said: "It will be spilt milk in October.
"I'm in the working group and we have a massive responsibility. Homeowners are depending on us.
"It took a long time for us to wake up in Donegal. This is absolutely brilliant. We have a massive, massive month this month.
"I would have very little tolerance for someone coming back and saying what we should have done.
"This is when it matters. The game is there to be played and the ball is on the pitch. We have a hell of a job to do this month or we'll walk away – and there is no way we're walking away."