The Letterkenny Cathedral Quarter is host a number of exciting events this Friday for Culture Night 2021.
The Cathedral Quarter committee, in conjunction with Donegal County Council, will officially unveil a plaque commemorating the Irish Planning Institute President's Highly Commended Award for the Church Lane Historic Town Initiative on Culture Night, Friday, 17th September at 8pm.
The Historic Towns Initiative was a collaboration between the local authority, Cathedral Quarter committee, property owners, John Doherty and John O'Loughlin construction and Dedalus Architecture. Music provided by Wild Rovers and Maria McCormack. Refreshments to be served afterwards.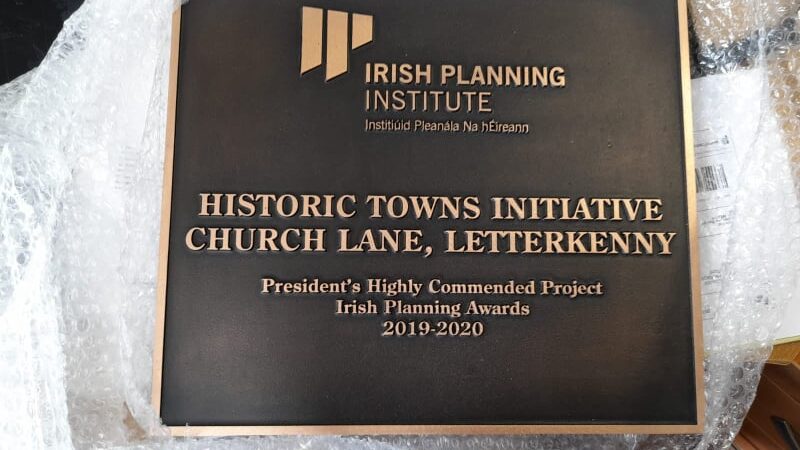 Prior to the unveiling, the Elusive Theatre will bring the history of the area to life with the 'Cathedral Quarter Experience' starting at 6.30pm outside No. 1 Church Lane. Go walking with Letterkenny Legends, as the Elusive Theatre brings you on a tour short in distance but rich and deep in history. Meet characters from the past and learn about events that have helped to shape our present.
This outdoor event has a limited audience with a max of 20 people, in pods or groups.
Pre-booking is essential by contacting Donnan Harvey on 086 345 2457.
This Culture Night, the Cathedral Quarter are delighted to be teaming up with Junk Kouture, the global platform which unleashes the creative brilliance of young people. A number of high-end coutures created from everyday junk will be on display in the windows in and around the Cathedral Quarter. With a number of other events happening in and around the locality, come and join us on what is the most magical night of the year in Letterkenny's Cathedral Quarter.
Tags: