The Donegal Association in Dublin announced the winners of the 'Above and Beyond' awards in Harvey's Point last weekend. 
The association sought nominations from several categories as a mark of appreciation and admiration for the work of Donegal people and community groups who go above and beyond, particularly over the last year.
It was the perfect weekend to present the awards as it also marked the completion of the Donegal Camino.
The walk was organised by association Vice President, Peggy Stringer, Donegal Person of the Year, Noel Cunningham and Former Donegal Person of the Year, Deirdre McGlone. 
Announcing the recipients of the 'Above and Beyond' awards, Elaine Caffrey said: "The Donegal Association Dublin are delighted to present the 'Above and Beyond' Awards to four very worthy recipients. As we emerge from a type of hibernation, and the world is seeming to come back to some sort of normality, it is important that we pay tribute and acknowledge those who have made a huge effort and gone 'Above and Beyond' to help other people. They, in various ways, showed the true nature of community and charity throughout the lockdown. At a time when many people were afraid to leave their homes, these kind, courageous people stepped up to help those who were vulnerable in various ways. On behalf of the people of Donegal we wish to say a huge and heartfelt 'thank you'."
The four recipients are; Naomi Carr, Edel MacBride, Chef Aid and Clogher le Chéile.  
Naomi Carr, accompanied by her father, ensured that the masses at St. Cartha's Church, Kilcar, while being live streamed, had the benefit of their wonderful live music every week without fail.
When people were going through the pain and loneliness of losing a loved one during lockdown – compounded by the fact that a normal funeral was not possible due to covid restrictions, Naomi gave up her time to ensure that the funerals had that extra warmth, compassion and humanity through her music.
Edel MacBride: (Pledge Scrubs initiative)
During lockdown when many healthcare workers were advised to wear scrubs rather than uniforms, the issue of a massive shortage of the garments arose.
Edel, as an entrepreneur in the clothing business, recognised that she had the skills and experience to help.
She teamed up with Moville Clothing, who had begun making scrubs, and organised a fundraising campaign where people could donate the cost of a set of scrubs at a time when many frontline workers had to buy or make their own.
Within a few months, this campaign raised over €85,000 resulting in thousands or scrubs being sent out to healthcare workers throughout Ireland.
Chef Aid
Jo Daly was the brainchild and accepted the award on behalf of the initiative Chef Aid.
This group cooked and delivered over 16,000 meals for elderly and vulnerable people who were cocooning during lockdown.
Many times this may have been one of the few faces that those elderly people would have seen during isolation. Eventually the number of meals required reached a steady 150 per day.
The group continued with this pace for over three months, right up until the hospitality sector reopened.
Over sixty volunteers lent their time to this effort led by the wonderful team of Jo Daly, Tim Twomey, Sinead McTernan and Adrian McDaid.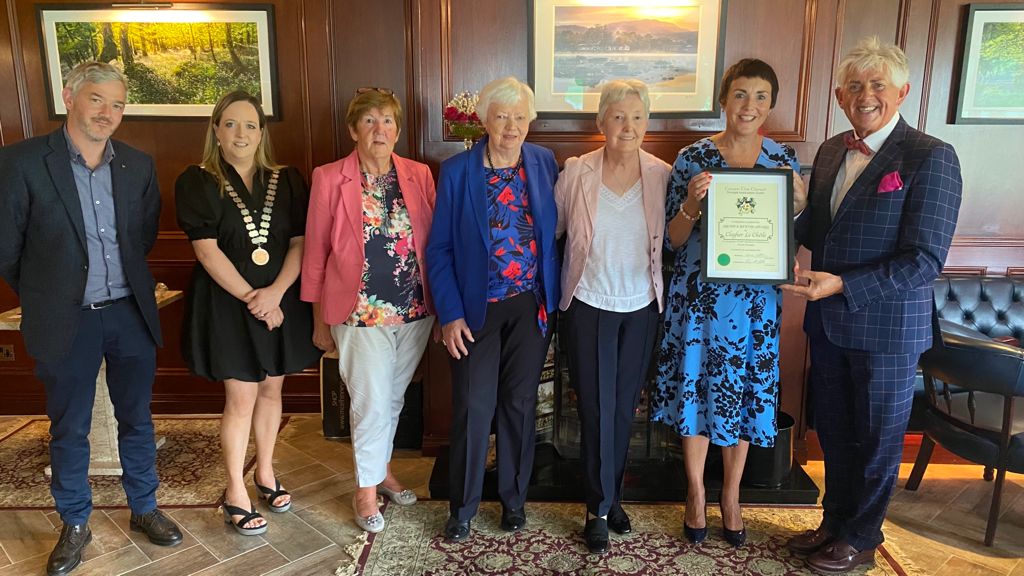 Clogher Le Chéile
Clogher Le Chéile, a community group comprising the residents of the townland of Clogher, Barnesmore.
Tjhey were honoured not just for their activities during lockdown but also the many years of activism as a local community group.
They have undertaken many tasks that are relevant to their community including documenting the history of their townland, organising group and youth activities, adult education courses, and published a cookbook.
They have achieved what many other community groups attempt – that is to engage with their entire community in the projects that they undertake.
During lockdown, when there was a severe shortage of masks, this group organised to have local machinists sew masks. Two masks were distributed to each household in Clogher and over 2,000 sent to healthcare workers.
"A huge congratulations to all the recipients and thank you to everyone who took time to nominate," Ms Caffrey concluded.
"It has been some time since our last event but hopefully when restrictions begin to lift we can meet again.
As always, thank you for your continued support of our initiatives. Please continue to follow us on social media to keep up to date on our news and events."
Tags: