Sponsored Post
As thousands of Donegal students prepare to move to the 'Big Smoke' for college, one local bus service will resume their Sunday night service as normal.
Mc Ginley Coach Travel is a top choice for students making the journey to Dublin every weekend. The top draw is the late Sunday service, where students are dropped off near their colleges' main student accommodation so they do not have to haul bags around the city in the dark. 
This allays the worries parents may have about their children traveling on public transport late at night, particularly first years who may not be familiar with Dublin yet.
Mc Ginley's are once again vowing to drop students at UCD, St. Pats and NUI Maynooth in Dublin/Kildare and near the DCU campus, so they don't have to plan journeys from the main bus stop in Dublin City Centre. 
All John McGinley services are back to normal, and in line with government guidelines, all public transport has now returned to full capacity.
All passengers are advised to book their seat at least 24hrs in advance in order for the team to plan ahead and have seats for everyone. 
Reserve your seat at: http://www.johnmcginley.com/phpmailer/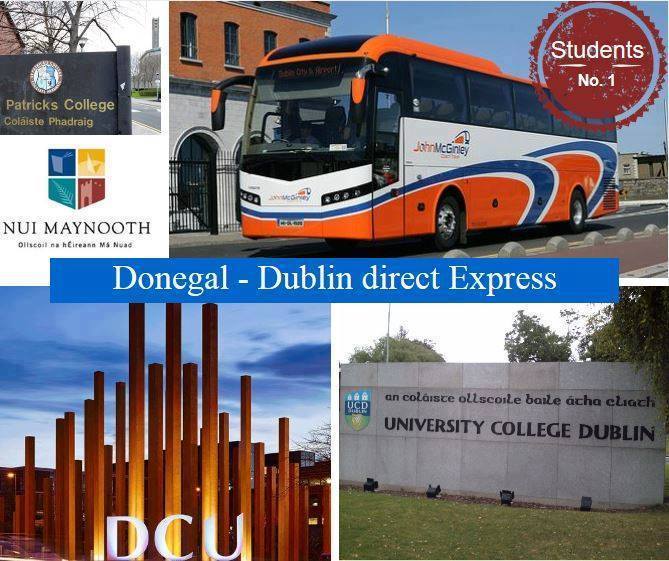 James Mc Ginley of Mc Ginley Coach Travel said; "On Sunday night we drop near DCU, UCD, St. Pats and NUI Maynooth and students find this college drop-off service particularly useful, it's very reassuring for parents to know that their teenagers are being dropped off at the college campuses in most cases."
The service includes:
• Free Wi-Fi
• USB charging points at every seat
• Direct express service
• Luxury coaches
• Competitive fares
• Pick-ups in most parts of North West Donegal as well as Derry & Tyrone
McGinley's have been operating this service since 1986 and serve most parts of North Donegal from Annagry in the West of the county to Inishowen and Derry.
McGinley's operate a daily service to Dublin – for more information check www.johnmcginley.com or call 074-9135201.
Tags: