Young adults from Inishowen with autism and intellectual disabilities are set to showcase impressive photography in a unique exhibition this October.
iCARE Adult Day Service participants celebrated their creativity this summer by taking photos of landmarks and places of interest in Donegal.
They chose one photograph from their favourite images and helped design a stained-glass window for their centre to celebrate iCARE (Inishowen Children's Autism Related Education) 21st birthday. 
The new stained glass window will be unveiled during the photography exhibition in the first week of October.
In preparation, the young adults visited Alpha Stain Glass in Derry where they were shown how the stain glass is processed. How the window pattern is created, the cutting and painting of the coloured glass, the glazing and leading and then the finishing. 
"The process for making our new window took six weeks, and was done by hand. The young adults helped create the design, we look forward to the public viewing our new stain glass window," said Liam Gill, manager of iADULT.
The iADULT Photography Exhibition celebrates Donegal by bringing together stunning scenic views and historical buildings, bringing together landmarks of modern art and ordinary snapshots. The collections also celebrate something that matters through the eye of an individual with autism.
Liam Gill manager of iADULT commended all the young adults who took the photographs and stated they hope the exhibition captures how we feel about our county, the raw landscapes and places of interest.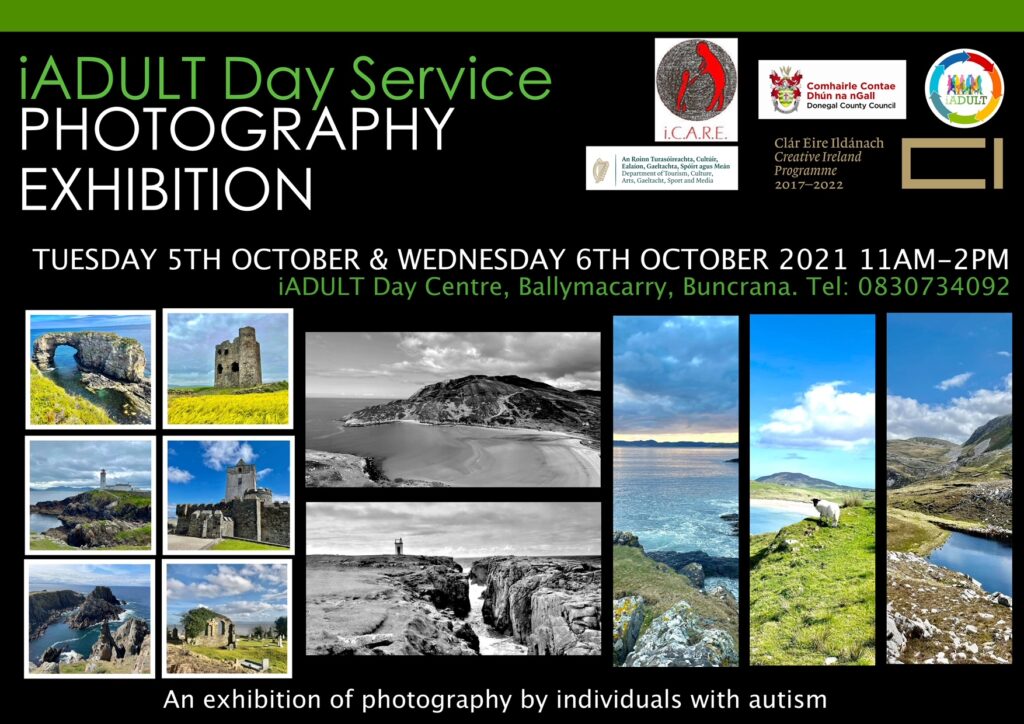 iADULT Day Service were fortunate to secure funding through the ETB – Mitigating Against Educational Disadvantage Fund and were able to purchase photography equipment for this project. iADULT Day Service were lucky to secure funding from the Donegal Culture and Creativity Grants scheme. The Donegal Culture and Creativity grants scheme promotes collaboration and fosters creativity as envisaged in the creative Ireland programme. 
The Photography Exhibition will take place on Tuesday 5th October and Wednesday 6th October 2021 from 11am-2pm at the iADULT Day Centre, iCARE,  Looking Glass Brae, Ballymacarry, Buncrana County Donegal.  For further information Telephone: 083 073 4092 or email liamgill@icare.ie