The SuperValu Carndonagh team is over the moon with SuperValu's success in the 2021 Great Taste Awards.
The retail chain took home a massive 100 award wins last week, making them, once again, the top performing Irish supermarket at the world's largest and most trusted food and drink awards.
SuperValu took home three 3 star awards this year and an additional 26 awards on their 2020 wins.
This year the always popular, SuperValu's Signature Tastes Irish Hill Lamb Rump Roast was awarded three stars, making it one of the highest ranked products from an Irish retailer. Other three-star winners include the Signature Tastes Riojan Chorizo Cular and the Signature Tastes Irish Hampshire Easy Carve Ham Fillet.
The Signature Tastes cheeses all performed well at the blind taste testing, while the already award-winning Signature Tastes Raspberry Conserve won a one-star award.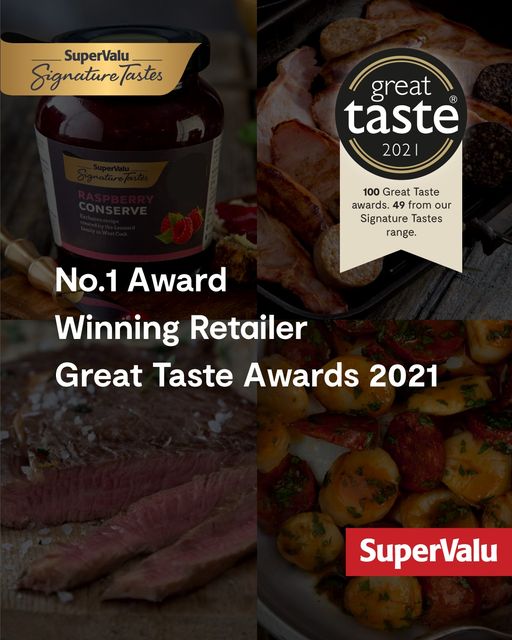 Other winners at the event include the Signature Tastes Kevin Dundon Christmas Pudding, Signature Tastes Sicilian Lemon Yogurt, SuperValu Lamb Rack, SuperValu Sour Cream, The Happy Pear Lovely Basil Pesto and the Signature Tastes Freshly Squeezed OJ.
Management at SuperValu Carndonagh are sharing in the delight of SuperValu's 100 awards, which represent a real endorsement of the quality and value of their range.
Tags: