Inishowen is giving a warm welcome to a Pennsylvanian visitor this month, who is here to celebrate a special transatlantic connection.
Mike Hoover, from Chambersburg, near Greencastle PA, first discovered the existence of Greencastle in Ireland two years ago. He was intrigued by the connection and has wanted to visit Donegal ever since, but the pandemic paused those plans.
Hoover finally got the chance to jet off on his dream trip this September. He will be exploring Donegal for three and a half weeks. He came bearing gifts too, and met up with Greencastle community representatives and schoolchildren at Scoil Cholmcille.
Susan McAleer, Manager Greencastle Community Centre, was delighted to welcome Mike and hear all about Greencastle in Philadelphia. The historic town has a population of over 4,000.
She said: "Mike made contact with the Centre back in December 2020 and outlined his plans to travel to Greencastle, Co.Donegal and visit the namesake of his hometown.
"This was the first we had heard of Greencastle PA and over the next 18 months we kept in touch with Mike and came up with a plan of events to celebrate his visit and also to include the local community and national school.
"We were delighted to host Mike and humbled by the time and preparation Mike had put into bringing artefacts, brochures, photos and postcards (and a letter from Greencastle Mayor) all the way from America for us here in the Centre."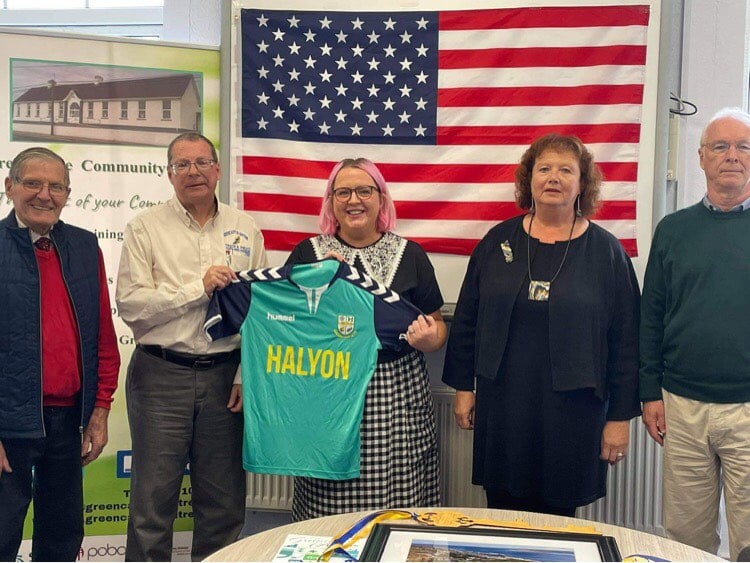 Mike delivered a presentation to members of the Board of Directors and staff at the Centre about the history of Greencastle PA and their vast and varied connections.
The Greencastle Community Centre committee then presented Mike with an aerial photo of Greencastle, courtesy of Christy McLaughlin Photography, two books Across The Atlantic and The Mist and a Greencastle FC Jersey.
From the US, the students of Greencastle-Antrim High School STEAM also made a beautiful wooden key for Mike to present to the community in Donegal.
Mike also coordinated a penpal exchange where he brought letters from Greencastle-Antrim Middle and Elementary Schools and hand delivered them to Scoil Cholmcille in the hope of encouraging students to put pen to paper. 
Scoil Cholmcille students were very engaged by Mike and are excited to write to their new penpals across the pond.
"The literature, postcards, photos etc that Mike brought will be put on display in GCC next week and people will be invited to come along and find out more about Greencastle PA," Susan added. 
Mr Hoover's holiday has been welcomed as the beginning of a lasting friendship between two towns.