TIME is running out to sign up for Na Rossa GAA club's unique fundraiser, 'The Helicopter Drop', which takes place on October 24.
The Lettermacaward club have extended a sincere thank you to all supporters who have bought tickets so far for the novel 'Helicopter Drop' fundraiser.
The club is raising funds to start stage two of the development of their new grounds in Madavagh, Lettermacaward; stage two  being the dressing rooms.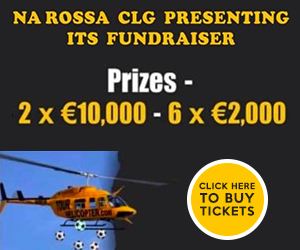 Time is now running out though with the online platform closing at 12pm this Tuesday evening 19th October. Log on to go.rallyup.com/narossadrop to purchase a ticket .
The drop will take please Sunday 24th October at 2pm (weather permitting) – come along for what should be a great days craic.
Charlie Collins will be the special guest MC on the day .
Your ticket will correspond to a numbered square on the pitch and if a football settles on your square you are a huge cash prize winner.
We are giving away €32,000 in prize money . 2 x €10,000 and 6 x €2000.
Tickets cost €50 so please log on and help the club reach their maximum target of 3168 squares.
Log onto go.rallyup.com/narossadrop