A demonstration is being planned for Buncrana this November to highlight the risk of homelessness faced by Mica families.
The 'pitch on the pitch' demonstration is expected to see over 100 tents being set up on Buncranna GAA pitch on November 6th.
The aim of the display is to showcase the seriousness of the housing crisis, as more and more homes are to be demolished because of defective blocks. The initiative has gained the backing of Buncrana GAA club.
Organiser Brian Quinn said: "The idea of this is grab the media's attention and keep mica/pyrite in the headlines locally, nationally, internationally, to highlight that Donegal could have people "homeless" living in tents due to no fault of their own if 100 percent redress is not granted soon.
"Although we are hoping for a positive outcome before November 6th. We are still going to prepare incase they drag it out further."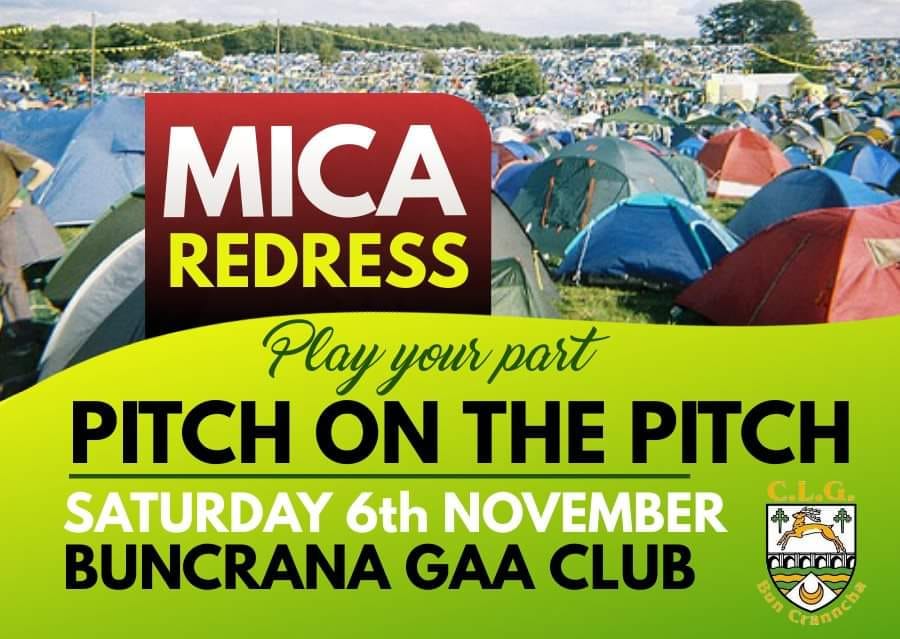 Mr Quinn is currently collecting tents for the event, and drop off points have been designated across the county at:
McCafferty's Letterkenny
McCafferty's Letterkenny
Paula's Dog Grooming- Carndonagh
Little Acorns Bookstore Derry
Contact Don Mc Guinness Buncrana on 0851518221
Contact Brian Quinn ( 085 4781280 ) or Allie Ní Ghallchóir ( 0838475946) Finn valley area to arrange collection.
If people do not want their tent returned after the event, tents will be donated to non Government funded homeless organisations.
Tags: