Manchester Utd have drafted in a Donegal family in the hope of beating red-hot favourites Liverpool in the Premiership this weekend.
Back in February 2020, schoolboy Daragh Curley became famous overnight when he wrote to Liverpool boss Jurgen Klopp asking me to lose some games.
The Glenswilly lad was left stunned when the German manager wrote back to the now 12-year-old as part of a school pen letter exercise.
Daragh and his family became overnight sensations and even appeared on RTE's Late Late Show!
Now Man United have invited the Curleys to Old Trafford as their special guests for this weekend's game against Liverpool.
The family will have their own huge sofa called the Seat of Dreams from which they can watch the big game.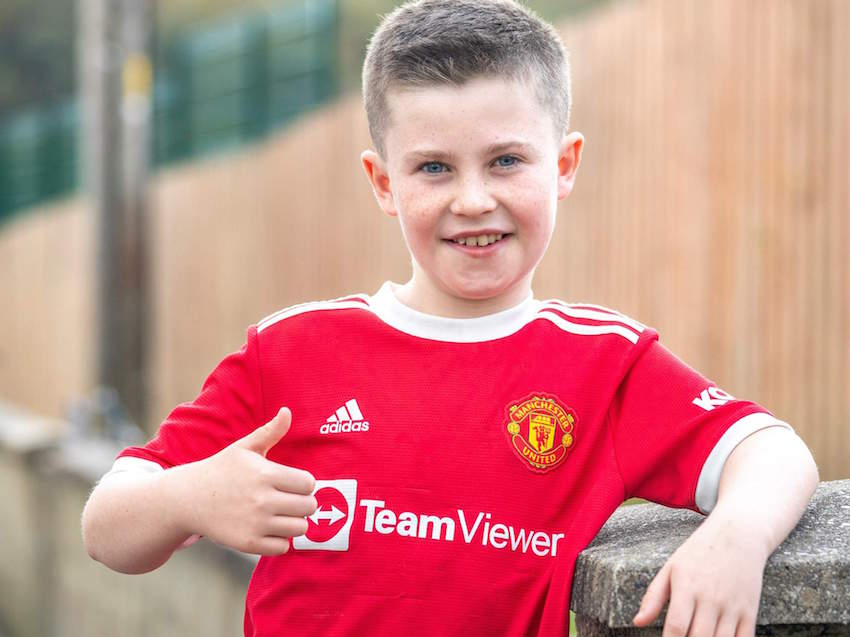 And Daragh said he can't wait to get his revenge on Klopp and company.
"Klopp was very nice to me and it was great to get his letter. But I'm a Man Utd fan and I'm very thankful I can go and see them this weekend.
"It's going to be a great game and I think we can beat them. I'll write Klopp another letter if we do," laughed the sixth class schoolboy.
Dad Gordon, a Letterkenny-based solicitor, was full of praise for the people of Manchester United.
He revealed "When they heard about the letter they wrote to us and invited us over but when Covid struck we thought that was the end of it.
"However, Man United were true to their word and kept in touch and last week contacted us to ask if we would like to go to Old Trafford for the Liverpool game.
"Well, as you can imagine, we didn't have to think about it for too long."
All the Curleys including Gordon, wife Tricia, son Daragh (12), daughter Aine (9) are Man Utd fans – that is part from youngest son Dylan (10) who is a Manchester City fan.
He has been barred from wearing his jersey but has been promised a trip to the Ethiad Stadium if he agrees!
Gordon said that the one simple letter to the Liverpool boss has given the family so much enjoyment over the past 18 months.
"So many people read about it. We got emails from around the world and I reconnected with so many people I hadn't seen in years.
"The kids got such a buzz out of it and now we are going to be guests at Old Trafford. It's amazing how things can turn out for the good sometimes," he added.
Daragh wrote the letter as part of a letter writing project and was encouraged to write to Klopp by one of his teachers, Paddy McFadden, a huge Liverpool fan
Daragh asked Klopp: "Liverpool are winning too many games. If you win 9 more games then you have the best unbeaten run in English football. Being a United fan that is very sad.
"So the next time Liverpool plan please make them lose. You should just let the other team score. I hope I have convinced you to not win the league or any other match again."
Klopp replied with a lengthy personal letter to Daragh saying although he could not grant his wish he was delighted to hear form young football fans.
He wrote "Unfortunately, on this occasion, I cannot grant your request, not through choice anyway. As much as you want Liverpool to lose it is my job to do everything that I can to help Liverpool to win as there are millions of people around the world who want that to happen so I really do not want to let them down.
"Luckily for you, we have lost games in the past and we will lose games in the future because that is football.
"The problem is when you are ten years old you think that things will always be as they are now but if there is one thing I can tell you as 52 years old it is that this most definitely isn't the case."
Bizarrely, Daragh's letter sparked a losing streak for Liverpool after they lost 3-0 to lowly Watford a week after the Donegal lad's letter.
Klopp also praised Daragh for his passion for football and said that was the best thing for him to have.
He added "Having read your letter, though, I think I can safely say that one thing that will not change is your passion for football and for your club. Manchester United are lucky to have you.
"I hope that if we are lucky enough to win more games and maybe even lift some more trophies you will not be too disappointed because although our clubs are great rivals we also share a great respect for one another.
"This, to me, is what football is all about. Take care and good luck, Jurgen ."
The letter sparked a journey for Daragh and his family which will continue this weekend when they visit Manchester to see if Daragh's dream can be realised and Manchester Utd stop Liverpool from winning another game!