Letterkenny will welcome back the music this Halloween with LK Fest, which will see live music sessions and performances taking place in almost every venue on the main street from 4pm on Saturday, 30th and Sunday, 31st October.
Acts performing throughout the weekend include the Davy K Project, Mark Black and the Trips, Disturbance, Sailor Bill, The Tumbling Paddies and The Porter Bellies.
The festival is supported by Donegal County Council and was officially launched by Mayor of Letterkenny, Jimmy Kavanagh at an event in Sister Sara's this week.
Speaking at the launch, Jimmy Kavanagh said: "It's great to see this event taking place in venues along the Main Street on Halloween weekend, and I want to congratulate the organisers on a great initiative. Music is such an important part of our culture and heritage; we've missed live performances over the past few years and will never take our musicians and performers for granted again! I would like to wish all the participating musicians, performers and the businesses supporting LK Fest the very best of luck for the weekend, which we hope will be the first of many."
Joe Gibson, one of the organisers of LK Fest, says the weekend is about supporting Donegal's musicians and bands: "Following on from a terrible time in the entertainment sector, we're excited to present LKFest, the Halloween edition over the bank holiday weekend. This past 18 months have been a very challenging time for everyone, and we're looking forward to welcoming back the musicians and to knocking the cobwebs off all our instruments. Our goal is to support our artists and venues and entertain the community in Letterkenny, and while we realise that on this occasion, we won't be able to represent everyone, we hope that going forward other acts and performers will get in touch and get involved in the planning of LK Fest 2022."
LK Fest takes place in venues throughout Letterkenny main street on Saturday, 30th and Sunday, 31st October from 4pm. Some of the venues will focus on the Irish culture and language with open sessions and sean-nos singing, while others will host full-on rock gigs and live music performances from some of Donegal's finest musicians. Follow LK Fest on Facebook and Instagram for more details.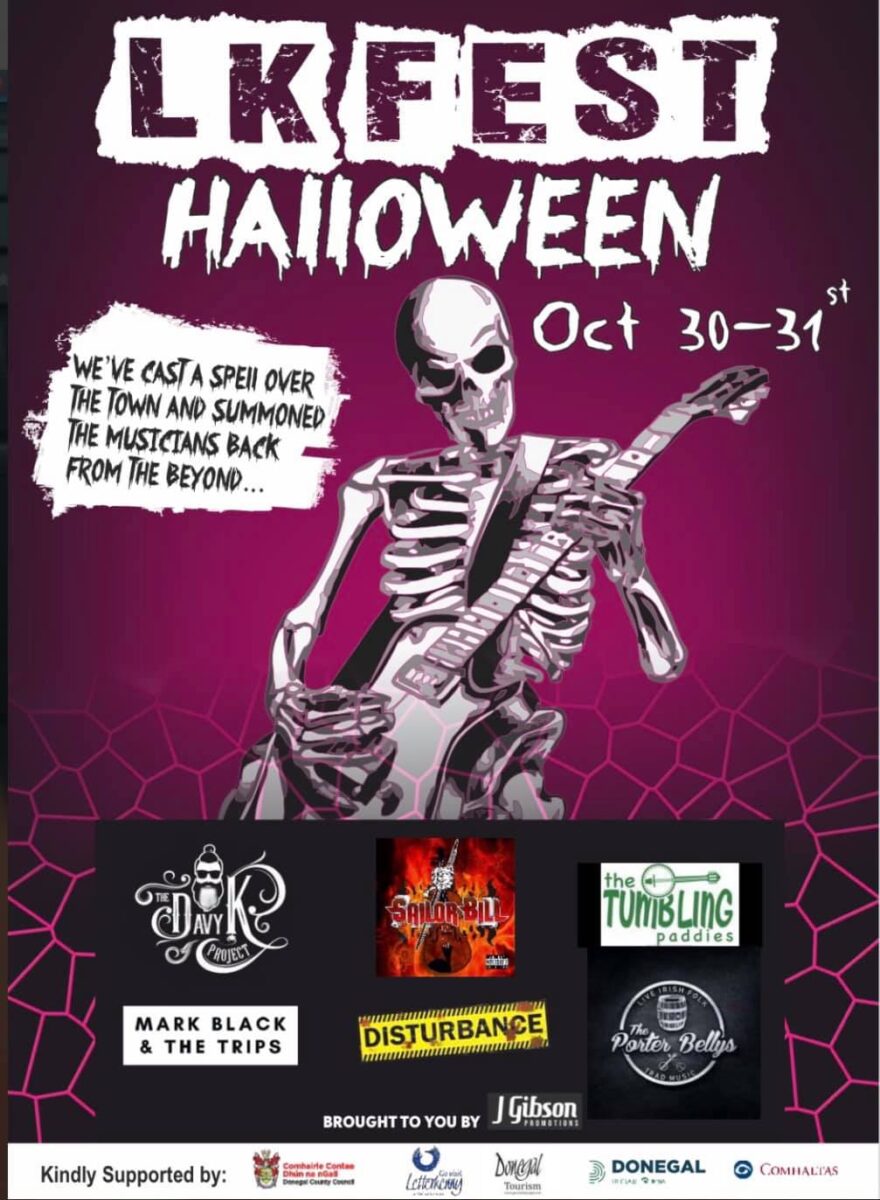 Tags: