The Rotary Club of Letterkenny have once again distributed 4,000 Purple Crocus Corms, which are symbolic of the Rotarycampaign, to the three Secondary Schools in Letterkenny.
The purple crocus matches the colour of the dye painted on the fingers of children who have been immunised. To recognise this landmark day, and raise awareness of this important cause, the 2nd year students in Loreto Letterkenny Secondary School, transition year students in the Gaelscoil Adhamháin and Errigal College Letterkenny will once again plant the bulbs in their School grounds, and over the winter months, research projects on the Polio Campaign, thereby raising awareness of this dreadful disease.
When the bulbs are in bloom in the spring of 2022, the Rotary Club members will return to the schools and present each participating student with a certificate to mark their involvement in this unique opportunity.
There is also an established Rotary Crocus Garden at the top of the Ballymacool Park which was planted previously in association with the Letterkenny Town Gardeners, prior to this current involvement with the Secondary School students. This event also supports the Billon Seed Challenge and is just one of many volunteering activities the Club is involved in
annually.
The polio virus is a highly contagious disease that destroys the nervous system causing paralysis. There are three different forms which have a variety of effects, ranging from mild to paralysis, contact often from poor hand washing or from consuming contaminated food or water can spread the virus. It can also be transmitted by sneezing or coughing.
World Polio Day was established over a decade ago by Rotary International to commemorate the October 24 birthday of Dr. Jonas Salk, who first led the first team to develop a vaccine against the poliomyelitis virus, better known as polio, in the 1950s.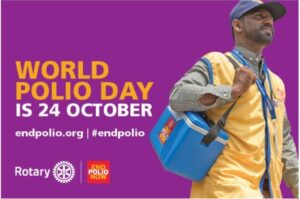 When Rotary and its partners formed the Global Polio Eradication Initiative (GPEI) in 1988, there were 350,000 cases of polio in 125 countries every year. Today, polio cases have been almost eradicated and just two countries continue to report cases of wild poliovirus. Because of the efforts of Rotary and its partners, The African Region was officially certified as wild poliovirus-free in August 2020.
However, as of the end of September 2021, only two cases of polio caused by wild poliovirus have been reported this year, one case in Afghanistan and one in Pakistan. This is incredible progress, but there are a variety of challenges that require continued focus and resolve.
Very recently, inaccessibility to some areas of Afghanistan due to recent political upheaval, population movement caused by this instability, and vaccine hesitancy, increased by COVID-19 vaccine misinformation on social media, are factors Rotarians say they must now overcome.
With sufficient resources, the commitment of national governments, and innovations that improve access to remote areas, Rotarians are optimistic that polio can be eliminated.
Rotary has committed to raising $50 million per year for polio eradication. The Bill and Melinda Gates Foundation has pledged to match that two-to-one, for a total commitment of $150 million each year. These funds provide much-needed operational support, medical workers, laboratory equipment, and educational materials. Governments, corporations, and private donors all play a crucial role in funding.
The infrastructure Rotary helped build to 'end polio' over the years is also now being used to treat and prevent other diseases (including COVID-19) and create lasting impact in other areas of public health (www.endpolio.org).