Donegal County Council Library Service will present an exciting programme of online events for children during Science Week, which takes place from 7–14 November in venues across Ireland.
The focus this year is to highlight the potential of existing scientific discoveries and to ask what challenges are most important to the Irish public and how science can help.
Science Week is part of Science Foundation Ireland's work to promote and celebrate the fascinating world of science. The aim is to encourage school children to engage with science in a fun and interactive way and promote awareness and understanding of the importance and relevance of STEM (Science, Technology, Engineering and Maths) to everyday life.
With an excellent line-up this year, children will learn about the latest inventions, learn about modern-day breakthroughs in science and medicine, how satellite technology changed our way of living due to space travel, and learn about the importance of worms from Ireland's only Nobel Prize winner for medicine.
Belinda Glackin, Science Week Coordinator for Donegal County Council Library Service, said: "Science is central to helping children develop creativity, logic and critical thinking skills. Children are also paying closer attention to science in light of Covid-19, and we are thrilled to respond to that interest and provide high quality science events for young people in Donegal."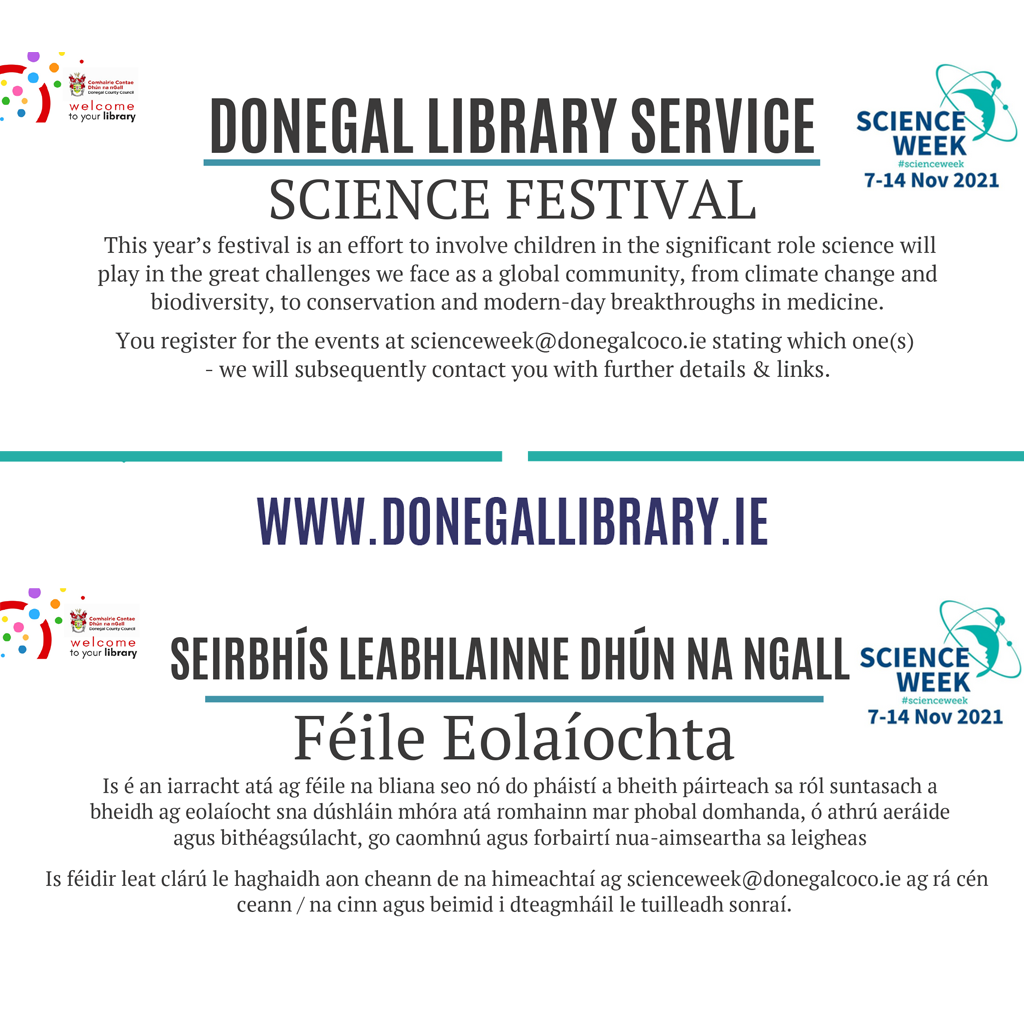 Dr William C. Campbell, Ireland's only Nobel Prize winner for medicine, originally from Ramelton, will connect with children via Zoom to talk about how worms are fascinating. He has a Nobel Prize for helping to find new ways of stopping worms from making us sick.
Children across Donegal can join Bill and science writer Dr. Claire O'Connell on Monday 7th November at 1p.m. to find out more about Bill's childhood in Donegal, how he studied science and how his work in an area called parasitology has helped lots of people around the world.
Also on Monday 7th November, children will be introduced to Dr Emma Yhnell, a brain scientist, and an award-winning science writer. Emma has been involved in research since the day she was born. Born one of triplets, and three months early, she is alive today thanks to biomedical research. She believes that biomedical study impacts all of our lives.
Children will join her and go on a journey through the brilliant brain. Emma will explain what it is like to be a scientist, alongside how the brain works and what we can do to keep our own brains healthy.
The programme also includes children's authors and TV personalities Dr. Jess French and Dr. Shini Somara, as well as Owen O'Doherty, author of Bright Sparks, and Lucinda Jacob author of climate SOS.
Once again, in light of the ongoing Covid-19 restrictions, this year's festival is a brilliant virtual event which is sure to inspire the young people of Donegal. All primary schools in Donegal will receive an electronic copy of the brochure. Although, events take place during school hours, they are open to homeschoolers, and to parents/guardians who have children isolating at home.
Children and families can find out what's on for Science Week in Donegal at http://www.donegallibrary.ie/photoslider/scienceweek/ and by following the Facebook and Twitter
accounts.
You can find also out how to become a library member at
http://www.donegallibrary.ie/mainnavigation/findandrenew/donegal%20library%20catalogue/become
amember/ and check opening hours at http://www.donegallibrary.ie/mainnavigation/useyourlibrary/openinghours/
We hope that Science Week 2021 will be a wonderfully creative and inspiring celebration of learning!