Top musicians have been summoned back to the stage this Halloween weekend for LKFest.
LKFest takes place across Letterkenny this weekend with live music sessions and performances taking place in almost every venue on the main street from 4pm on Saturday, 30th and Sunday, 31st October. The two-day music festival involves a host of venues and artists including Mark Black and the Trips, The Davy K Project and The Porter Bellies.
Acts like Sailor Bill, High Heeled Converse and Duality will play multiple gigs across different venues over the weekend providing plenty of opportunities for people to catch their favourite acts.
The LK Fest programme also focuses strongly on Irish culture and language with open sessions, sean-nós singing and traditional music sessions from Comhaltas in the Brewery, Comhaltas Youth Session in Sister Sara's and sister-duo Saoirse 'n' Shannon Duggan playing two gigs, the first in Dillon's and the second in Voodoo. Other venues will host full-on rock gigs and live music performances from some of Donegal's finest musicians.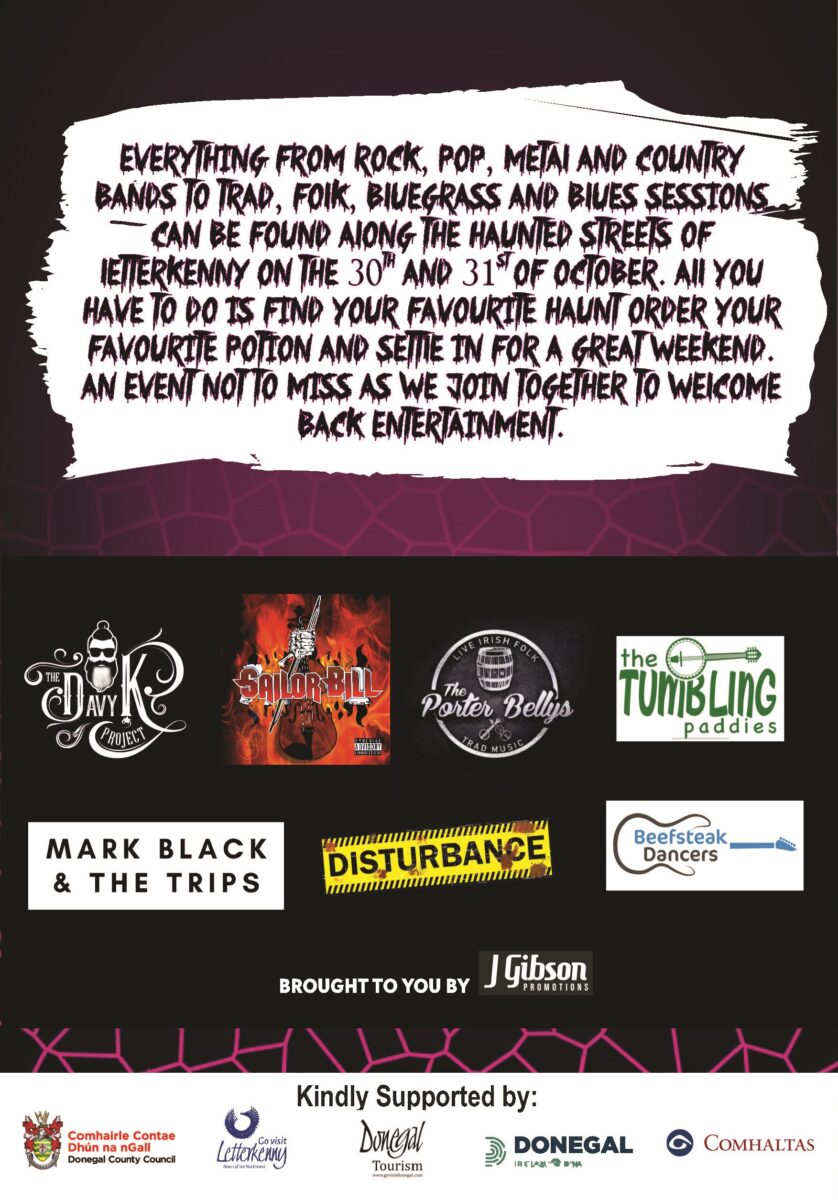 One of the organisers of LK Fest, Joe Gibson, said: "LKFest is about supporting local artists and venues after a very challenging time for the entertainment sector, but we also want to give the community in Letterkenny something to be excited about. We're looking forward to welcoming back the musicians to the town this weekend; with such great variety in the line-up, and so many different venues getting involved, there really is something for everyone to enjoy."
Kicking off Saturday's line-up is Slip Jig from 4pm in McCafferty's, followed by various different acts in venues on the Main Street, Sister Sara's and The Orchard. The Beefsteak Dancers, Ramble Tamble and The Shades will also be playing over the course of the night in The Central, Dilllons Hotel and McGinley's. Bringing Saturday's events to a close are trad and folk band, The Porter Bellies, who will be live in Voodoo at 11pm.
Halloween night features bands such as the Peaky Blinders in Sister Sara's, My Generation in McCafferty's, Three Peace Sweet in The Brewery and Martin Orr and Elaine Boyle both playing in Voodoo. The final act of the weekend will be a lively one with The Tumbling Paddies in Pulse from 12am until late.
LKFest will also present a host of different trad sessions including CCÉ Baile na gCailleach who will be playing in The Orchard Letterekenny this Saturday at 7pm and in The Brewery Bar at 7pm on Sunday.
Comhaltas Letterkenny and Comhaltas Youth will also be performing over the weekend and is inviting local musicians to join in the craic. Comhaltas will be live in the Brewery at 7pm and the Comhaltas Youth session will be on in Sister Saras on Sunday at 4pm.
LK Fest was officially launched last week by Mayor of Letterkenny, Jimmy Kavanagh and is supported by Donegal County Council. Follow LK Fest on Facebook and Instagram for more details.
Tags: