Finn Harps were dragged further into a relegation dogfight when they failed to break the deadlock against Drogheda at Finn Park tonight.
Finn Harps 0 Drogheda Utd 0
Ollie Horgan's side enjoyed the vast majority of play in the opening half but just couldn't convert that pressure.
By Charlie Collins with pictures by Joe Boland
Drogheda were happy to sit in and enjoyed more possession in the second half but ultimately limited Harps to few chances in the second half.
Tim Clancy's side were happy to disrupt the home side in front of goal at every opportunity through the likes of veterans such as Dane Massey.
Going into this tie Drogheda occupied 6th spot with Harps trailing in 9th with opportunities for points running out fast.
Ollie Horgan made two changes from the team which down 3-0 to Shamrock Rovers in Tallaght last Friday night with Karl O'Sullivan and Ryan Rainey dropping to the bench.
In their places came Jordan Mustoe and Tunde Owolabi.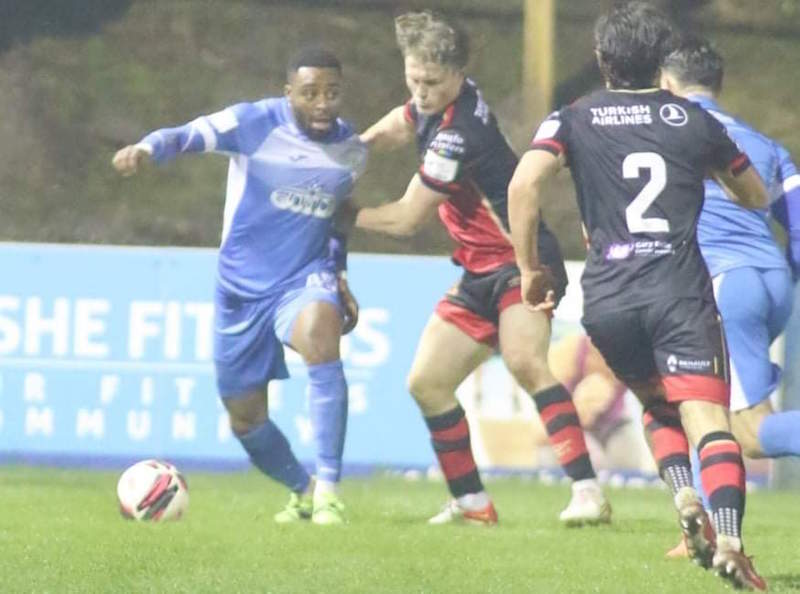 A speculative shot coming up to five minutes tested Mark Anthony McGinley who couldn't hold the ball with Mark Doyle pouncing on the loose ball to slot the ball home only for the whistle to sound for offside.
Jake Hyland had a snap shot after nine minutes for Drogheda which veered wide as Harps found it difficult to make much headway.
Harps began to settle and despite heavy underfoot conditions, the home side enjoyed the vast majority of possession in the opening half.
Indeed they had a golden opportunity in the 15th minute as Ethan Boyle broke down a Drogheda break and put Olowabi through but the nine goal man failed to make it double figures this season as he pulled his shot to the left of the goal.
Just two minutes later Mark Coyle win possession, supplied Barry McNamee and his beautiful through ball for Sean Boyd saw the striker pull his shot across the face of the Drogheda goal.
Captain Dave Webster almost got onto the end of a corner as Harps enjoyed a purple patch.
Harps continued to enjoy the lion's share of possession without really threatening the Drogheda goal in the body of the opening half.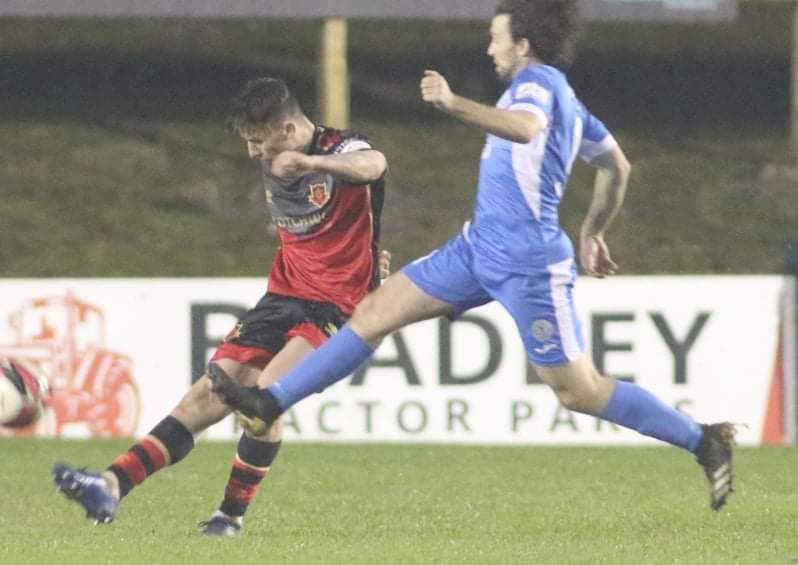 Ollie Horgan's side registered seven corners in the first 40 minutes but corners don't win games unless they rattle the back of the net.
Ryan Connolly put in a big shift in the Harps midfield and was snuffing out any possible build-up play from the Louth side.
It was the former Galway and Shamrock Rovers man Connolly who enjoyed two long range efforts but neither caused Drogheda 'Keeper Odumosu any bother.
Tim Clancy's Drogheda side started the second half well but it was Harps who got the first notable chance when Sean Boyd pulled his shot to the left of the Drogheda goal when Karl O'Sullivan put him through.
It was Boyd again with a header in the 57th minute from a cross from the left but it didn't cause Odumosu any real bother.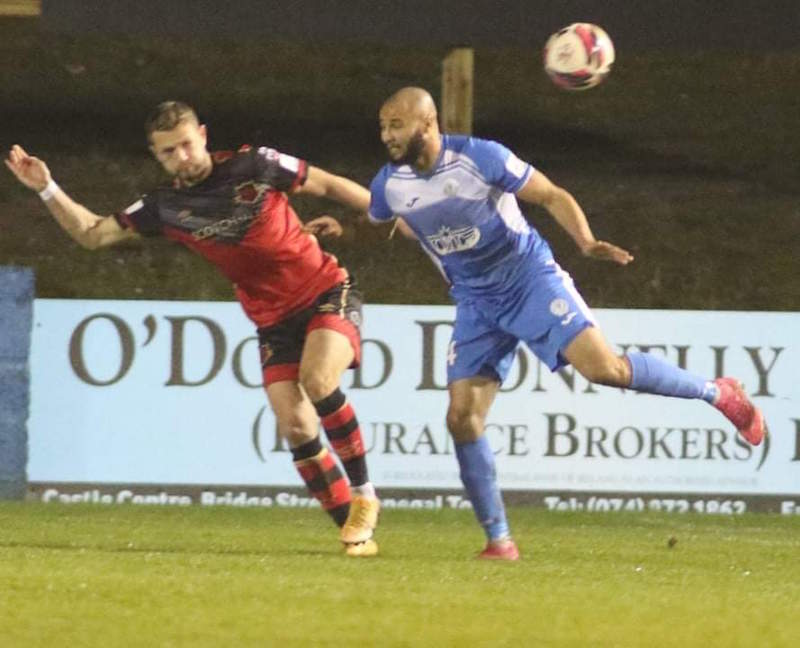 Ethan Boyle gave away a free in the 70th minute and from the resulting strike McGinley pulled off a fine safe to parry.
From the resulting break Drogheda found themselves down to ten men when Jake Hyland got his marching orders when he went over the top on Owalabi.
A diving header from Dan O'Reilly reminded Harps that Drogheda were still dangerous despite being a man down.
Mark Coyle away for Dan Hawkins as Ollie Horgan threw another roll of the dice with ten minutes on the watch.
A bouncing ball fell to the impressive McNamee who looped the ball in but Owolabi should have directed his header better in the 83rd minute.
Sean Boyd saw red when he reacted to a challenge which left both sides down to ten men with five minutes left.
Will Seymore and Adam Foley came on with a minute to go for McNamee and Owolabi.
Harps now have three games left with Derry coming to Ballybofey on Friday night while Harps are away to St Pats and home again to relegated Longford Town on the last day of the season.
A win here could have eased that pressure a little.
Harps will also be hoping that neighbours Derry City can do them a favour and beat fellow strugglers Waterford Utd when the sides meet tomorrow night.
Harps: Mark Anthony McGinley, Shane McEleney (Karl O'Sullivan, half-time), Kosovar Sadiki, Dave Webster, Ethan Boyle, Mark Coyle (Dan Hawkins 80), Ryan Connolly, Jordan Mustoe, Barry McNamee (Will Seymore 89), Sean Boyd, Tunde Owolabi (Adam Foley 89).
Drogheda Utd: David Odumosu, Joseph Redmond, Dan O'Reilly, Dane Massey, James Brown, Jake Hyland, Gary Deegan, Luke Heeney (Phillips half-time), Conor Kane; Mark Doyle, Jordan Adeyemo (Corcoran half-time).
Referee: Neil Doyle.