The Inishowen Development Partnership is teaming up with local action groups from West Finland and the Maltese island of Gozo to host a webinar sharing the health benefits of nature.

The event, which is open to everyone, will share knowledge gained from different projects, in the respective regions, on nature-induced wellbeing. Register for free at: Wellbeing From Nature Webinar Tickets, Thu, Nov 4, 2021 at 10:00 AM | Eventbrite
Launched in February of 2021, the IDP's Wellbeing from Nature group has brought together individuals, groups, and businesses working in wellness and with nature. The potential of Inishowen's incredible natural assets in delivering health and wellbeing benefits is something increasingly appreciated by locals and visitors to the area.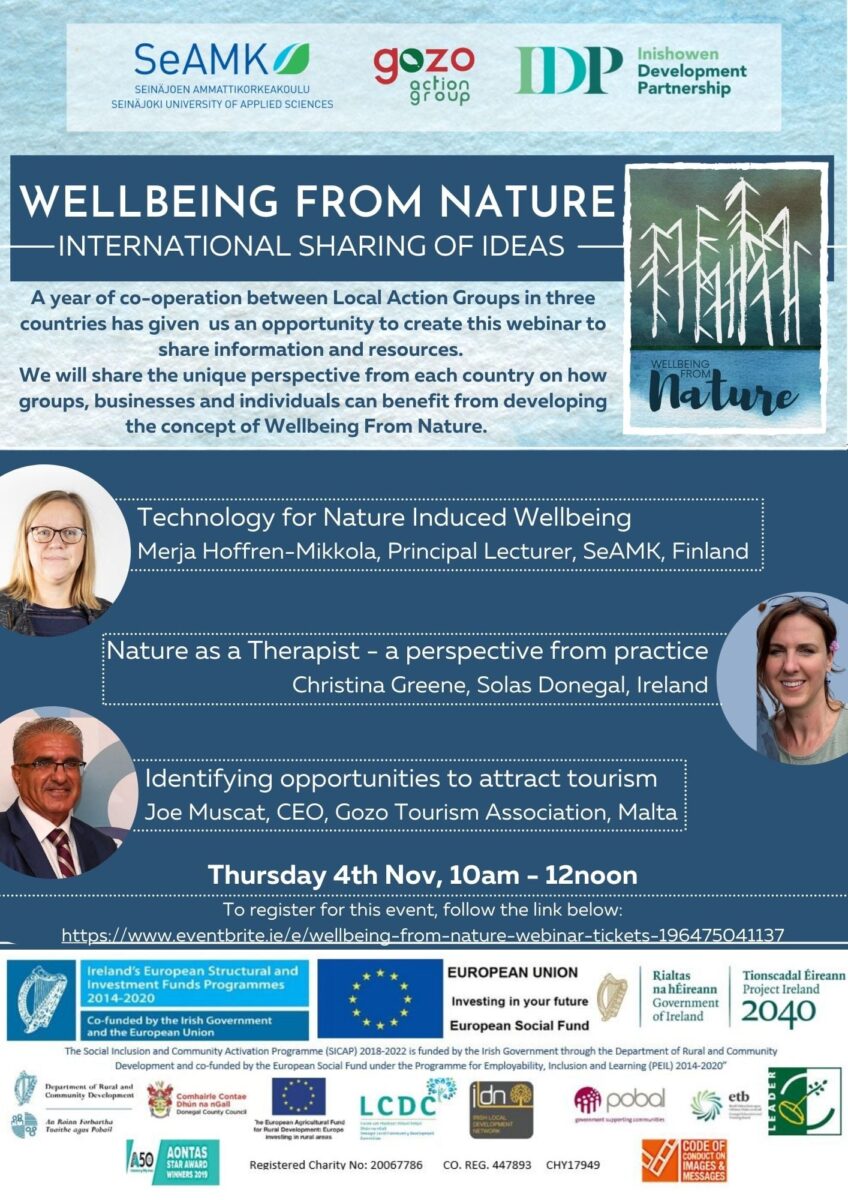 The webinar's key speakers are experts in three different aspects of how nature can be used as a benefit to a community's health. The IDP are delighted to share with the International group, Christina Greene, who will present a perspective from 23 years in mental health services in her talk 'Nature as a Therapist'.
From Finland Merja Hoffren-Mikkola, a Principal lecturer from the Seinäjoki university of Applied Sciences (SeAMK), will talk about technology that can measure the positive impacts of nature for individual's health. From the island of Gozo in Malta, Joe Muscat will present his experience in opportunities in attracting tourism based on Green Care.  
Of the webinar, Yosef Magro from Gozo Action Group Foundation Manager said "This webinar will explore the possibilities for various tourism niches through the collaboration of local stakeholders and International partners. It will incentivise people to enjoy our beautiful surroundings, help them to appreciate nature, and educate the younger generation about the importance of active-well being and the preservation of the environment."
Shauna McClenaghan, joint CEO of the IDP said of the Wellness from Nature webinar "The Wellbeing from Nature project has given the IDP the opportunity to identify different stakeholders in Inishowen who have an interest and experience in working with nature and wellbeing. We are bringing the experiences of our International partners in Malta and Finland to share their knowledge and practices."
"There is an increasing appreciation of nature and its benefits in Inishowen." Added Andrew Ward, IDP joint CEO. "The peninsula is newly seen as a leading region in Ireland and Europe for environmental issues and collaborative work. In October Inishowen won the Sustainable Energy Authority of Ireland award for Inspirational community and launched the EcoCarn biodiversity plan. The International webinar will further enhance this reputation."
The webinar will be online on Thursday 4th November 2021 at 10am, Free tickets are available on Eventbrite Wellbeing From Nature Webinar Tickets, Thu, Nov 4, 2021 at 10:00 AM | Eventbrite. For further information contact the IDP enquiries@inishowen.ie or Carlene Lyttle carlene@sailespin.com.
Tags: