Sponsored Post
A Donegal woman is enjoying making a difference in nursing home care after a complete career change in recent years.
Marie McGroary from Donegal Town was working at the local Four Lanterns branch for 24 years, and a manager for ten, before she took the leap into healthcare with Donegal ETB's Further Education and Training (FET) Service.
There's never been a more crucial time in care, and Marie is only too happy to play her part after securing a new job at Aras Mhic Shuibhne.
Marie had always wanted to work in the sector, and in 2019, the timing was just right.
Her teenage daughter was in her last two years of school, so while her daughter was studying, Marie decided to do the same.
She enrolled in a part-time QQI Level 5 Health Service Skills course at one of the ETB's Donegal Town FET Centres (Ard Scoil na gCeithre Máistir). The two-year course provides students with the skills and knowledge required across a range of care settings with a variety of age groups.
Marie particularly enjoyed the Care of the Older Person and Infection Control modules. She also chose to study Palliative Care, which was to be hugely important in her future role.
"Studying was fine, up until COVID-19 hit us. It was challenging when our classes moved online but we all got through it together," she said.
"The teachers were unbelievable. They were always at hand if we needed any support, you could always email them or video call."
Marie's teacher was Elspeth Vaughan. Marie benefitted from career advice and interview training from Eileen Patton, Guidance Counsellor. She is also keen to praise Siobhan Coughlan, the Ard Scoil na gCeitre Máistir FET Centre Manager, who "was more than good" to all students.
After prepping for interviews, Marie was eager to enter the social care sector as soon as she got her qualification. She started off with Home Instead Senior Care, where she found that she had a good knowledge base for induction training.
In April of this year, the call came for her dream position – a full-time role in a Nursing Home. 
Marie was delighted to take the opportunity to join the team at Aras Mhic Shuibhne in Laghey. She is now enjoying every day and continuous training. 
Having the right personality can strongly complement a person's healthcare skills.
"To work in healthcare you need to be compassionate, patient, kind and empathetic," Marie explains. The pandemic created many challenges for healthcare workers, but Marie admits that she loves a good challenge anyway.
Would she recommend Donegal ETB as a starting point for healthcare professions?
Marie says 100%.
"Only for them, I wouldn't be where I am today. We thank our tutor more than anything for getting us jobs. It's only two years and it's so enjoyable."
Donegal ETB offers a wide range of part-time day and evening courses across the county throughout the year – check their website course finder for information: https://www.donegaletb.ie/further-education-training/course-finder/ or contact their Adult Guidance and Information Service for more information by calling 074 9178088 or completing this web form and they'll get back to you: https://www.donegaletb.ie/further-education-training/adult-guidance/.
Marie's course was co-funded by the Government of Ireland and the European Union.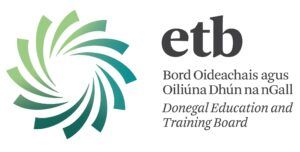 Tags: