A community campaign has been launched to help families in the Finn Valley area who may be struggling this Christmas.
The project invites members of the community to offer food and gifts for hampers for local families at Christmastime.
The initiative is being run by Finn Valley Family Resource Centre in association with St. Vincent de Paul, Cúnamh, BASICC Twin Towns, Finn Valley community Health forum, Churches and individual community members, who are all delighted to work together this year.
A GoFundMe appeal is open for monetary donations (click here), or if you would like to support this year's appeal by donating any of the items below, please contact any of the groups listed or note drop off points.
Goods will be used to make hampers for families, with donations being accepted until Monday 13th December.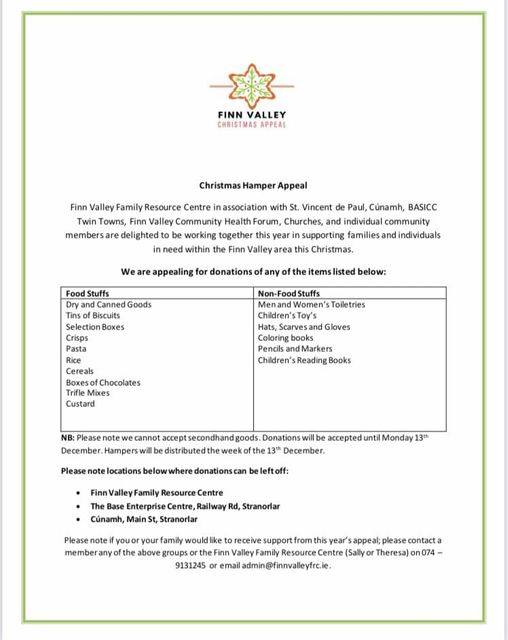 The Finn Valley Christmas Appeal Working Group said: "Our 2020 appeal saw over 250 individuals receive food and gift support over the Christmas period across the Finn Valley area and beyond.
"The appeal also supported children, families and individual community members with food support post Christmas as this can also be a challenging time.
"We are sincerely grateful for any support."
For more, visit the Finn Valley FRC Facebook page.