78% of Irish businesses agree that Customer Service and Sales are their biggest gaps and most in-demand skills in 2021.
As the new landscape emerges from the Covid-19 one, the need for a new approach also emerges.
Customer Service Excellence Ireland are offering a highly experiential interactive online course which can be availed of fully funded for those on any current social protection payment (subject to approval).
The course covers post-covid skills required, the experience economy, simple and effective sales skills and several topics to upskill and reskill in what is a disruptive workplace.
The course is suitable for anyone currently in employment in any sector or those wishing to re-enter the working arena.
For more information email kathy@cseireland.ie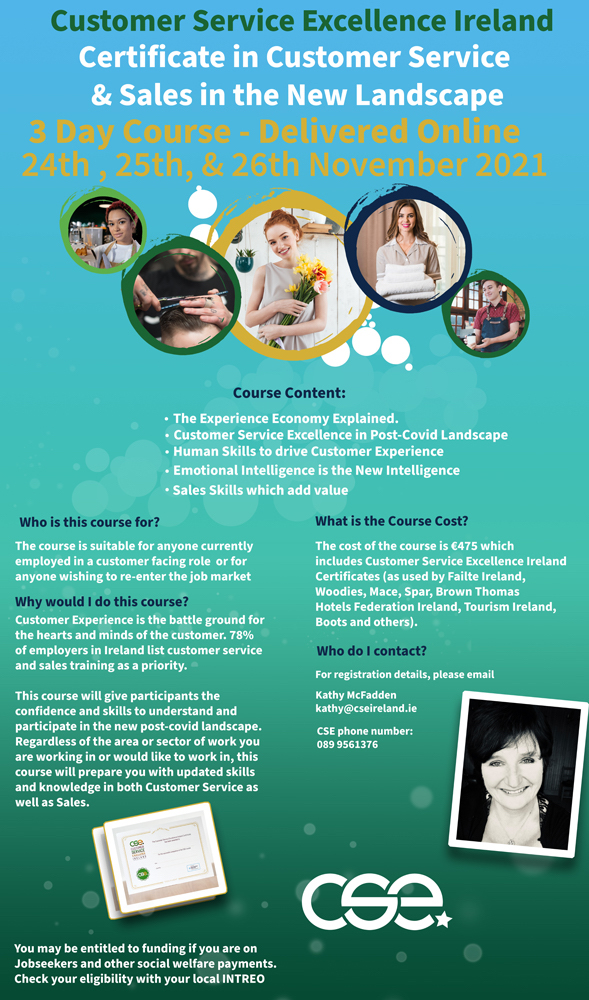 Although focused on retail and hospitality, the short 3 x half-day course totalling 12 hours, will equip all those who attend, to gain a greater level of confidence, skills and knowledge for the much-changed landscape.
The programme , running nationally has been popular with staff with the major Irish and UK retailers , Failte Ireland, Government Agencies, Primary Care and other sectors.
Places are limited on a first-come basis and CSEI Certificates are issued on completion of the short course.