Three parks and gardens in Donegal are celebrating today after earning 2021 Green Flag Awards.
The international accreditation shines a light on public park excellence in Ireland.
Among this year's winners are Glenveagh National Park and Barrack Hill Town Park Carndonagh.
The River Walk Dungloe scooped Green Heritage Site Accreditation for its historical and cultural significance.
Glenveagh National Park is proud to be one of the latest additions to this growing list and issued a thank you today to Carndonagh Community College students who raised the flag.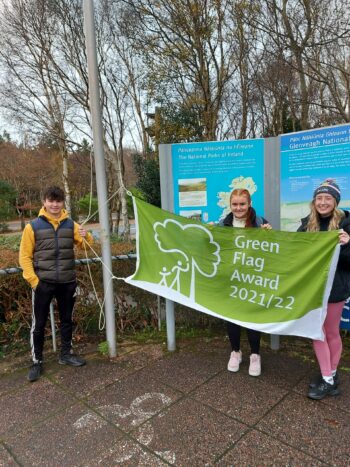 The number Green Flag Awards for the best parks and gardens to visit in Ireland have surged again this year, with 32 local authorities and park operators now partnering with An Taisce in delivering the international scheme. Only awarded for exceeding tough environmental standards in green space management, and excellence of visitor attractions – the Green Flag Award Scheme is the mark of a quality park or green space and is recognised throughout the world. 
At Glenveagh, staff and management have been working for a year considered steps on how the park can be run and its services operated in a more environmentally sustainable way. With the launch of two new electric buses, commitments to other 'green' vehicles, strategies for the woodlands and improved social media coverage on all things nature, the staff are working year round to drive up standards and constantly improve the park.
As part of the award, Glenveagh undertook a Community Survey and received some great feedback and suggestions from local people and from next year there will be more emphasis on community engagement and outreach through the education programme. Protecting and preserving the legacy of the Castle and Gardens is also ongoing and the castle hopes to achieve Museum Status soon.
District Conservation Officer, Andrew Speer stated: "We are delighted with the news that we have received our Green Flag. I want to thank all the staff for supporting the changes needed to achieve the award and the Education Team for leading out on the project. In a world where the public expects a new greener approach to how we do business, the challenge for us all will be to meet those expectations year on year. Receiving our Flag is just the first step and we are committed to retaining it now long into the future."
Tags: