Kind-hearted country star Daniel O'Donnell surprised mourners by paying a video tribute at the funeral of a much loved Inishowen nun.
Sister Finian Hegarty, from Inch Island, passed away at Nazareth House in Fahan on Thursday.
She was 80 years-of-age.
At the beginning of her Requiem Mass yesterday morning at Our Lady of Lourdes Church, Inch, Daniel paid tribute by video from the USA where he is currently touring.
In it, he said he wished to sympathise with her brother, Joe, and all the Hegarty family.
"She was a great friend to me and, indeed, to all my family," Daniel said.
"My mother loved her very much and visited her often when she was in Inch with her own mother and she never came home without baked bread. We will never forget Sr Finian, and may she rest in peace." 
The much loved nun had entered the Convent of Mercy in Pump Street, Derry, on the first day of May 1958 and her first Professional day came three years later in 1961.
Afterwards, she spent time at both the Moville Convent of Mercy, where she was active in the local Legion of Mary, and the Convent of Mercy, Buncrana, where she also acted as a supervisor in Scoil Mhuire.
Sr Finian was one of the first residents to move into the Taobh na Cille retirement complex in Moville when it opened at the end of August 2007.
And, on May Day 2008, she celebrated a half century of service to her order with a visit to the International Flower Show at Loreto House where guest of honour, Daniel O'Donnell, presented her (pic below) with a bouquet of flowers in honour of her significant milestone.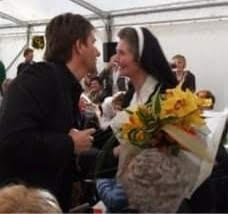 Tags: