"This was once Nee's, wasn't it,? I thought it once was A Wear? Nah that was after that."
Upper Main Street Letterkenny is the location, once it would have been one of the most sought after locations in the town.
But last Thursday it was a pop up shop for just one day, open for the public to come in and have a look.
It was the 2040 plan for Letterkenny.
Plans for Letterkenny stood on easels against pure white walls of a vacant shop unit.
A team from Donegal Council were on hand to welcome those who walked in off the Main Street.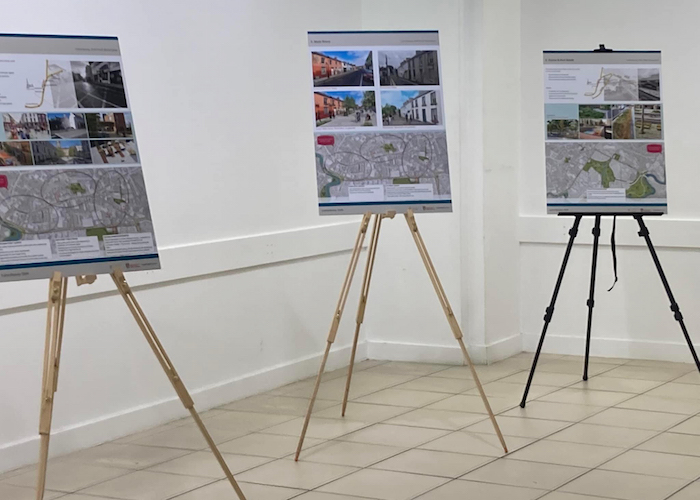 Representatives from the company that have been commissioned to bring all this together were there to answer questions.
They were very helpful and were prepared to listen to those asking questions.
This reminds me of someone who comes home on holidays for Christmas and talks about the way the town once was, how it should be and how easy it would be to do this or sort that and then head off at the start of another new year.
Traffic problems
The traffic seems to be the single biggest problem with Letterkenny. The development of a transport hub might be the answer to solving this.
A possible site would be the old ESB office and yard which is connected to the Port Rd and the Pearse Road. I want to believe that this might work but just then the Letterkenny Town Bus goes down Main Street and there's not a soul on it.
I want to point out the bus to the consultant but I'm from Letterkenny and blood is thicker than water, so I let him tell me the benefits of a transport service in the town as the bus sits in the traffic.
Two sides of the town
On Sunday morning someone who was planning to come into Letterkenny asked me if I could take a spin down the Main Street in Letterkenny to check if a shop was open on Sunday. Open 1pm to 5pm was the note on the door that I reported back. Later that afternoon as I was heading down Main Street I saw a shop that was closed for a while with the shutters up and a crew working away inside trying to get it up and running, possibly a pop up shop for Christmas.
The old part of town was quiet enough that until I turned over the Pearse Road the side of Letterkenny was buzzing. Little Britain, as it's locally known in Letterkenny, home of the Multi Nationals. Shoppers flock to this part of Letterkenny, there's no switching on of the Christmas lights ceremony down there, no parking problems no parking tickets, they are there to do business seven days a week if the demand is there no questions asked.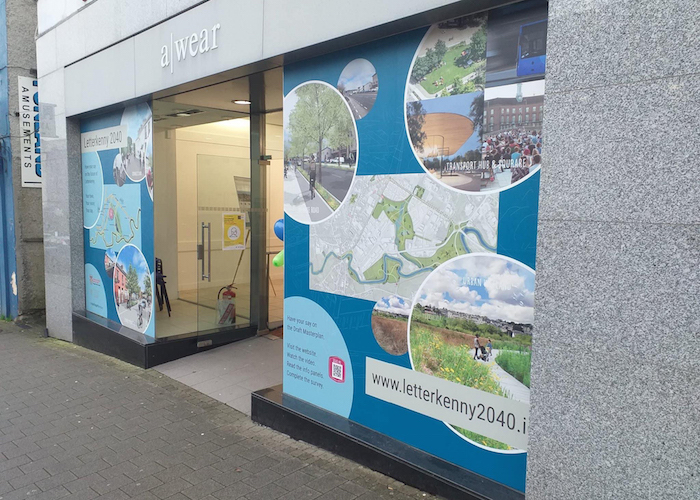 In between the two of these two sides of the one town are the plans for the future Letterkenny 2040. It is hoped that regeneration will encourage people to come back to the Main Street and live there with better quality of living accommodation, developed areas of the town that have become run down and vacant over the years.
They even have a team that will work on the rebranding of the name with a focus on recovering the town back from the car, which in turn causes the massive traffic jams at peak times coming into and going out of Letterkenny.
Town Bus
Back in September of 2016 we took a run around Letterkenny on the Town Bus.
We were shocked to find that little or none of the locals of Letterkenny were using the town bus which will take you anywhere in Letterkenny for less than it costs to buy a cup of coffee "to go" in the town.
That service has been provided by a local company in Letterkenny for years now but it still has not been supported to the capacity that it should be in Letterkenny.
In the new town plan it would include a second bus to service the new proposed transport hub.
On paper these might tick the right boxes but if people don't use this service in Letterkenny and end up running at a loss. The present Letterkenny bus service isn't promoted by anyone yet it connects all of Letterkenny old and new and as much as one bus travelling around the residential areas of Letterkenny.
Mister Chippy's is what is locally known as the present Transport hub in Letterkenny. That is where all the private and local buses stop in Letterkenny.
It was a local taxi driver who first mentioned a transport hub in Oatfield's old site that would service Letterkenny better than the old ESB site is now. Taxi drivers know Letterkenny better than anyone.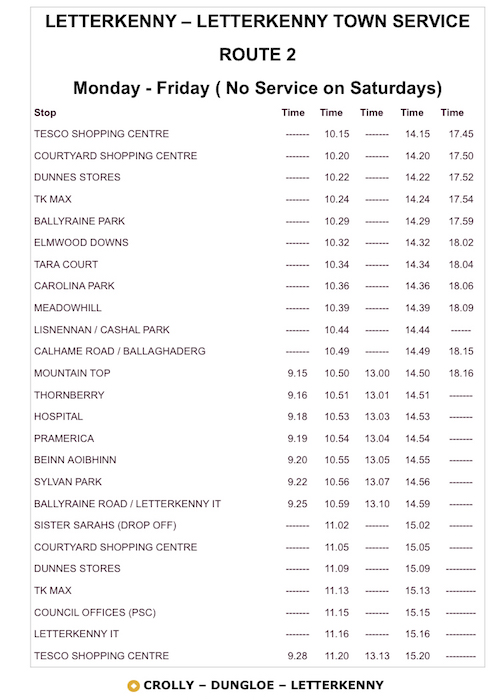 https://www.letterkenny2040.ie/
Happy Motoring Folks