Updated: 11th January 2022
A message in a bottle launched into the Atlantic almost three years ago has made it all the way to Donegal.
Rita Simmonds and Ciaran Marron from Belfast were walking on Magheraroarty beach on the Dooey peninsula yesterday when they made the discovery.
Sitting on the sand was a glass bottle. Inside was a note and two US dollar bills.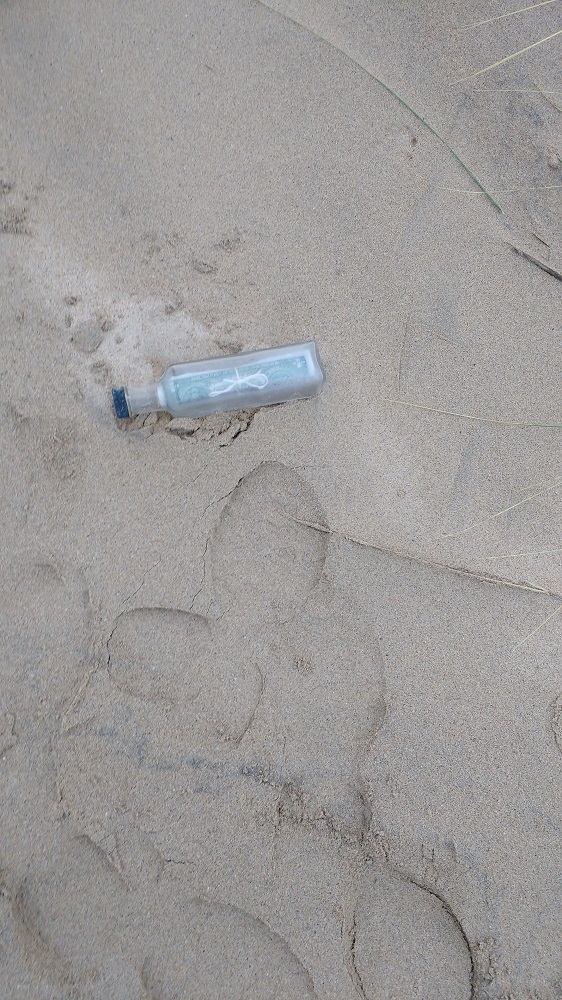 They eagerly picked up their newfound treasure and made plans to open it as carefully as possible. 
After a night of drying by the fire, Rita and Ciaran unravelled the letter to solve the mystery.
The bottle, they learned, came from over 5,000km away in Ocean City, Maryland, USA.
A young author, named Sasha had tossed the bottle into the ocean. In their handwritten letter, the 11-year-old talked about his hobbies,  family and gave a phone number for the finder to respond to. A faded date in the corner of the letter says 2019 – which means the bottle stayed adrift and undamaged for three years.
"It's like a childhood dream to find something like this," Rita told Donegal Daily. 
Rita, who is from New Zealand, and Ciaran live in Belfast, but like to visit Falcarragh and the surrounding beaches of Donegal regularly.
"We've found amazing things on the beach before, like fossils and stones, but never anything like this."
They are now planning to make an effort to call Sasha and tell them all about their new connection to a far north west corner of Ireland.