Minister Charlie McConalogue today welcomed the announcement by his Cabinet colleague Minister Foley of €1.5 million for the approval of 22 (19 primary schools and 3 post primary schools) Donegal projects under the 2022 Summer Works Scheme.
The Minister for Agriculture, Food and the Marine said:  "This announcement is great news for schools right throughout County Donegal and will help to improve the working and study environments of our schools. Themes of works approved include improving ventilation in schools and improving the outdoor facilities of schools, all of which are more important now than ever."
He concluded "I thank Minister Foley for allocating this funding and commend all the school boards, staff, students and parents for their continued improvement of our school communities."
Joe McHugh TD for Donegal added: "Comhghairdeas mór to our schools' Principals, Boards of Management, staff, Parents Associations, students and parents for their dedication to the improvement of our school facilities and communities."
Today's announcement follows on from the €62 million enhanced minor works funding which was delivered to schools a number of weeks ago.
The Donegal schools that will benefit from this scheme are: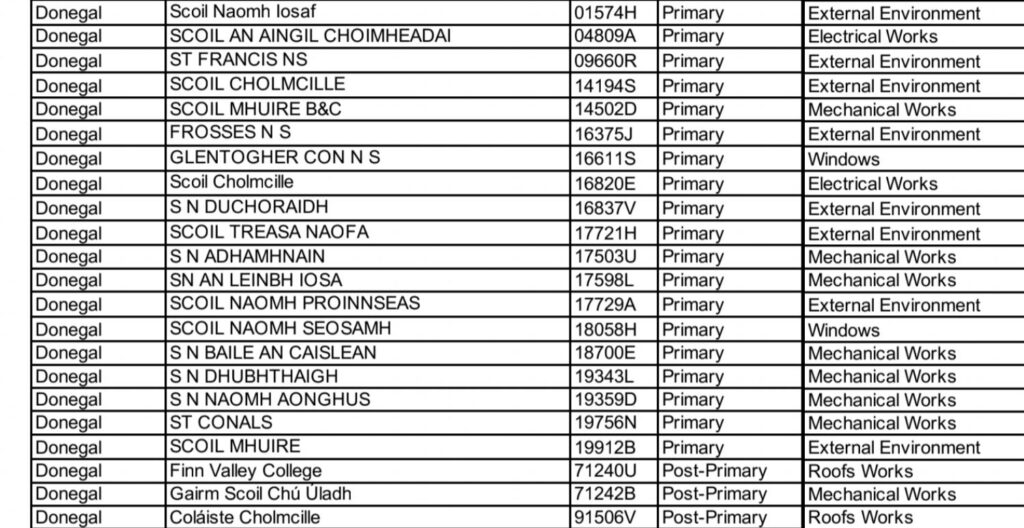 It is envisaged that the remaining categories of projects from the current Multi-Annual Summer Works Scheme (categories 8, 9 and the balance of 10) will be dealt with as part of the Summer Works Programme in 2023 and relevant schools will be notified in Q4 2022 in relation to this.
It is also envisaged that a new Multi-Annual Summer Works Scheme will be opened for new applications in Q2 2022. This will have a strong climate action aspect to it. Further details will be announced later in Q1 2022.