Sponsored Post
As Ireland reopens, a Donegal company is giving schools, offices and homeowners peace of mind through their range of HEPA filters.
McDaid's of Buncrana are now stocking Daikin air purifiers on mcdaidsplumbing.com– an additional measure in the fight against respiratory diseases. 
The devices have been proven to eliminate more than 99.98% of the human coronavirus in 2.5 minutes. The units are also 99.93% effective against the H1N1 virus in 2.5 minutes.  H1N1 is the virus causing common flu.
Daikin air purifiers purify indoor air by circulating it through the unit and letting the air pass a multitude of filters and purifying technologies. Typically the units are used in residential settings, small offices, retail shops, class rooms, medical waiting rooms and doctor cabinets.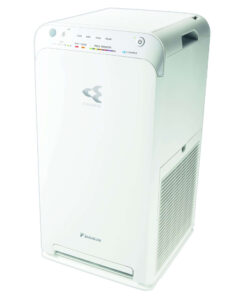 Daikin filters retail at €495 per unit. McDaid's are giving customers these special discounts for multiple buys:
1-3 units = €495
4-6 units = €485
7-9 units = €475
10+ units = €450
The whisper-quiet filters simply need to be plugged in to operate. The effectiveness is achieved through a combination of the high-performance electrostatic HEPA filter, which traps the virus, followed by an intense exposure to Daikin's patented Flash Streamer technology, which eliminates the virus, can strongly contribute to reducing the risk of respiratory virus transmission. There is no need to change the HEPA filter for 10 years.
Buy online: mcdaidsplumbing.com/daikin-air-tech-air-purifier-effective-against-coronvirus-allergies-and-common-flu
For more information contact sales@pjmcdaid.com
See the McDaid's guide on how to maintain your HEPA filter:
Tags: