A Donegal library is playing matchmaker this month by setting members up on blind dates with books!
Na Rosa Library in Dungloe has found a way around people judging a book by its cover – by hiding the cover completely. Staff set up a special Valentine's stand to invite members to take a chance on a book without even knowing the name.
And the books are leaving the library like hot cakes, according to librarian Fiona Sweeney, who came up with the idea.
Fiona explained that her colleagues took some convincing: "Donegal County Library is taking part in the nationwide Ireland Reads campaign these days to encourage everyone to get reading. After running the idea of wrapping some books up in brown wrapping paper and decorating them with love hearts past my colleague Lorna, who initially thought I had lost the plot, she soon warmed to the idea.
"We searched Dungloe for brown wrapping paper with no success. Then we decided that an old newspaper would do the trick. We wrapped up the books, stuck a few love hearts on them and put them on a display with the caption 'Take a chance on a blind date with a book'."
When the library opened the next day, members were both amused and drawn to take the leap into the unknown.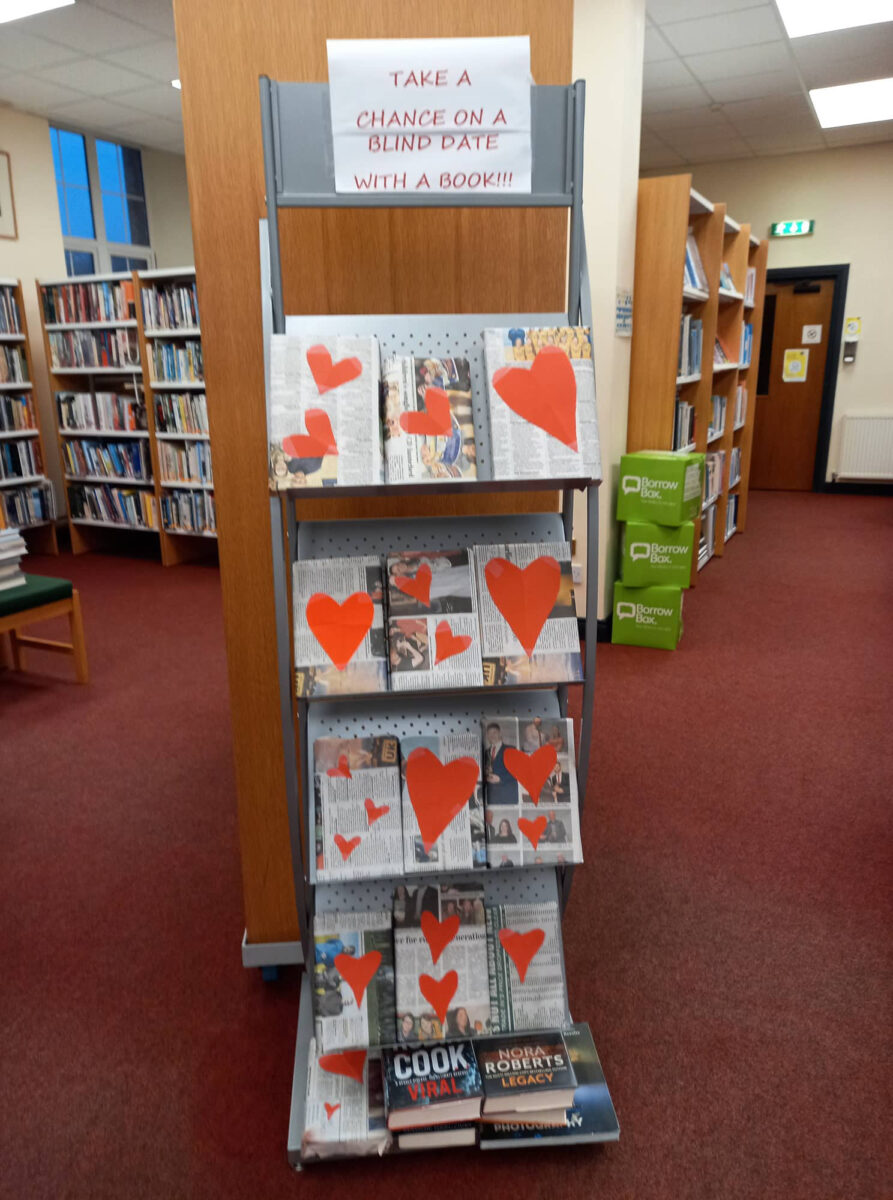 "Some people had a bit of a giggle and gave the stand a wide berth,  others took the leap and borrowed one of the books, more said they weren't brave enough to borrow a book that they couldn't at least see the cover of. The books are leaving the display like hot cakes," Fiona said.
There's a lot to love about being a member of the Donegal County Library. Registration is free, and there's so much more than books to enjoy.
Fiona said: "If you want to access our library service to see what we have planned for the coming months, to borrow a book,CD or talking book or use any other services we offer log on to www.donegallibrary.ie We have lots of events coming up for Ireland Reads, Seachtain na Gaeilge and Bealtaine to mention just a few of the festivals that happen in your local libraries. Check us out online or drop in to squeeze in a read and 'take a chance on a book'."
Tags: