"Jeez!, I thought you were the cops!" I said with relief.
A few moments earlier I noticed the black 221-D registered Hyundai Tucson on my bumper, I had passed a tractor along the road expecting this black car to pass both me and the tractor but it just tucked in behind me again. I didn't think I had broken any rules but I did feel that this car was monitoring me.
Approaching a roundabout, traffic made their way into two lanes and the black car pulled up alongside me. I make it out as if I didn't notice them, keeping my eyes ahead then the passengers window rolls down, I looked around and in the black car 'The Marshal' was smiling out.
"Coffee" he calls across from the driver's seat, right after I say as I change lanes and head around the roundabout and head to a nearby filling station.
"What happened to the Leaf?" Referring to the All-Electric Nissan Leaf he was driving the last time I met him in Donegal, I asked as I watch him emerging from this new diesel jeep.
"Ah it's a long story"was the marshals reply, when the marshal gives this answer it's his way of closing down that conversation. His new car has its back windows covered in but you would hardly notice it in the black paintwork, it is a car converted to a commercial vehicle.
It's loaded to the brim with some sort of merchandising that would be used in some sort of a shop or store promotion.
We get our own coffees from two vending machines wearing two masks standing beside each other.
"This is some change for the big tea pot in the hot ring in O'Boyces," the Marshal laughs as he stirs the milk into his coffee with a wooden stick.
"We can sit inside. I'm off the smokes," he says as we sit at one of the tables. "I'm on these nicotine things but they're not the same" he adds as he pops a lozenge out of a tinfoil card into his mouth.
It's odd to have a conversation with the marshal and not have the whiff of cigarette smoke blowing past you, a smell that takes me back to my childhood of my mother working at her sewing machine and a cigarette sitting burning with the lit end out overhanging the table.
"I should have left this flipping thing in my car." The marshal says as he stretches his arm out in front of him so his eyesight can pick up the small print on his mobile.
"Aye they can wait," he says as he drops the phone onto the table. "What do you think of your Berlingo?" he asks.
"You know I spotted you before you spotted me at the roundabout and followed you back on the road". The marshal laughed, "I know sure didn't I think you were the cops when I saw you on my bumper." I replied.
"I had to give up cigarettes completely. My doctor was on my case this good while, especially since I got the stents in." The marshal explained, as his hand goes automatically to where he would normally hold a cigarette, drawing on a cigarette then ends up rubbing his nose to try and camouflage a lifelong habit.
Talking to the marshal is like turning on the radio to a station like BBC Radio 2 the song that will be playing will always be recognisable, it will put you in a zone you remember so well. The marshal has that same way of just linking up perfectly with what seems the slightest of effort.
The marshal has been coming up to Donegal for a long time. It's over 40 years since both of us marshalled on the Knockalla stage at the Donegal Rally the year Jimmy McCrea won the rally in his silver Vauxhall Chevette HSR.
We chat about the Galway Rally that I spectated at a few weeks ago and chat about old times heading down and leaving it too late to get accommodation and ending up sleeping in the car and going into early mass on Sunday morning for a bit of heat to thaw out before heading out spectating.
I was telling him about how quiet the towns around Galway have got and in a wet February weekend they reminded me of what they were like back in the early 80's.
The whole country has got like that and it was not just in February, Covid was a great cover for businesses that were struggling as it were, to not reopen and not lose face, a normally upbeat marshal reflects. "Who's this now." The marshal tuts as his phone lights up on vibrate mode on the table sort of giving out but still happy that his services are still needed even in these difficult times.
"I better take this one." He says as he heads for the door to get a better reception. A wave in the window then follows to signal that he had to go and with that he's gone again.
It's not that long until I finish my coffee and I'm on my way too, heading up on to the Main Street of my home town, thinking what the marshal said, noticing how many shutters that haven't reopened after lockdown.
I look up the Port Road,  and you can't help but notice that there's not a single car parked on it from the top to the bottom and I don't even have to pull in to capture a photo, just stop in the middle of the road and it's the guts of a minute before I see another car in my rear view mirror making its way up the town.
I worked on this road years ago and it was always difficult to get parking on it in the 80's, changed times.  The Main Street is a bit busier but it fades fast as I pass the Market Square.
Later that day I came across an old castor type hat belonging to my grandfather, grey with a back ribbon inside on the leather lining the name 'Michael Griffin, Main Street Letterkenny' is printed in block capitals.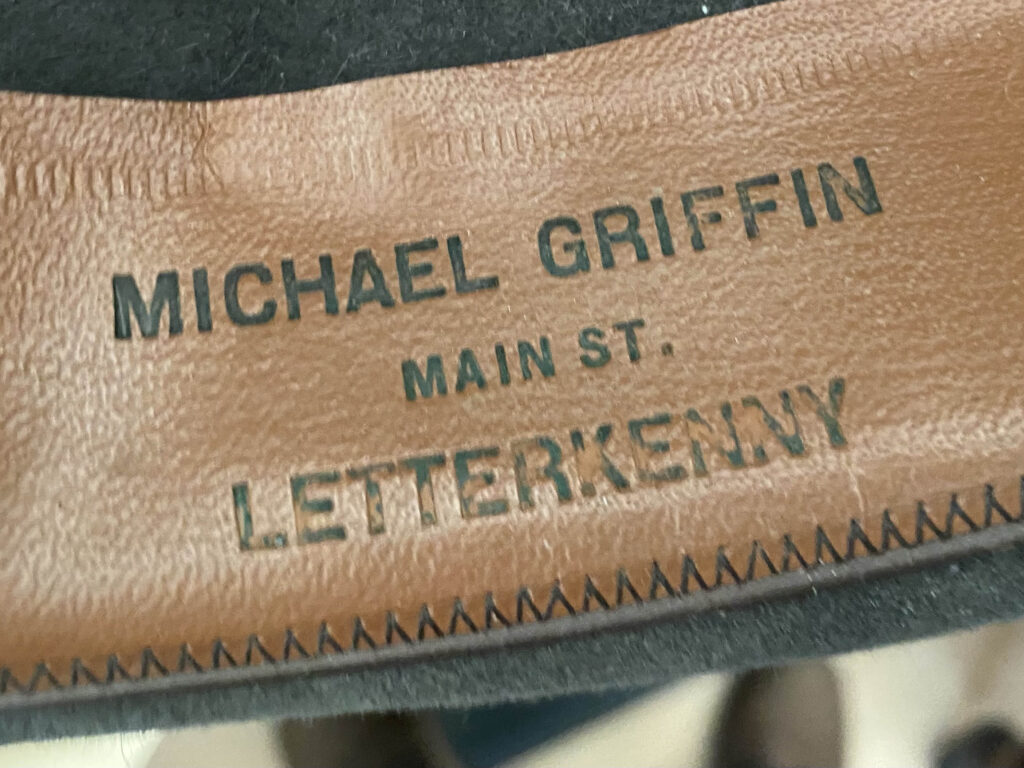 I remember him well, known in our house as Mick Griffin who had a gents draper just below the market square where Sprint Education Supplies are now.
My mother, a dressmaker, also worked for Mick Griffin, she worked from home in Wolfe Place doing all the alterations for his shop.
On a Saturday evening he would drop in trousers and coats for alterations on his way home to further up the Glencar Road.
The smell of cigarette smoke came back into my mind for the second time that day as they would go over the alterations which she would turn around with that familiar rattle of her Singer sewing machine in a kitchen with a cigarette always on the go.
Before the week was out, she would deliver them down the town, loaded up in the rack at the bottom of the family pram with all us wanes in tow, down to Griffins then on down home.
As she called, this place that my grandfather's hat sits on the top of the old kitchen unit this morning.
Sitting there the thought crosses my mind, that I'm now older than what Mick Griffin was back then and a lot older than what my mother was, in her mid thirties at that time.
A few days later Letterkenny came back to life as I spotted Sean Foody get his shop ready for another sale. An aluminium step ladder out and a bucket of hot water and a window wiper, he goes about giving his windows a wash.
"Stand up there so I can get a wee photo of you there Sean."
"Go away or that," he replies as he breaks into a smile.
We talk about the town and the difficult times it's going through and share theories in what would have made it a better product.
'Classic Casuals' is looking well, as did 'The Prefect Tailors', that his father Jim had in the same shop before him.
I ask him if he remembered Mick Griffin, but the name evades him, chatting about old times and his father, he talks of going up to his old office and looking through old shop accounts with people like Henry McElhinney from Glenveagh Castle who had an account in their drapers shop.
I can still remember Jim and a tailors measuring tape ready for work.
The happiest of times.