Covid-19 remains present in communities across Donegal, new figures show, with Letterkenny and Milford topping the list of the worst-affected areas in Ireland.
Lifford-Stranorlar has the fourth highest rate in the county, just below Maynooth.
In the past week, Donegal's Covid-19 incidence rate jumped to the highest in Ireland. New data shows that the majority of cases are in the local electoral areas in centre and east of the county.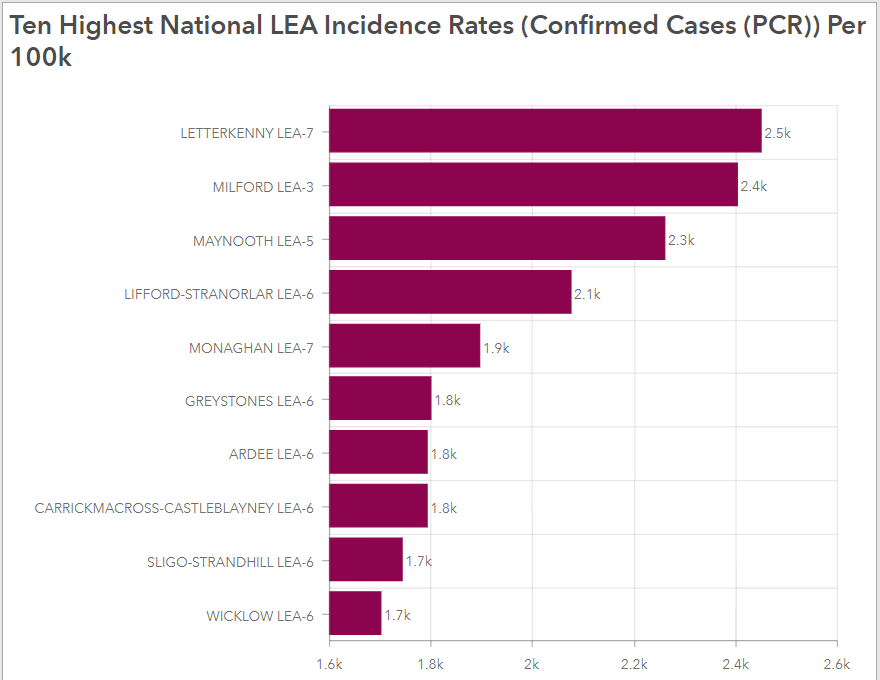 Letterkenny recorded 730 new cases of Covid-19 in the two weeks from 15th to 28th February. The incidence rate is 2450.4 per 100,000 – twice the national average of 1,131.5.
The rate is also high above average in the Milford district, which includes Fanad, Ramelton, Rathmullan and Kilmacrennan. There were 331 cases confirmed in the area in the past fortnight, which is a rate of 2403.6 per 100,000.
In Lifford-Stranorlar, the rate is 2074.2 per 100,000, with 537 new cases confirmed.
Inishowen has Donegal's lowest number of new cases, with 105 in the Carndonagh area and 180 in the Buncrana area. Both areas are below the national average rate.
The rate in Glenties is now 1404.7 per 100,000, where 336 new cases were detected up to Monday.
South Donegal recorded 322 new cases, with an incidence rate of 1215.5 per 100,000.
A further 1,266 new cases were confirmed across the entire county of Donegal last week alone. As of last Saturday, the weekly incidence rate was the highest in the country at 795.3 per 100,000.
It should be noted that the reported number of cases no longer represent a full picture of those in the community, as PCR tests were no longer required for those aged 4-39 years outside of a risk group.
As of Monday, Covid-19 testing requirements changed to only recommend PCR tests for people over 55, those deemed at-risk and members of their households; carers; and pregnant women.
You can also get HSE antigen tests if you have symptoms and you need to make a social welfare claim if you are off work because of COVID-19.
Acting Head of Primary Care Mandy Doyle said: "COVID-19 is still present in our lives and communities . People should continue to practise good hand and respiratory hygiene by washing and sanitising hands regularly, coughing/sneezing into your elbow and anyone with symptoms of COVID-19 should self-isolate immediately."