Businesses across Donegal are being encouraged to take advantage of the array of events and topics at this year's Local Enterprise Week, which runs all next week until Friday 11th March. Local Enterprise Week is a collaboration between Local Enterprise Office Donegal and its partners. 
The theme of this year's event is the Wind In Your "Sales" and Local Enterprise Week has a range of events that will inspire businesses to catch and sail close to the wind, accelerating sales. From building high-performance teams and stepping up to export, to digital transformation in the workplace and recruiting and retaining top talent, Local Enterprise Week has everything you need to put the wind in your 'sales'.
Local Enterprise Week opens this Monday with the "Wind In Your Sales" event, which also marks the official launch of the Donegal Strategic Enterprise Development Plan. The launch takes place in the Silver Tassie Hotel, with speakers Charlie McConalogue, TD, and Cathaoirleach of Donegal County Council, Cllr Jack Murray. Special guest Packie Bonner will share his insights into the secrets and lessons that made him a leader in his various roles. The Strategic Development Plan outlines the commitment to transform Donegal and the Metropolitan area into a nexus for commerce as well as a nationally recognised centre for innovation in distinct areas. 
"The Future of Food" event also takes place on Monday, 7th March at The Silver Tassie Hotel. Orla Casey, MC will be joined by keynote speaker, Helen King, the founder of Bord Bia's "Thinking House" as well as a panel of speakers including Craig Gratton, Michael O'Donnell, Susie Hamilton and Liam Lynam who will share their experiences of how they have built success on insight and how they plan to continue to grow their business. 
On Tuesday, 8th March, Local Enterprise Week celebrates International Women's Day at Castlegrove House Hotel with the 'Realising Your Ambition' event. Join Jenni Timony, founder of FitPink, Ciara McGlynn, CEO of NICHE Specialist Staffing Partners, and Sonya Lennon for a unique event to inspire female founders. Later that day, entrepreneur, Meg O'Gara will host a session on practical tips, tools and advice to do more business online via Zoom. 
Celebrate International Women's Day with Sonya Lennon at Castlegrove House Hotel this Local Enterprise Week: https://www.localenterprise.ie/Donegal/Training-Events/Online-Bookings/LEW-2022-Realising-Your-Ambition-Inspiring-Female-Founders.html 
The focus on food remains strong on the second day of Local Enterprise Week with the small business lunchtime briefing, "EU Funding and Smart Innovation Project Opportunities" online via Zoom with a host of speakers. On Tuesday afternoon, "Demystify the Circular Economy" will focus on the circular economy and food sector with keynote speakers Geraldine Boylan and Alex Fintoni. On Wednesday morning, Frank Hannigan will host a range of speakers at the "Step Up To Export" event in the Radisson Hotel.
Local Enterprise Week is the perfect opportunity for businesses to dip into a specific area of interest and gather information on a topic that may be relevant to their business now or in the future. Along with the Donegal events, there are also 12 national Spotlight events available online. These events are free to join and are open to all small businesses and entrepreneurs across the country, covering everything from digitalisation and exporting to future proofing your business and boosting your online presence. Booking is essential: www.localenterprise.ie/Donegal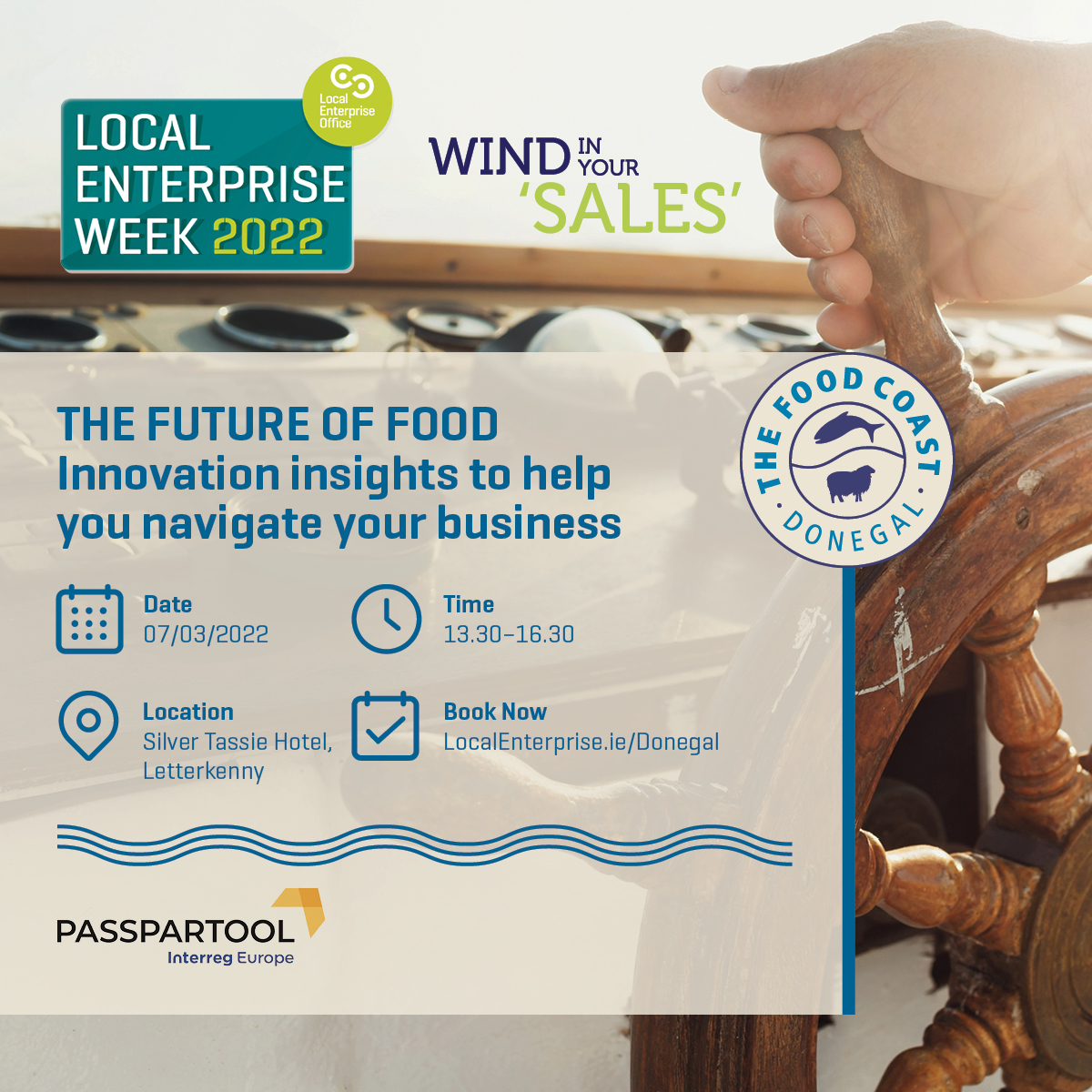 Tags: