Local Enterprise Week 2022 kicked off on Monday in the Silver Tassie Hotel with Packie Bonner, who shared his experiences of leadership and the importance of being adaptable, while Minister Charlie Mc Conalogue, TD joined virtually to launch the Donegal Strategic Enterprise Development Plan.
On Tuesday morning, women from around the county gathered at Castle Grove to hear from Ciara McGlynn and Jenni Timony who shared their stories of entrepreneurship and special guest Sonya Lennon, who gave an inspiring talk on female ambition to celebrate International Women's Day.
There's still time to book a variety of exciting and inspiring Local Enterprise Week events for established businessowners and those who are just starting out on their entrepreneurial journey.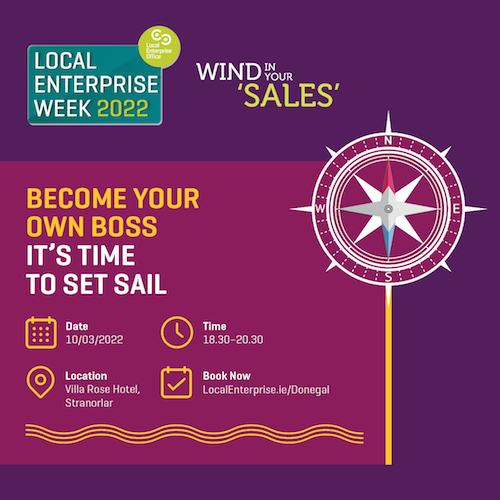 This evening (Thursday), the "Become Your Own Boss" event in the Villa Rose Hotel, hosted by Gerry Moan, involves a panel of speakers made up of existing businesses in the county, who will draw on their experiences to inspire others to begin their entrepreneurial journey.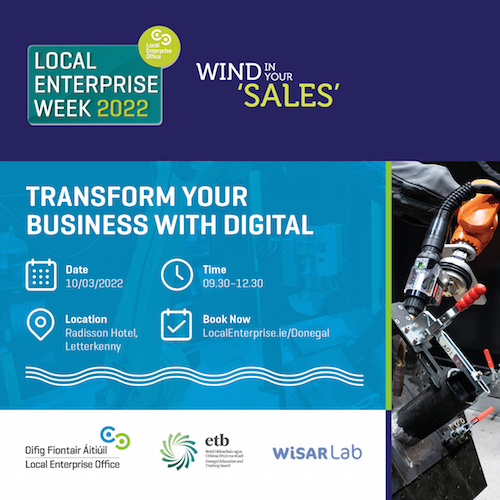 Local Enterprise Week events include "Transform Your Business with Digital" and "How To Recruit and Retain Top Talent In Your Business".
 Online events include "Remote Working: Driving Creativity and Innovation" with MC Kathy McKenna and a range of speakers who have made the decision to work remotely in Donegal. In the afternoon join the international consultancy organisation, OCO Global, for a "Guide to Doing Business In Germany, France and Spain". Also, online on Thursday will be LYIT's DICE (Design, Innovation, Creativity and Entrepreneurship) conference and Evelyn McGlynn will share her tips for digital and practical marketing in the Central Library, Letterkenny.
The final day of Local Enterprise Week 2022 provides a great opportunity for business owners who are hoping to expand their team with the "How to Recruit and Retain Top Talent In Your Business" event. This online conference hears from HR experts, and participants will have the opportunity to book a one-to-one consultation with an expert. At 10am, Aisling McVeigh, director of DANU Collective, will host an online workshop "Marketing on A Shoestring For Tourism Micro-Businesses".
The final event of Local Enterprise Week 2022 takes place in Rockhill House on Friday evening to celebrate 25 years of the Enterprise Awards in Donegal.
The final event of Local Enterprise Week 2022 is "25 Years of Enterprise Awards in Donegal" which takes place in Rockhill House and will celebrate some of the wonderful success stories within Donegal's small business and micro-enterprise sector. The Local Enterprise Office team hopes that the achievements of previous winners will serve to inspire and encourage today's start-ups to follow in their footsteps and plan, start and grow enterprises in Donegal.
For more information and to book, click here:
https://www.localenterprise.ie/Donegal/Training-Events/LEW/