Sean McGinley was the winner of the St. Patrick's Day 5k in Letterkenny yesterday.
The Finn Valley athlete completed the course in a time of 16:16, well clear of Michael Black and Inishowen AC's David Porter who finished in 16:50 and 16:58 respectively.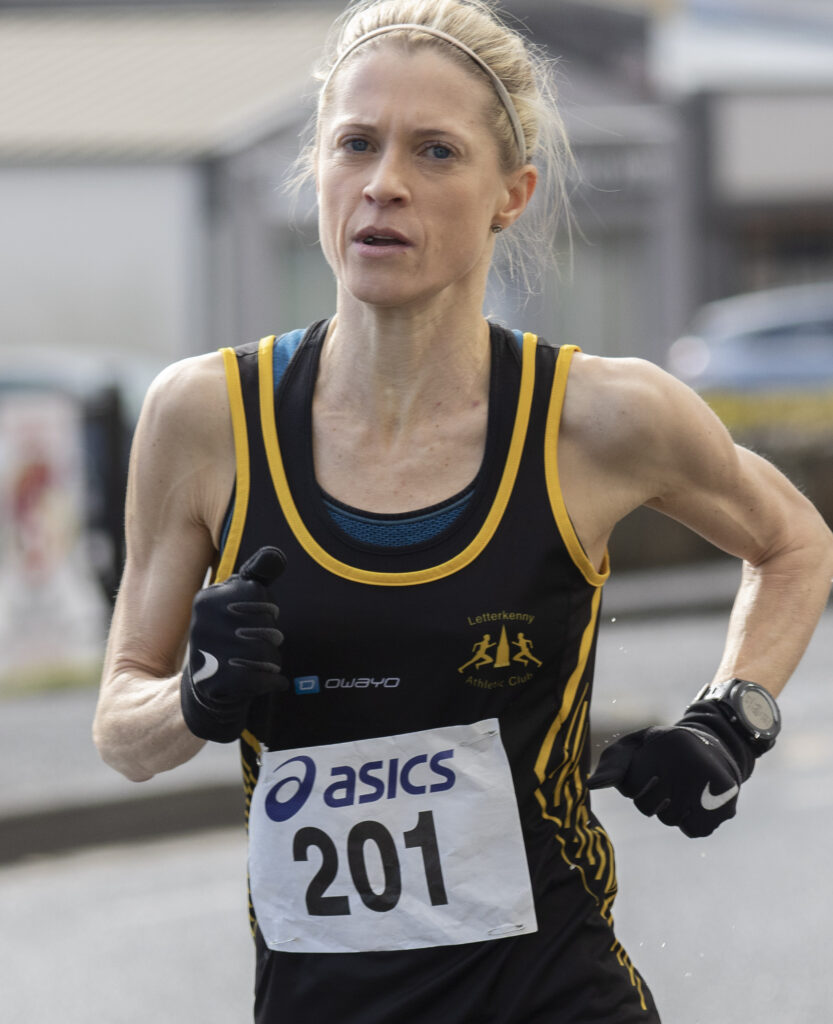 Natasha Adams was the first woman home, in a time of 17:07.
View the full results below:
LAC St Patrick's Day 5k 2022
Place Bib Name M/F AG Club Lap1 Lap2 Time
1. 275 Mc Ginley, Sean M MO Finn Valley AC 08:31 07:44 16:16
2. 202 Black, Michael M MO 08:41 08:09 16:50
3. 258 Porter, David M MO Inishowen ac 08:50 08:07 16:58
4. 290 Diver, Noel M MO Rosses ac 08:42 08:20 17:02
5. 201 Adams, Natasha F FO Letterkenny AC 08:50 08:16 17:07
6. 240 Mc daid, Enda M MO 08:55 08:33 17:28
7. 273 Doherty, Enda M MO Finn Valley AC 08:59 08:44 17:43
8. 266 Toner, Ciara F FO City of derry spartans 09:05 08:40 17:45
9. 262 Robinson, Stephen M MO 08:59 08:51 17:51
10. 248 Mc nulty, Colin M M50 09:23 08:29 17:53
11. 227 Kelly, Natasha F FO Finnvalley ac 09:16 08:41 17:58
12. 217 Gibbons, Joe M MO Milford AC 09:20 08:47 18:07
13. 245 Mc lucas, Martin M M50 Inishowen ac 09:23 08:45 18:08
14. 274 Bradley, Liam M M50 Inishowen ac 09:25 08:44 18:09
15. 260 Price, Darren M M40 Letterkenny AC 09:24 08:50 18:15
16. 285 Watson, Garyfalia M MO 09:38 09:10 18:49
17. 286 Donlevy, Martin M M50 City of derry 09:51 09:04 18:55
18. 254 O' donnell, Peter M MO Milford ac 09:54 09:02 18:57
19. 244 Mc geehan, Shauna F FO Letterkenny AC 09:54 09:08 19:03
20. 250 Mooney, James M M40 09:52 09:29 19:21
21. 211 Dunne, Conall M MO Letterkenny AC 10:11 09:14 19:25
22. 222 Guiney, Mícheál M MO West limerick 09:58 09:29 19:28
23. 246 Mc monagle, Paul M M40 Letterkenny AC 10:01 09:31 19:33
24. 220 Gormley, Eimear F FO Letterkenny AC 10:01 09:34 19:36
25. 267 Toner, Paul M M40 Letterkenny AC 10:02 09:34 19:36
26. 289 Sweeney, Eoin M M40 Milford AC 10:19 09:52 20:12
27. 276 O Donnell, Adrian M M40 10:35 09:37 20:13
28. 232 Mackey, Barry M M50 Letterkenny AC 10:24 09:55 20:20
29. 242 Mc devitt, Shaun M MO The rosses 10:35 09:53 20:28
30. 253 O' carroll, David M M40 Letterkenny AC 10:33 10:01 20:34
31. 247 Mc namee, Raymond M MO 10:49 09:47 20:37
32. 279 Friel, Cian M MO Letterkenny AC 10:30 10:07 20:38
33. 259 Price, Gary M M40 Letterkenny AC 10:49 10:04 20:53
34. 251 Mooney, Martin M M40 Inishowen ac 11:03 09:55 20:59
35. 281 Diver, Terence M M50 24/7 10:45 10:22 21:07
36. 216 Gibbons, Kathryn F FO Crusaders ac 11:05 10:16 21:21
37. 243 Mc fadden, Mark M M40 Letterkenny AC 11:07 10:35 21:43
38. 280 Smith, Fintan M MO Letterkenny AC 11:07 10:35 21:43
39. 249 Michie, Graeme M M40 11:33 10:13 21:46
40. 205 Cannon, John j M M60 Tír Chonaill AC 11:12 10:46 21:59
41. 270 Mc Fadden, Aidan M MO 24/7 11:45 10:30 22:15
42. 203 Breslin, Cathy F F40 Rosses ac 11:30 10:48 22:19
43. 226 Haughey, Dónal M M60 Tír Chonaill AC 11:44 10:55 22:39
44. 207 Delap, Brendan M M60 Letterkenny AC 11:41 11:11 22:53
45. 261 Quinn, Seamus M M50 Sanctuary runners 11:49 11:14 23:04
46. 219 Gildea, Paddy M M40 Convoy ac 12:00 11:06 23:06
47. 237 Mc bride, Brian M M70 Letterkenny AC 11:56 11:20 23:17
48. 277 Lynch, Noel M M50 Letterkenny AC 12:13 11:10 23:24
49. 229 Kennedy, Rory M M60 Letterkenny park runners 12:04 11:24 23:28
50. 265 Sweeney, Paul M M40 Letterkenny AC 12:08 11:30 23:39
51. 215 Gallagher, Philomena F F50 Tír Chonaill AC 12:13 11:26 23:40
52. 212 Fletcher, Keith M M50 24/7 12:24 11:20 23:45
53. 278 Lynch, Pj M MO 12:21 11:24 23:46
54. 282 Market Brink, Werner M MO 12:06 12:00 24:07
55. 223 Harkin, Aidan M MO 12:47 11:41 24:28
56. 287 Harkin, Gareth M MO 12:48 11:40 24:29
57. 210 Doherty, Rosaleen F F40 Speer performance 12:47 11:42 24:30
58. 233 Margey, Bryan M M40 Eugene o donnell 24/7 fitness 11:55 12:37 24:32
59. 288 Parker, Noelle F F40 24/7 12:44 11:51 24:35
60. 225 Haughey, Vera F F60 Tír Chonaill AC 12:41 12:09 24:50
61. 263 Rooney, Marie F F60 Tír Chonaill AC 12:29 12:30 25:00
62. 295 Trearty, Hugh M MO 13:03 12:04 25:07
63. 230 Lynch, Kevin M M50 Lk park run 13:03 12:26 25:30
64. 231 Lynch, Mollie F FO 13:03 12:28 25:32
65. 204 Callaghan, Declan M M40 Rushe fitness 13:10 12:26 25:36
66. 296 Friel, Grainne F FO 13:18 12:19 25:37
67. 268 Waters, Helen F F40 13:04 12:36 25:41
68. 206 Creagh, Barry M M50 12:58 13:17 26:15
69. 271 Crompton, Stephen M MO 13:12 13:30 26:42
70. 294 Rankin, Adam M MO 13:28 13:17 26:46
71. 218 Gildea, Kathleen mary F FO 13:47 13:06 26:54
72. 269 Robinson, Anne F F40 24/7 14:05 12:53 26:59
73. 241 Mc daid, Niamh F FO Letterkenny AC 14:05 12:53 26:59
74. 257 Patton, Keith M M40 13:24 13:57 27:22
75. 213 Frain, Niamh F FO 13:36 13:50 27:27
76. 291 Halpin, Siobhan F FO 13:50 13:43 27:33
77. 236 Mc bride, Noel M M60 14:07 13:36 27:44
78. 284 Crerand, Neil M MO 14:17 13:40 27:57
79. 283 Callaghan, Jim M M50 14:17 13:41 27:58
80. 255 O' donnell, Shaun M M60 Swanlings 14:30 14:15 28:45
81. 264 Sharkey, Noreen F F60 Letterkenny parkrunners 15:18 14:52 30:11
82. 297 Black, Declan M MO 15:18 14:53 30:11
83. 234 Mc brearty, Martina F F60 Lkpk runners 15:30 15:36 31:06
84. 292 Blaney, Iarla F FO 15:47 16:00 31:47
85. 293 Blaney, Caoilfhionn F FO 18:22 19:05 37:27