Nomadic, based in Killygordon, have launched their first ever on-pack promotion across their best-selling Yogurt and Oats cluster range.
Their aim is to promote "All things Donegal" whilst giving consumers the chance to win hundreds of prizes from famous Donegal brands.
The prizes include weekend breaks, gifts from Orwell and Browne, cookbooks from chef Brian McDermott and Donegal Wax Candles and lots, lots more!
Alan Cunningham, Managing Director at Nomadic said, "We're proud to call Donegal our home. It's a unique place to visit and live and it's also the secret to our perfectly balanced Yogurt & Oat Clusters."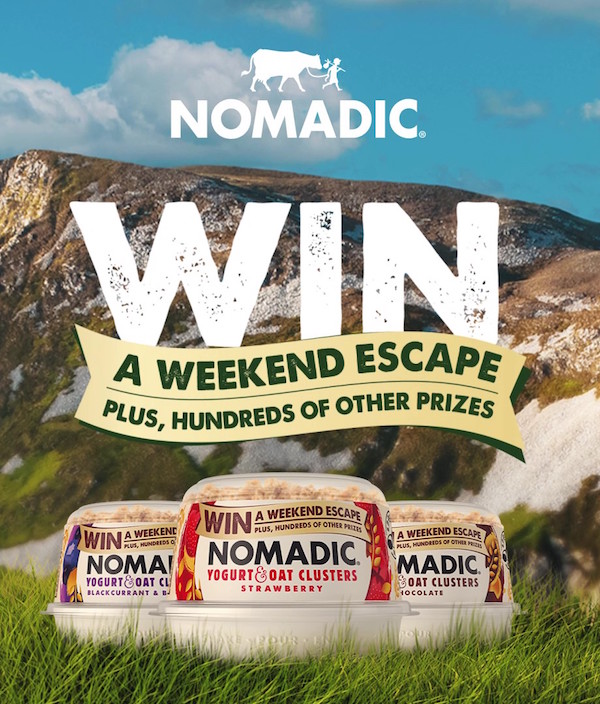 "That's why for our first on-pack promotion it felt right to celebrate Donegal. We're delighted to include local brands like Harvey's Point Hotel, Orwell and Browne, Donegal Wax Candles and Chef Brian McDermott. Giving customers the chance to experience some more of the delights of the county, as well as our own products."
The main prize offers four lucky winners a chance to win a weekend escape to the luxurious Harvey's Point Hotel on the shores of the picturesque Lough Eske.
Other prizes include locally made scarves, luxury boxed Wax candles and award winning Cookbooks.
Speaking on behalf of Harvey's Point Noel Cunningham said, "We at Harvey's Point are just thrilled that Nomadic, included us in their Campaign across the UK and Ireland and we look forward to welcome the lucky winners to Harvey's Point Hotel this year."
And for those who aren't fortunate enough to win one of these prizes, thousands of coupons for free Nomadic Yogurt & Oat Clusters are also up for grabs. The activity is being supported with digital advertising both online and via outdoor sites near key stockists.
To experience the flavour of "All things Donegal" make sure you look out for their promotional packs in stores.