This year we'll be celebrating Easter like normal (we hope!), and to give you the ability to see the sun sooner as the world is starting to open again for some well-deserved travel experiences, Donegal Daily with Travel Department want to help you fall in love with travel again in 2022.
---
Travel Department is delighted to give readers of Donegal Daily, Donegal Woman and Donegal Sport Hub an exclusive discount of €50pp* off any holiday to Spain, Portugal, France or Italy of 7 nights or more!
Use promo code: DON50 when booking on www.traveldepartment.com/donegal-daily
---
Where did Easter Egg Decorations originate?
Decorating eggs predates Christianity; engraved eggs have been found in Africa which are over 50,000 years old. The early Christians of Mesopotamia stained eggs with red dye to represent the crucification of Christ. It's believed the Christian Church adopted this custom around the Middle Ages. The hollow egg is a symbol of his empty tomb, while the cracking of the shell represents his resurrection. Over time, decorative eggs became a popular gift, particularly in Central and Eastern Europe. The most famous decorative eggs are of course Fabergé eggs, made by the Russian jeweller Peter Carl Fabergé between 1885 and 1917 for the Russian Tsars. 43 of the original 50 produced have survived to this day.
Chocolate Easter Eggs are linked with the invention of the chocolate mould.  In 1875 the Cadbury family produced the first chocolate egg and the famous creme egg was launched in 1971. Today, Easter Eggs are an important component of the celebrations in almost all countries.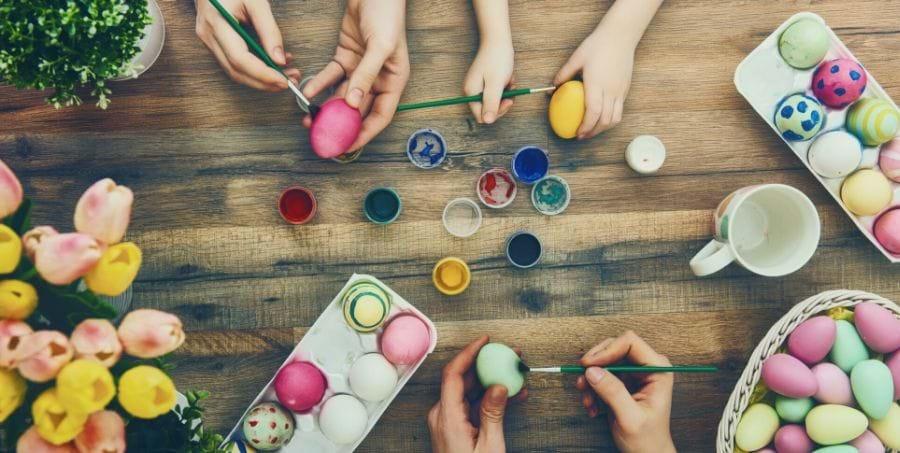 Where is the Easter Bunny from?
Rabbits are also a key symbol for Easter, and some believe this stems from the Pagan Festival of Eostre which was celebrated at the start of Spring. The Easter Bunny, as we know it today, originated in America. Around the 1700s, German immigrants in Pennsylvania, USA brought over tales of 'Osterhase', an egg-laying hare; children would make nests for it to lay its colourful eggs. The custom became popular across the USA and eventually the Easter Bunny delivered chocolate and other gifts! In some countries, other animals deliver Easter Eggs, in Switzerland it's cuckoos and in some parts of Germany it's a fox! 
Across the globe people still celebrate Easter and all of them have their own little variations when it comes to their traditions.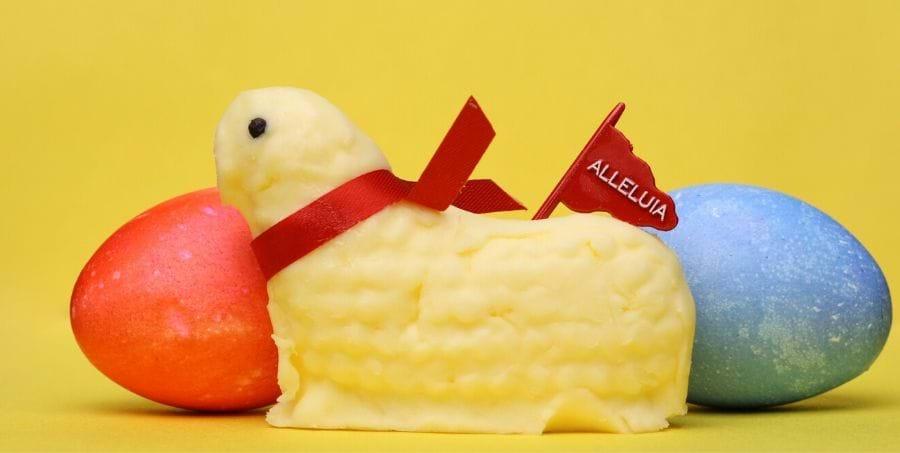 Russia
It's tradition for Russian Catholics to have a 'Butter Lamb', a lamb sculpture made from butter, to accompany their Easter meal. The lamb symbolises the beginning of Spring and the Butter Lamb is usually shaped by hand or by using a lamb shape mold. 
Poland
Poland has unique traditions. The 'Blessing Basket' is necessary when it comes to Easter in Poland. Small baskets filled with eggs, bread, salt, pepper, cake and white coloured sausages kick off Easter celebrations on Holy Saturday. The day after Easter, boys swat their girlfriends with small willow branches and on Easter Tuesday it's the girls' turn to swat their boyfriends back!
Germany & Austria
'Easter Baskets' filled with chocolate, Easter eggs and all kinds of toys are a real treat for children in Germany and Austria. The 'Osternest' is usually hidden somewhere in the garden and the children must hunt for it. Another tradition is 'Egg Tapping' where the main aim is to shatter the egg of the other person.
Sweden
On Maundy Thursday Swedish children dress up as 'Easter Hags', which sounds more like Halloween! Easter superstitions include the belief in witches and their black magic being active during Easter celebrations.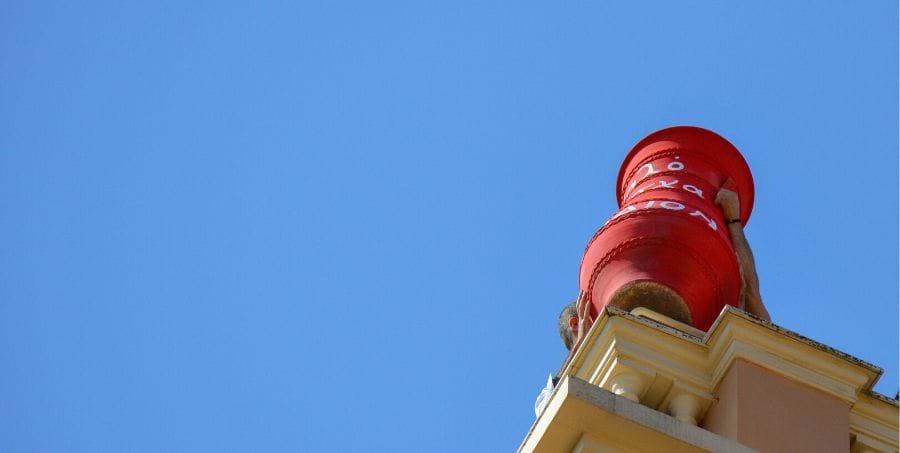 Greece
On the Greek Island of Corfu, it's tradition to throw big clay pots filled with water from their balconies to ward off bad spirits and to mark the beginning of Spring. 
Norway
Since around 1923, a unique Easter tradition in Norway is to read crime novels or "Påskekrimmen", or watch detective dramas! Many publishers and TV stations create new crime thrillers just for Easter. 
Australia
In Australia Easter marks the beginning of Autumn. Bilby, a native endangered animal, replaces the Easter Bunny in Australia; there are chocolate bilbies and manufacturers donate some of  the profits to protect the endangered species.
Hungary
Hungarians celebrate Easter with fun and some amusing traditions. 'Ducking Monday' or 'Water Plunge Monday' is the Hungarian tradition of young men pouring water buckets over young women's heads.
---
Finally, don't forget that Donegal Daily readers are getting an exclusive discount code of €50pp* off any holiday to Spain, Portugal, France or Italy of 7 nights or more!
Use promo code: DON50 when booking on www.traveldepartment.com/donegal-daily
 If you have any questions, or would simply like to learn more about your options, why not give one of their brilliant team a call on 01 637 1698
---
Flexibility Promise:
Rest assured when you book with Travel Department you can do so in confidence with their Flexibility Promise. They know how important it is to be flexible now, that's why if you book any new holiday of 7 nights or less between the 10th of January and the 28th of February 2022 you can change your holiday free of charge or cancel and get a voucher with no expiry date up to 4 weeks before departure.
Travel with Confidence:
Travel Department is one of Europe's leading escorted tour operators with over 25 years' experience of crafting beautifully curated, inspirational itineraries to worldwide destinations, all accompanied by expert local guides. They offer a wide range of guided group holidays from City Breaks to Solo Travel to active and adventure holidays (including Walking, Yoga and Photography holidays) with their sister brand, TD active Holidays.
With multiple departure airports from Belfast, Dublin and Cork. 
The holiday mood is upbeat, friendly, and light-hearted with conversations, storytelling, and sometimes even a little singing and dancing extending late into the evening. It makes for a fun, inclusive group where everyone feels welcome. 
Travel Department's escorted holidays typically include flights, accommodation, transfers and guided tours. They carefully plan your trip, so you experience the best holiday highlights accompanied by a friendly local guide. With Travel Department you see more!