More Kinder chocolate egg products have been recalled because they might be contaminated with salmonella, the Food Safety Authority of Ireland has said.
The FSAI is warning consumers who may have the recalled products at home not to eat them. 
A food poisoning outbreak linked to the products is under investigation across Ireland, the UK and a number of other European countries.
To date, there have been ten cases in Ireland with the same strain of Salmonella responsible for the UK outbreak. A number of these Irish cases have involved young children, all of whom have fully recovered. 
With Kinder chocolates being a popular choice for Easter, customers are being urged to check the best before dates to see if they have bought the affected batches.
The first recall concerned Kinder Surprise 20g and Kinder Surprise 20g x3 with best before dates between 11th July 2022 and 7th October 2022.  Further products were added to the list last week: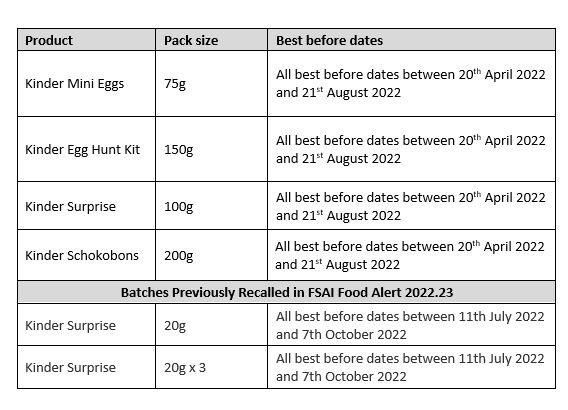 Yesterday 6th April, FSAI issued another alert for additional batches of of Kinder Surprise 20g and Kinder Surprise 20g x 3: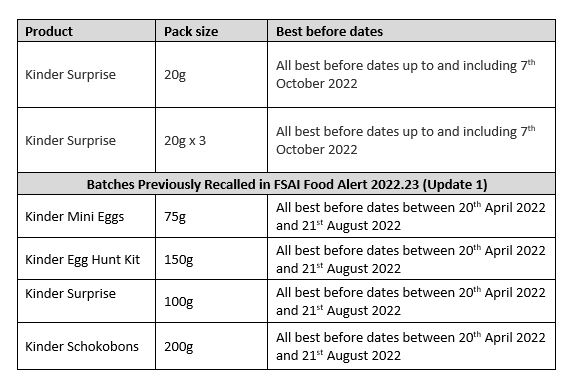 Point-of-sale recall notices will be displayed in stores supplied with the implicated batches.
Consumers are advised not to eat the implicated batches. Instead, please contact the Ferrero consumer careline on +44 (0)330 053 8943 or email consumers.ireland@ferrero.com