Donegal suffered a two point defeat at the hands of Meath at Croke Park in the Lidl National Football League Division 1 final.
Meath 2-8 Donegal 1-9
Photos by Joe Boland, North West Newspix
Niamh McLaughlins penalty helped Donegal come back from seven points down to take the lead in the second half but goals in either half from Kelsey Nesbitt and Niamh O'Sullivan sealed the victory for Meath.
Meath were 1-6 to 0-2 up after 30 minutes but Donegal battled well, however, they couldn't mount a second comeback after O'Sullivan's goal.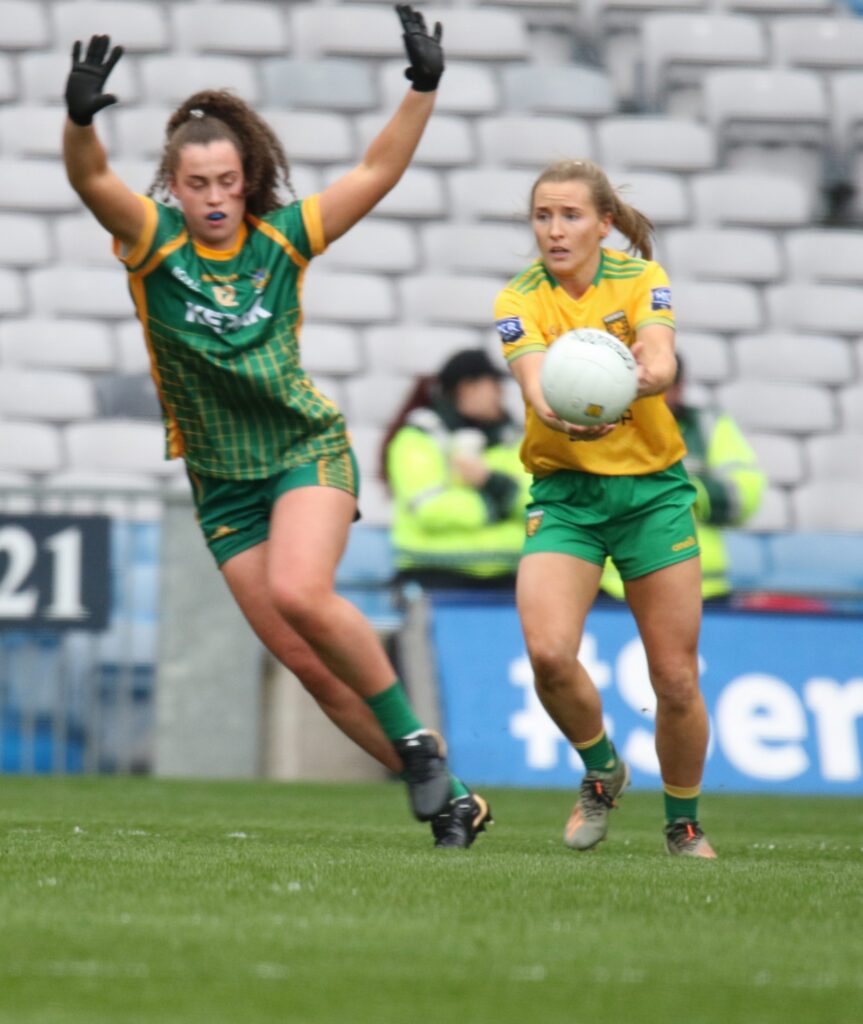 Stacey Grimes got the first score of the game as both sides had early wides and Meath went two points ahead as they won the kick out and Niamh O'Sullivan's shot almost dropped into the empty net.
Geraldine McLaughlin got Donegals first score from a free but an Emma Duggan free and a point from play and a Kelsey Nesbitt point from play had Meath four points up after 10 minutes.
Karen Guthries free made it a three point game at the water break.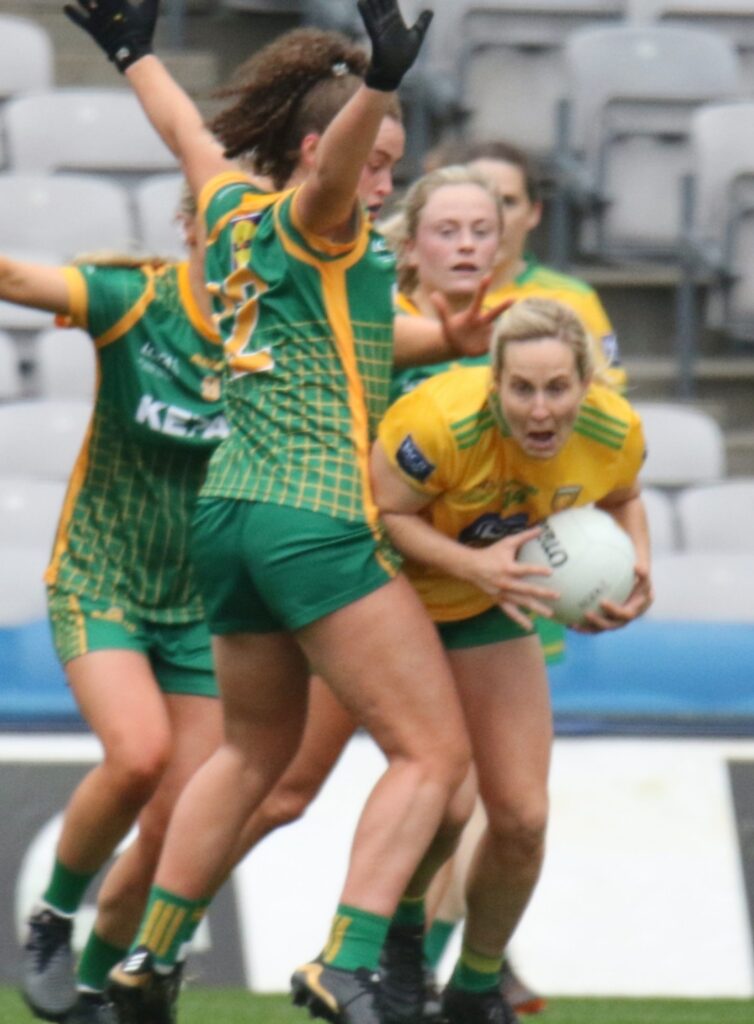 Donegal would have hoped to use the water break to regroup but the plan went out the window as Meath scored a goal from the restart.
Vikki Wall was at the heart of the move as she found space in the Donegal defence. The Dunboyne forward found Kelsey Nesbitt in space on the left and her left footed strike went into the bottom corner past Róisín McCafferty.
A quality Orlagh Lally point made it 1-6 to 0-2 as Donegal looked down and out already but Maxi Curran's side weren't giving up that easy.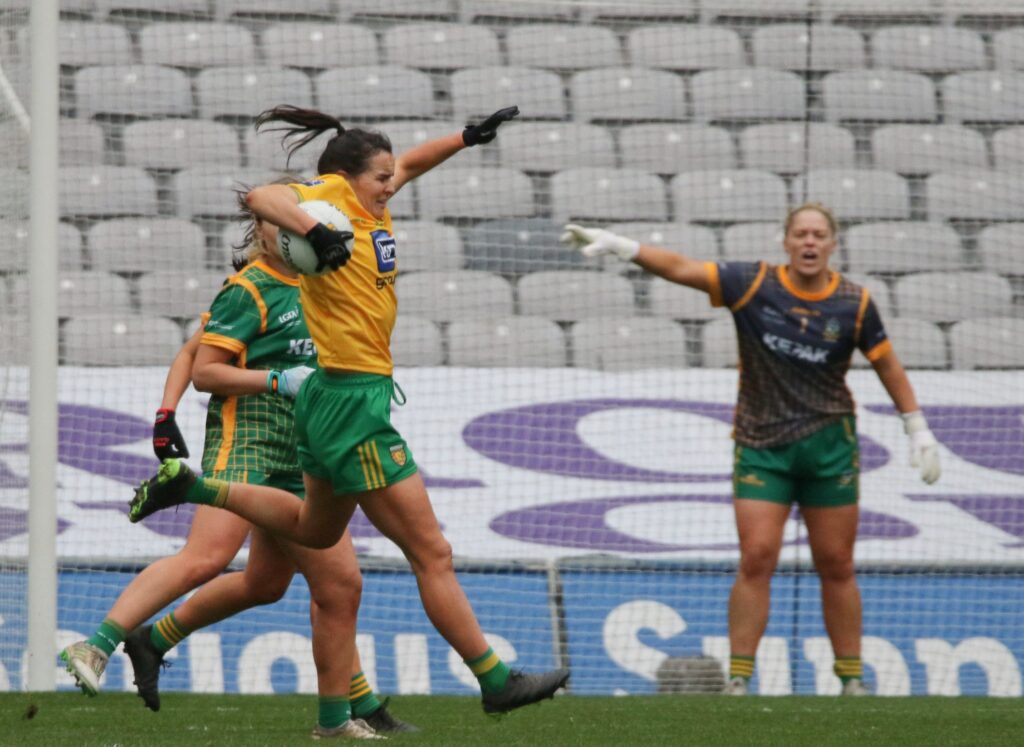 Yvonne Bonner finished a great move by Donegal to score their first point from play.
Donegal won the kick out and Mary Kate Lynch tripped Bonner with referee Garryowen McMahon awarding a penalty.
Niamh McLaughlin stepped up and placed the ball into the top corner, giving Meath keeper Monica McGuirk no chance.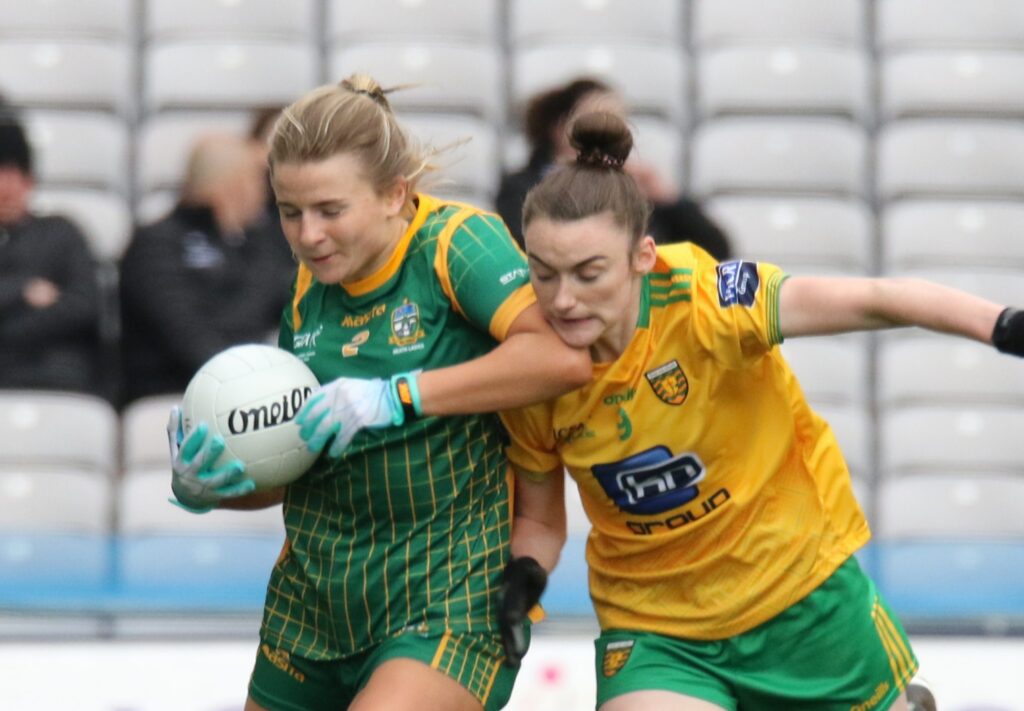 Buoyed by this, Donegal began to close the gap with a couple points from play through Guthrie and Geraldine McLaughlin as Donegal went in to half-time a point behind at 1-6 to 1-5.
Donegal took the lead in the second half as a Guthrie free and Geraldine McLaughlin scored a great point from play.
Orlagh Lally got an important score for Meath, their first point as Donegal scored 1-4 without reply, and soon they were a goal ahead.
Niamh O'Sullivan got on to an Emma Troy pass and hit a shot on the turn which went into the far corner for Meaths second goal.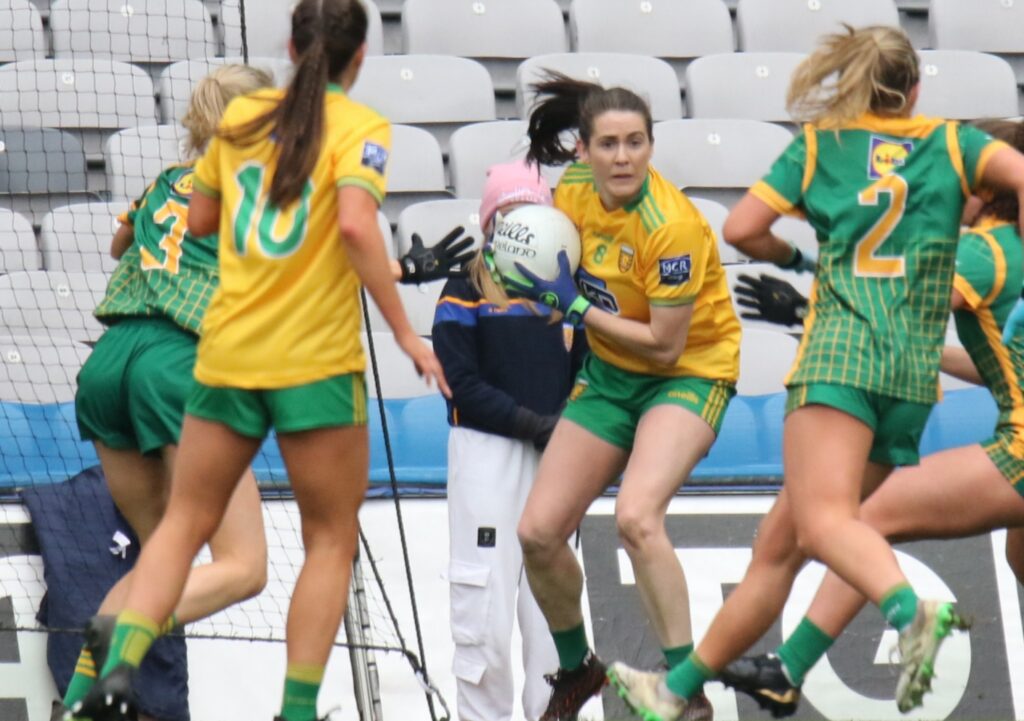 Yvonne Bonner scored another great point and Bonner then caught a long ball from Guthrie and went for goal but the shot was vitally blocked.
Geraldine McLaughlin was on target again with another brilliant point to put just the one point between the two sides.
Vikki Walls first point of the game came at a crucial time with five minutes to go and restore that two point cushion for Meath.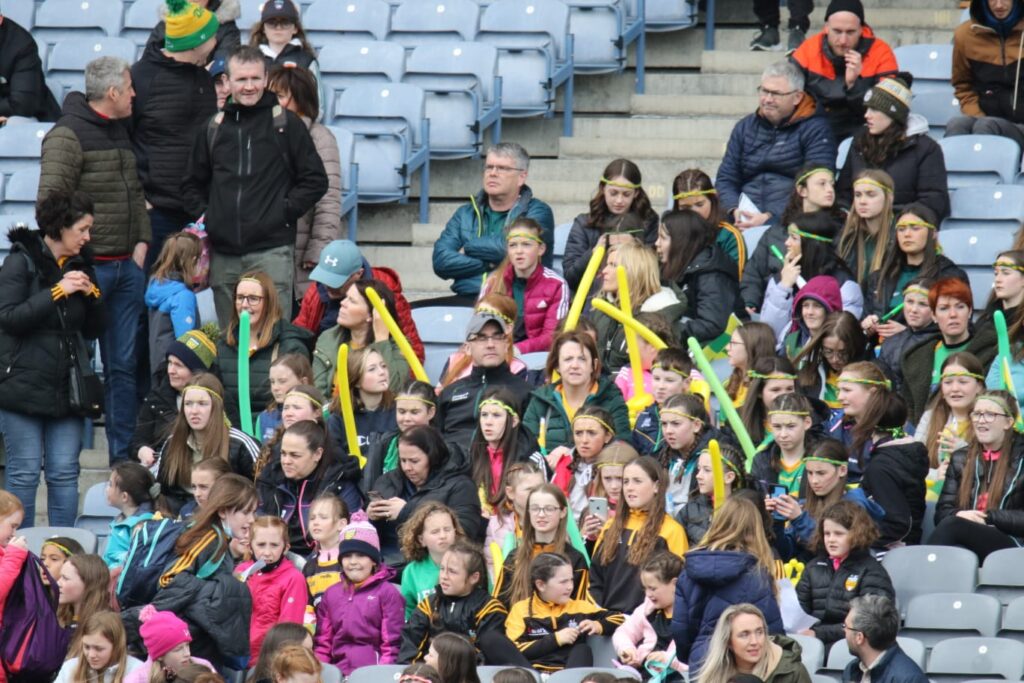 Donegal: Róisín McCafferty; Niamh Carr, Evelyn McGinley, Niamh Boyle, Tara Hegarty, Nicole McLaughlin, Amy Boyle Carr; Katy Herron, Róisín Rodgers; Blathnaid McLaughlin, Niamh McLaughlin (1-0), Shelly Twohig, Yvonne Bonner (0-2), Karen Guthrie (0-3,2f), Geraldine McLaughlin (0-4,1f).
Subs: Niamh Hegarty for Tara Hegarty (41 mins), Tanya Kennedy for Niamh Carr (48 mins) Emma McCrory for Shelly Twohig (57 mins)
Meath: Monica McGuirk; Katie Newe, Mary Kate Lynch, Kelsey Nesbitt (1-1), Shauna Ennis, Emma Troy, Aoibhín Cleary; Máire O'Shaughnessy, Orlagh Lally (0-2); Megan Thynne, Aoibheann Leahy, Emma Duggan (0-2,1f), Vikki Wall (0-1), Stacey Grimes (0-1), Niamh O'Sullivan (1-1).
Subs: Bridgetta Lynch for Nesbitt (39 mins), Niamh Gallogly and Emma White for Thynne and Leahy (52 mins)
Referee: Garryowen McMahon