It's been three years since 'Donegal' was here. That's the one single word that sparks the greatest passion in any motorsport minded mortal, better known to most as the Donegal International Rally.
The gap has been long, we have done a lot of thinking, a lot of reminiscing, and a lot of missing that magical weekend in June.
There's a question I often think about answering about the Donegal, and that's who would be the person that (if I had to pick) was the all-time favourite of that weekend in June.
And here's the thing, on the run into the 50th anniversary of the event, I find myself gravitating to a competitor that had never won the rally and more oddly than that, a person that I never saw competing in the Donegal Rally.
Lockdown
Lockdown feels like it felt like years ago growing up waiting on the Donegal to arrive.
Two ears tuned in always – always listening to any bits of information coming down the line.
There was never much in the papers and there was no local radio, and social media was all received standing about chatting at school walls to schoolmates like Martin McHugh or around the old swings in the green in Glencar on summer evenings.
The late Jim Kennedy was probably the first person I ever remember with a rally car. A Hillman Imp, or was it called a stiletto? I'm not sure.
Every so often that wee car had us running to the front window of our home in Wolfe Tone Place to see if you could catch a glimpse of this wee pocket rocket that was making all of the noise heading up the Glencar Road.
Jim Kennedy was a family man with a house full of children.
Growing up in Glencar, he worked in the office of the Donegal Oil Company in Letterkenny. My earliest memories of him was driving a Hillman Hunter SIH 32 which was his road car. My thing was writing number plates in a notebook of most of the locals that I had off by heart.
Even the sound of an engine or the shape of the headlights at night I could tell what type of car it was before it fully came into sight.
This year is the 50th anniversary of the Donegal International Rally and I can't really believe that 21 years has passed since the late Jim Kennedy departed this world. Between the 50th anniversary of the Donegal Motor Club a few years ago and now the 50th anniversary of its international Rally a lot of old photos have surfaced and been shared online.
There are many familiar faces that have long left us in these pictures, including the late Jim Kennedy.
With his dark rim glasses and a seventies style side-locks that bring back great memories of Jim in his northern registered Hillman Imp with the back box of the exhaust running across the outside of the back bumper.
In the first years of the Donegal rally Jim Kennedys Hilman Imp GOI 6565 was as near as we got to the Donegal Rally as we were still in national school and far too young for anyone to take us to watch the rally. So we just had to try and imagine what that rally was like based on stories told on long summer evenings of the older boys that went to the rally.
One thing that was a bit odd to imagine about the Donegal Rally and Jim Kennedy taking part in it in his Hilman imp, was how Jims Co-driver would look like stuck in a rally car the weekend of the rally. Jim Kennedy's navigator for the rally back in those days also happened to be a local priest in Letterkenny at the same time, Fr. Willie McMenamin, who also drove a Hillman Hunter sharp enough.
We were more used to seeing him in his priest robes as they wore back in them times. And his very familiar gentle voice fills St. Eunan's Cathedral for mass every Sunday.
It was hard to imagine him hurtling around Knockalla in the white imp! And when they got to the finish would he say 'the lord be with you' and Jim in his slightly hoarse voice, reply 'and also with you'?
And then we heard of the Donegal rally that both Jim and Fr. Willie's mothers both went out to the Donegal rally to watch one of the stages only to end up seeing their two sons clipping the wall that they were sitting on.
Their old Sunbeam was a lot different to other cars on the road, the engine was in the back and was built in aluminium which made the car very light so the power to weight ratio was great on the stages.
Years after the Hillman Imp had disappeared from the rallying, the old engine that powered these imps, also because of their lightweight, were used on the fire service as a portable pump which were used to pump water from the bank of a river to a fire.
Known as a Coventry Climax, one of the other benefits of this engine was that it could run a full throttle right from starting up which made it ideal for pumping water to a fire as quickly as possible. Listening to that high pitch sound of that engine along a riverbank pumping water to fight a fire, I would often think of Jim's wee Hillman Imp which was powered by the same high revving engine.
I never had the chance to get to third level education, but I did run into people like Jim Kennedy as a photographer with a love for Motorsport over the years. You could learn a lot watching the professional way Jim Kennedy worked, he was always in the background when involved in motorsport.
It was the brand Shell and BP that my grandfather Willie Coyle worked for as did his son Johnny and my other uncle on my fathers side Hughie McDaid. They all worked for Shell along with Jim at the Donegal Oil Company..
Over the years it was always great to get a call from the late Jim Kennedy. A lot of the projects that I worked with for Jim Kennedy had nothing to do with motorsport.
They were to do with trends and brands in an ever changing world. Jim was away ahead of his time in this and could see the need to change better than the brands themselves. I look at places along the road side that have opened up and developed in recent years and recall phone calls for Jim to go discreetly and take a few photos of that same sight 30 years before that.
Then I would think of weekends of the Donegal Rally and what just looked like another photo of a winners finishing ramp, meant so much more to me when I would spot Jim Kennedy in the background having a yarn with Bertie Fishers father or standing holding his grandson Nigel in his arm the first year his son Rory won the rally with Bertie Fisher.
And then years after Jim's death in 2001, Rory winning the rally again with Gary Jennings, and by this time the Jim Kennedy Memorial Cup had been created in Jim's memory I was able to capture a photo of the extended Kennedy family including Anna, his wife who has also gone to join Jim.
Donegal over the years has given many people the chance to up their game in competition and organisation and promotion.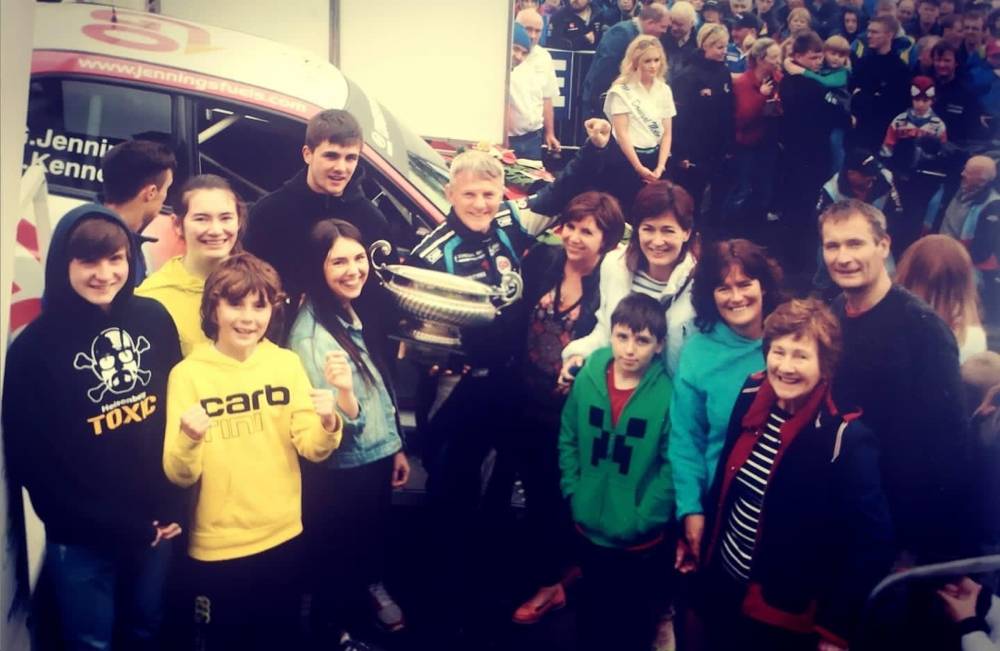 Its brand didn't just happen, loads of Donegal people just like Jim Kennedy believed in it, worked on it over its 50 years and might never have tasted the champagne in the finish ramp but are victorious in their efforts to get the event to the start ramp every year.
There will be a few that will still remember people like Jim Kennedy in the run up to this year's Donegal. He's looking forward to this year's Donegal weekend in June for 2022.
Happy Motoring Folks.