A young Donegal man is working to break down barriers to employment for people with spina bifida and hydrocephalus.
Marcus Ward, aged 29, is a peer mentor who draws from his own experience of life with a disability to help and to educate others.
Working with Spina Bifida Hydrocephalus Ireland, he supports people seeking work and the employers who want to hire them. Marcus brings a unique level of understanding to the table, having been born with the birth defect that affects 1,000 babies born per year in Ireland.
The role is both highly valuable and highly rewarding, he says.  
"There are a few employment barriers that come up time and time again. Transport is a big one. People who don't drive and people living in rural areas can struggle to find work. The lack of public transport, especially in rural areas, is an issue.
"Lastly, the attitude of some employers also is a barrier. They don't understand the situation, and there is maybe a fear of taking on someone with a disability, they might feel like they have to renovate their business premises."
Marcus himself, now living in Dublin near the SBHI office, is an example of how people with spina bifida can work and bring important insights on inclusion to a workplace environment.
He first got involved with SBHI as a teenager, joining social events that brought families together from all over Ireland. The local branch of SBHI was established 11 years ago and has been going strong ever since.
"We are very lucky that our Donegal branch is very active," Marcus said.
"The charity helps me in several ways. From an educational point of view, I go to events where I am learning about my own condition and learning from other people's experiences as well. Then there are the social events and the 'away weeks' when you are meeting people and having the craic.
"In Donegal, a group like this is hugely important. Especially when you are in a rural county, you don't often see other people with spina bifida unless you arrange a meet-up."
The charity is also a lifeline for young families who have a baby with spina bifida. At such an anxious time, the group is there to advise them and show them the services that are available.
Sharing awareness of the condition is an important part of Marcus' work and that of the charity.
He explains: "Spina bifida is a birth defect where the baby is born with an opening in the back, that has to be closed at birth as soon as possible. That has several different side effects for a person in their lives, most commonly mobility issues, often bladder and bowel issues. 
"Hydrocephalus is a build-up of CSF fluid in the brain. A tube has to be inserted at birth to drain it. 
"People with Spina Bifida and Hydrocephalus can go on to lead healthy lives and can go on to do very well in their careers," Marcus added.
For more information, visit: sbhi.ie
North West 10K Charity Draw
This month, Marcus and his family are giving back to the Donegal branch of SBHI through an exciting charity draw.
They are raffling a seven-night stay in their Airbnb, The Artist's Cottage Ardara, in aid of the charities connected with this year's North West 10K – Donegal Diabetes Parents Support Group, The No Barriers Foundation, Donegal Branch of Spina Bifida & Hydrocephalus.
The prizewinner will be invited to a 2 double room stay at the cosy cottage from Saturday, August 20th – Saturday, August 27th, or choose any other week where there is availability.
The Artist's Cottage, just 3km from Ardara town, is surrounded by trees and stone walls, nestled in the Cronkeerin hills. Guests can take relaxing country walks around the area, or take a short drive to the Maghera Caves or Narin-Portnoo beach. It's also the perfect base for touring to Sliabh Liag and Donegal Town. The cottage suits families, hillwalkers, festival goers, or artists of any kind who want a quiet place to holiday, adventure, or be creative.
The cottage contains a fully equipped open plan kitchen, dining and living area with a stove and flag floor. The downstairs area also contains an accessible wet room and laundry space. Upstairs encompasses 2 charming bedrooms and a shower room.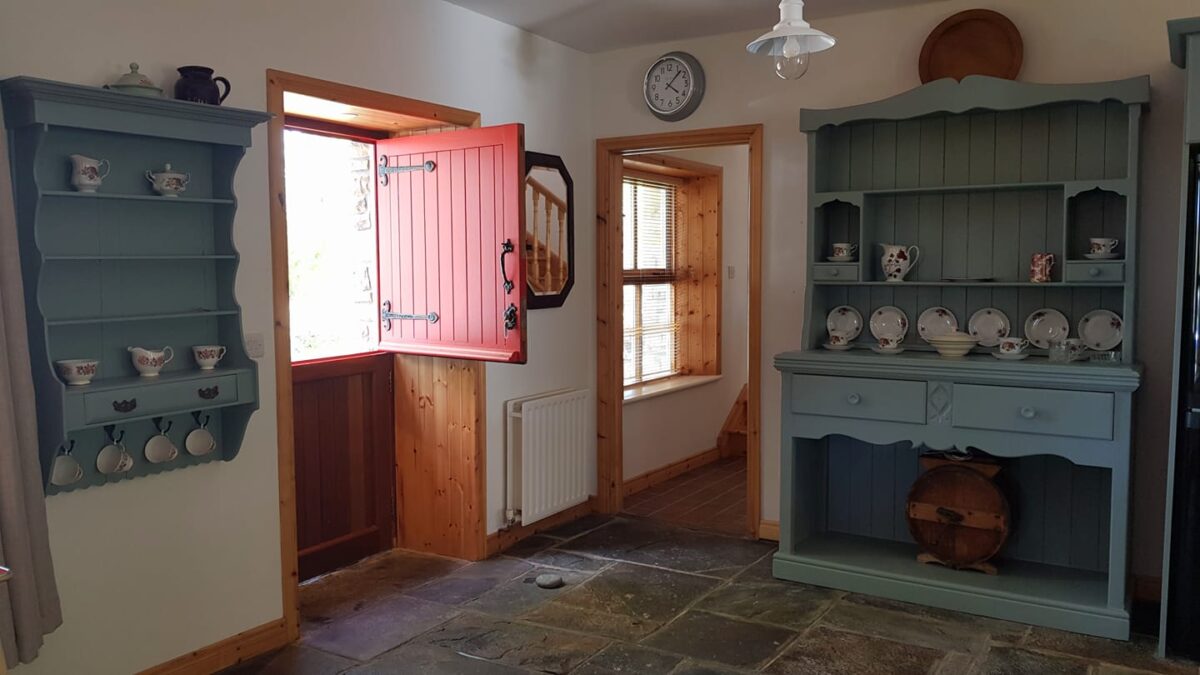 The raffle takes place this Saturday 30th April, with just 250 entries being sold. Tickets are €20 and available from owner Catherine Gallagher on 0879035321, or online from Marcus Ward. Visit Marcus' Facebook page HERE for details: https://www.facebook.com/marcus.ward.520
For a chance to win a stay in the Artist's Cottage, contact Marcus Ward, Peer Mentor at Spina Bifida Hydrocephalus Ireland (SBHI), who is running the draw.
Marcus is taking entries via Paypal and Revolut on his Facebook page: https://www.facebook.com/marcus.ward.520
For any assistance, just send a direct message or leave a comment on the page: