A free Webinar will be held by ATU Donegal this week to share knowledge on Governance, Compliance and Privacy in IT / Fintech / Insurtech. The webinar takes place on Thursday 5th May at 6pm on MS Teams.
Guest speakers include:
Kevin McLaughlin

: Global Privacy Manager with

Facebook / Meta
Naomi Hegarty

: IT Risk & Global Tech Privacy Officer with

PGIM Ireland
The event is hosted by the Head of Dept. of Law, Siobhán Cullen including ATU Donegal lecturers in Governance and Fintech, Joanne Enright and Fiona Gildea.
Attendees will gain valuable expert insights on topics including: 
The role of

Green Finance

and the need to be good corporate citizens,

the evolving role of compliance

in the Financial Services sector and beyond and the challenges and opportunities of innovation including the rise of

Cryptocurrencies

such as Bitcoin.

We will also discuss the risks and opportunities associated with the open

Blockchain

, from smart contracts to NFTs and how Blockchain and the GDPR could be on a collision course. 

As competition for compliance officers intensifies within industry amid a swathe of upcoming new regulation, the time is now. Start your compliance journey today. 
This is an evening not to be missed. Register and join the free event at: https://teams.microsoft.com/registration/fBjPacC-F06LlE7ca7tyFA,Oxt-QK8N8ky_wADywjf7AA,2Rvvgnt3CEKjwAsIBSfygA,0Am4-VTGN0-iyRCqvqzYgw,_y2FTwHZpEKNqYRAYsuk8Q,Tq3ZEWcbgEuQlfZIyCk8mw?mode=read&tenantId=69cf187c-bec0-4e17-8b94-4edc6bbb7214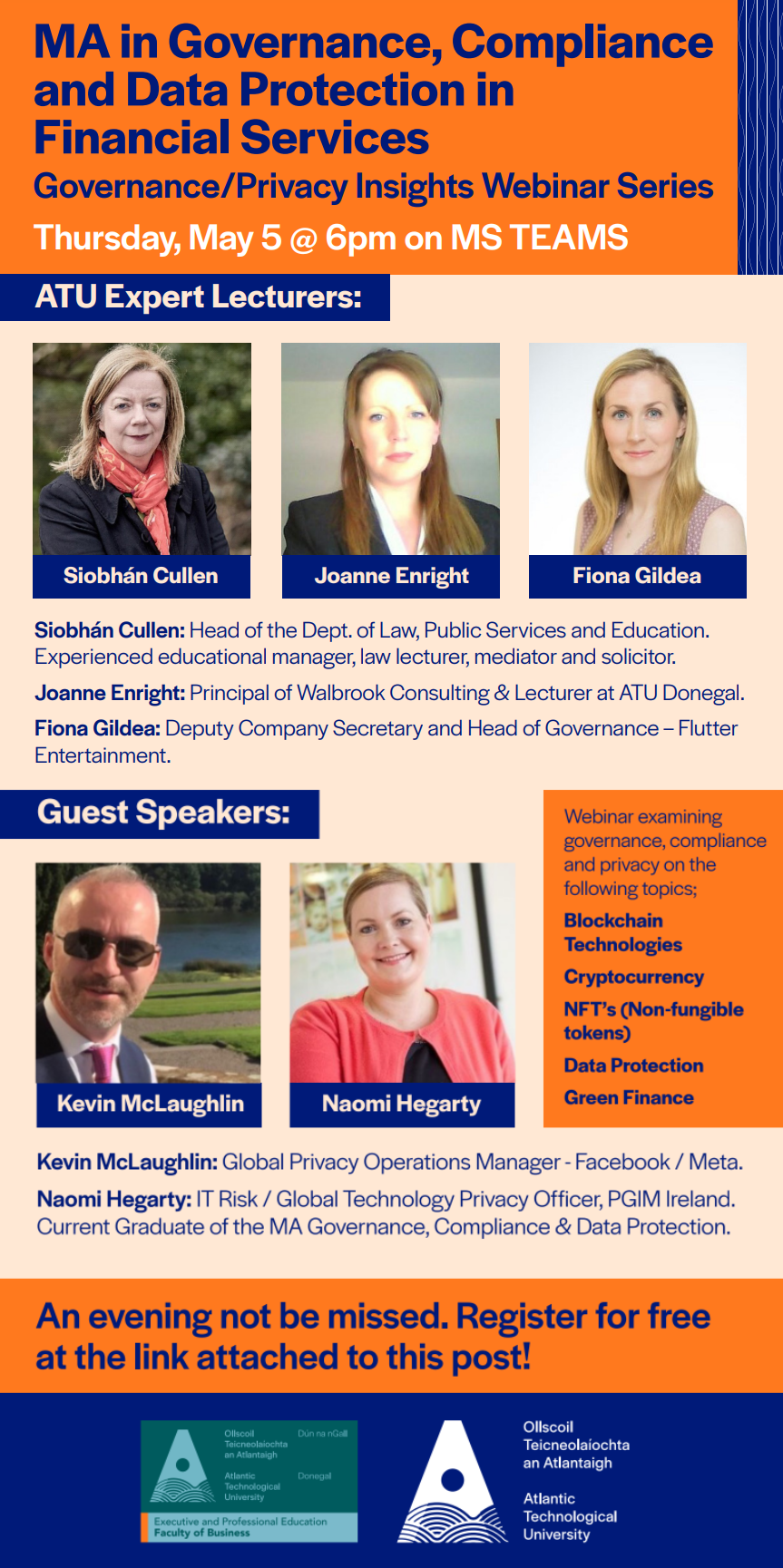 Sponsored Post
Tags: